Regulators vs. Regulated Rectifiers
Regulators vs. Regulated Rectifiers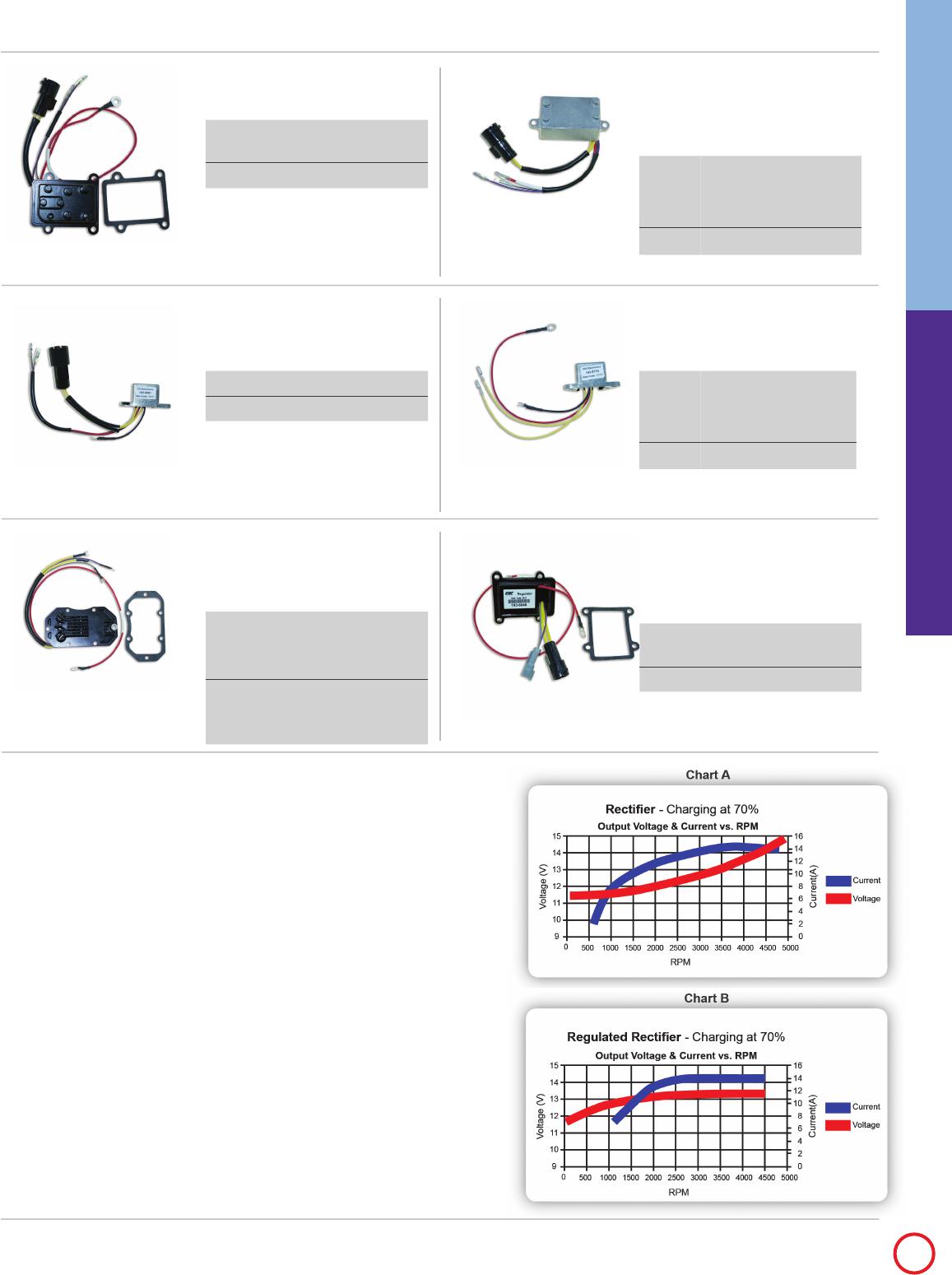 Johnson Evinrude
Regulators
Avoid Over-Voltage Issues With
CDI's
Regulated
Rectifiers!
A
standard rectifier

has been used on engines for
years. It will allow a battery to charge quickly, but
what many do not realize is that it cannot control
the state of that charge
(See Chart A)
. A rectifier
also has higher AC ripples, which can cause many
electronics, such as GPS, Fish Finder, etc... to have
erratic readings, and on many occasions, fail.
The difference between a standard rectifier and our
new
regulated rectifier is simple. The regulated
rectifier
has new technology that provides a more
stable charge to the battery
(See Chart B)
. A more
stable charge will prevent battery damage and even
prolong the battery's life. The regulated rectifier also
converts AC signals to DC signals, leaving no inter-
ference to other electronics.
Voltage Regulator
Fits:
1995
(90 - 115 HP - V4 - 20
AMP Optical Engines)
Fits:
1995-1998
(10, 15 HP, 4
Stroke)
1995-1998
(25, 35 HP - 20
AMP)
Voltage Regulator
3 Cylinder
Fits:
1995-1998, 2000
(15 HP)
Fits:
1993-2001
(5-15 HP -
2 Stroke)
4 Stroke)
Voltage Regulator
4 & 6 Cylinder
Fits:
1996-2006
(150 & 175 HP
- 35 AMP - Optical Engines)
Voltage Regulator
6 Cylinder
Fits:
1988-1991
(
115-175 HP -
Cross Flow - 4 & 6 Cyl.)
1992
(85 HP - Cross Flow -
4 Cyl.)
Replaces:
395204, 385391, 582904,
583076, 583268, 584423, 878335
10 AMP & 35 AMP OEM Rectifier/
Regulators
TECH SUPPORT:
1.866.423.4832

CALL TO ORDER:

1.800.209.9624
63
Johnson Evinrude