Shop Evinrude Outboard Parts & Johnson Outboard Parts
Shop by Johnson Evinrude Outboard Parts Diagram
Shop by Model Number
1957-2011 Johnson Evinrude Models
Shop by Year, HP & Model
NOTE: Johnson Evinrude model numbers can be found on an I.D. tag on the engine mounting bracket or stamped into a freeze plug in the engine cylinder block. You can also check boat registration or insurance paperwork.
Johnson Evinrude Model Number Guide
Shop by Johnson Evinrude Part Number
Can't find the part you need using the engine diagrams? Enter your Johnson Evinrude outboard part number in the Search by Part Number field at the top of the page for an online inventory of matching Johnson Evinrude outboard parts.
Find Johnson Evinrude Manuals from 1915 to 2007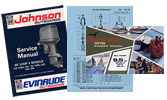 Factory Service Manuals, Parts Manuals & Owner's Manuals
Which manual should you buy? See contents of factory manuals. Order by selecting your year, horsepower and model number (or the closest model number match).

Find Outboard Parts by Manufacturer's Catalog
Each of these online catalogs offers application charts for Evinrude parts and Johnson parts to help you find discount outboard motor parts. Please call for assistance for any hard-to-find Johnson parts or Evinrude parts.

Application guides
Largest selection available
Limited lifetime warranty

Application guides
Outboard motor ignition specialists
2-year warranty