Wire Spools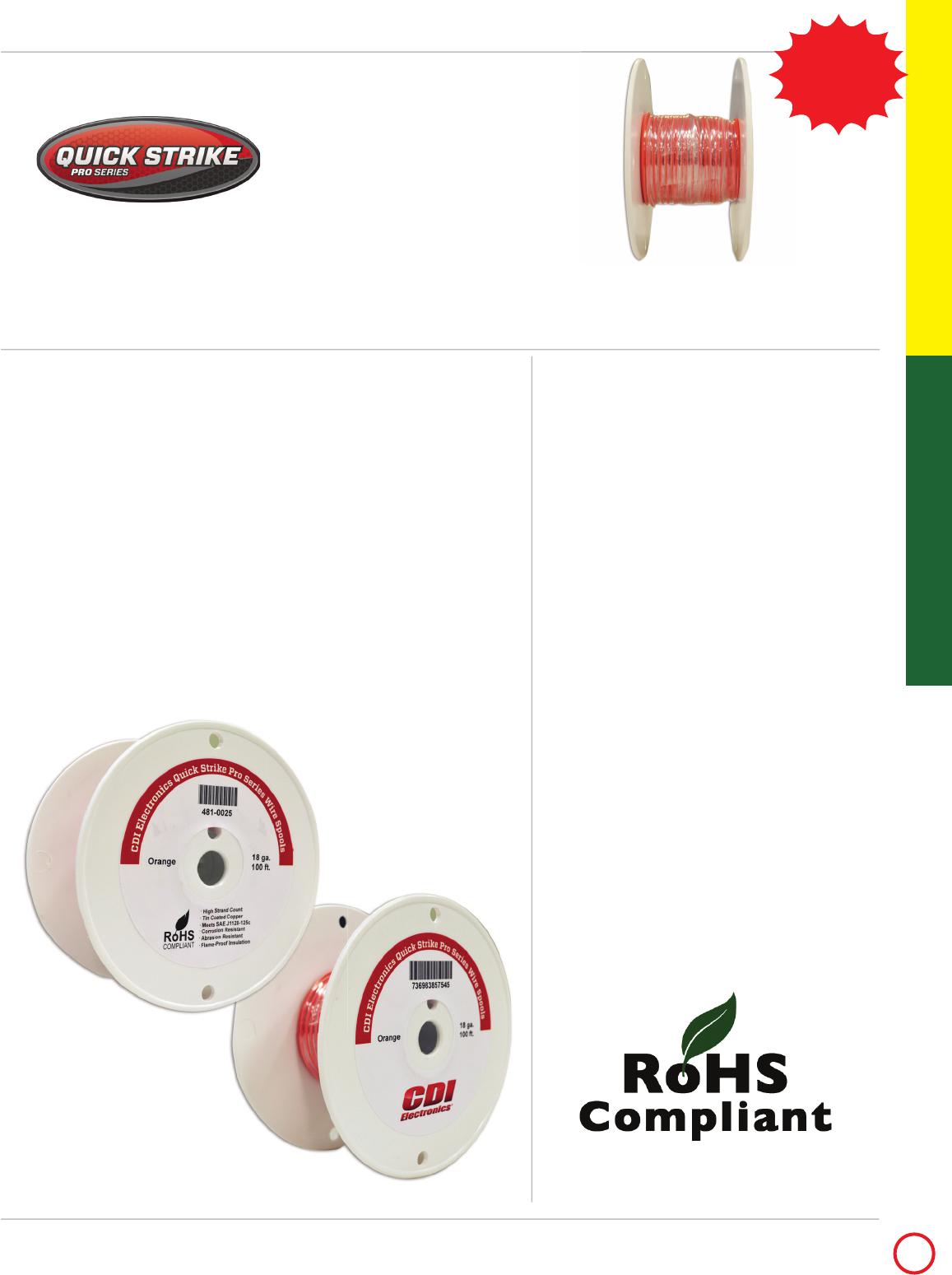 Electrical Supplies
CDI Electronics, the World's Leading Ignition Specialist,
now provides primary lead wire in a variety of OEM colors
for most installation projects!
This wire is of the highest industry standard, a staple of
all CDI Electronics products. Providing the installer with a
different OEM wire color helps professionally complete the
installation and remedies lost time in troubleshooting due to
incorrect wire colors being connected throughout the
electronics circuits.
Packaged in a standard 100 ft. or 250 ft. spools, the Quick
Strike Pro Series Primary Wire is perfect for the service
shop or DIY wiring project.
At CDI Electronics, we understand how important it is to use the highest quality wire on our parts so
that they will last longer and perform better than the OEM. With wire this good, we thought it was time
to offer it directly to you.
New
for
2015
WIRE SPOOL FEATURES
•
Individual tin-coated strands
reduce corrosion.
•
Fuel and oil resistant insulation for
harsh engine environments.
•
Maximum stranding increases
current-carrying capacity in a
smaller wire. This allows for more
current to flow in a smaller bundle
of stranded wire (*skin effect)
•
Insulation is abrasion resistant,
providing years of use.
•
Flame resistant insulation reduces
the chances of electrical "flame-up"
fires on the engine vessel.
*Skin Effect: Electrons have a
tendency to travel in larger amounts
near the outer surface of a conductor
and decrease with greater depths in
the conductor.
PREMIUM
WIRE SPOOLS
150 AVAILABLE!
Premium Wire
TECH SUPPORT:
1.866.423.4832

CALL TO ORDER:

1.800.209.9624
29
Electrical Supplies