CDI Tech Service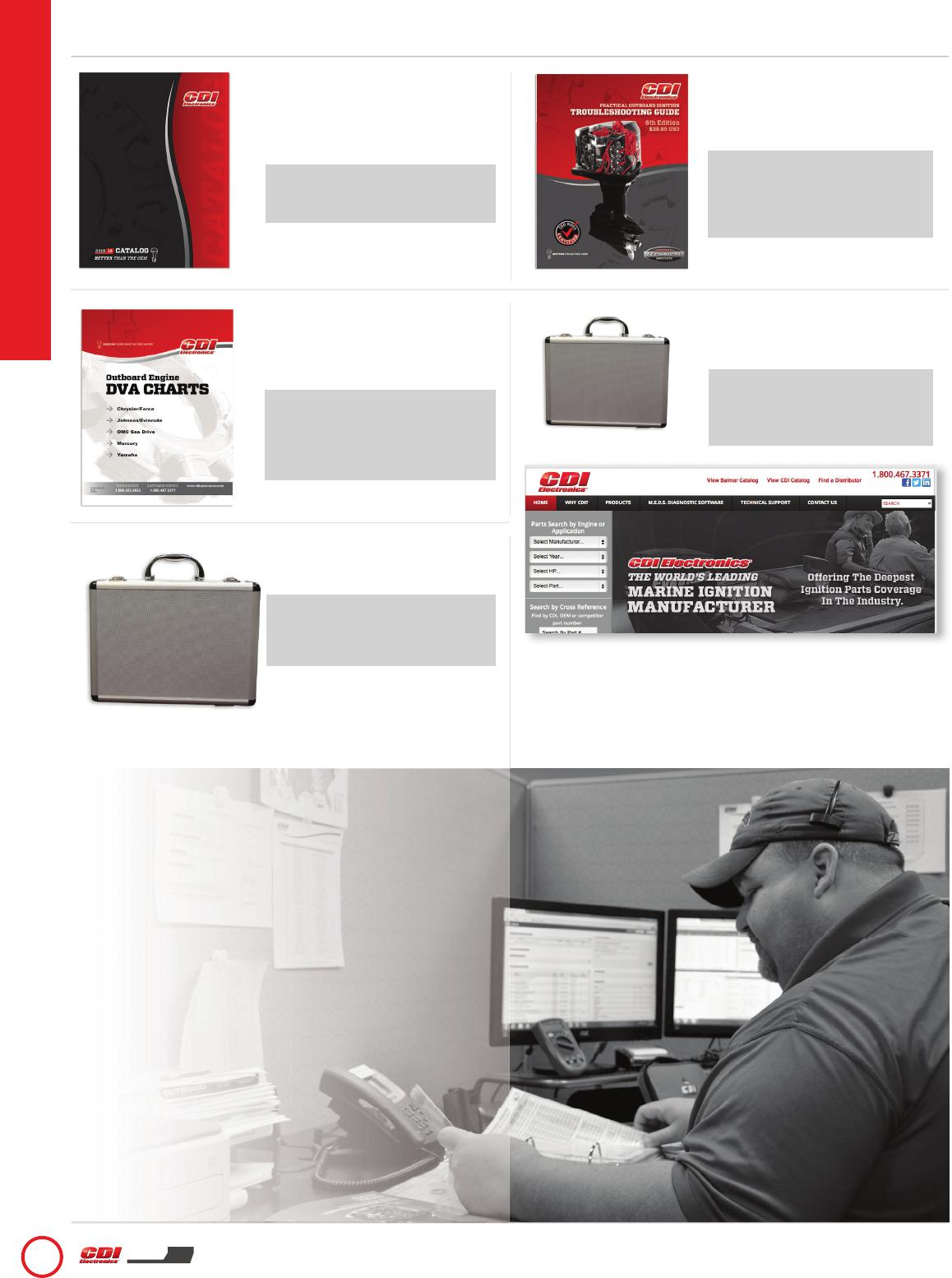 Tools & Test Equipment
CDI Electronics
Catalog
Comprehensive catalog with all CDI
Electronics products including, parts, tools,
application data, and more.
961-0002
Practical Outboard Ignition
Troubleshooting Guide
961-0003
These handy charts are perfect to keep in
your shop as a quick reference to the DVA
voltages needed to diagnose the ignition
system. Plus, they are waterproof.
Outboard Ignition
DVA Charts
Tool Box
Tool Box
Aluminum storage case. Lockable and
includes a shoulder strap.
Dimensions: 18" x 13" x 6"
Detailed reference manual, termed " The
Mechanic's Bible" Includes Troubleshooting
Tips, Reference Data for Troubleshooting
Outboard Ignitions, application data, DVA
charts and more!
Aluminum storage case with foam inserts
for additional protection.
Dimensions: 12.5" x 9.25" x 4.5"
961-0001
WE'RE HERE
CDI's Technical Support group can assist you
with troubleshooting the most complex issue
with outboard engines - the ignition system.
LET THE EXPERTS HELP YOU BETTER
SERVICE YOUR CUSTOMERS.
CONTACT CDI'S TECHNICAL
SUPPORT TODAY!
1.866.423.4832
or go to cdielectronics.com to review and
download installation instructions and
troubleshooting information for all CDI products.
NEW PRODUCT ANNOUNCEMENTS
AND INFORMATION
Can be found under the Products tab located on
the home page of cdielectronics.com!
24
16
CATALOG
BETTER

THAN THE OEM
Tools & Test Equipment