reCAPTCHA script loading
QL78YC - Champion Spark Plug ( #938M)
Replaces OEM 0437929.
Plug Type QL78YC
Seat Type Gasket
Hex Size (Inch) 0.813
Hex Size (MM) 20.650
Thread Size (Inch) 0.551
Thread Size (MM) 14.000
Thread Reach (Inch) 0.5
Taper Diameter (Inch) 0.25
Installed Height (Inch) 2.24
Insulator Projection (Inch) 0.06
Gap (Inch) 0.022-0.028
Gap (MM) 0.56-0.71
Center Electrode Diameter (Inch) 0.1
Center Electrode Material Nickel Copper Alloy
Ground Electrode Material Nickel Copper Alloy
Ground Electrode Quantity 1
Classification Champion Copper Plus Small Engine
Resistor Plug Yes
Resistor Type Q-Type Inductive Suppressor
Manufacturer Heat Range 78
Electrical Terminal Type Non-Removable Nut
Champion Champion Plug (#938m) Ql78yc is equivalent to parts:
505449 Evinrude Johnson OMC BRP
505448 Evinrude Johnson OMC BRP
437929 Evinrude Johnson OMC BRP
938 Mercury Marine
816837Q Mercury Marine
816837B2 Mercury Marine
14814Q Mercury Marine
14814568 Mercury Marine
33816837Q Mercury Marine
33816837B 2 Mercury Marine
33 14814Q Mercury Marine
33 14814568 Mercury Marine
33 938 Mercury Marine

Champion spark plugs use an extruded copper core in the center electrode that maintains accurate control of heat range, optimizing the performance and longevity of the spark plug. This not only will provide you with a dependable start but gives you the confidence that you'll keep going.
QL78YC - Champion Spark Plug ( #938M)
0.1400
Champion
QL78YC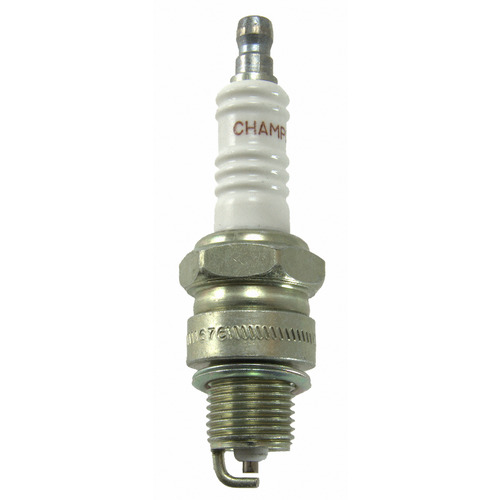 Replaces OEM 0437929.Plug Type QL78YCSeat Type GasketHex Size (Inch) 0.813Hex Size (MM) 20.650Thread Size (Inch) 0.551Thread Size (MM) 14.000Thread Reach (Inch) 0.5Taper Diameter (Inch) 0.25Installed Height (Inch) 2.24Insulator Projection (Inch) 0.06Gap (Inch) 0.022-0.028Gap (MM) 0.56-0.71Center Electrode Diameter (Inch) 0.1Center Electrode Material Nickel Copper AlloyGround Electrode Material Nickel Copper AlloyGround Electrode Quantity 1Classification Champion Copper Plus Small EngineResistor Plug YesResistor Type Q-Type Inductive SuppressorManufacturer Heat Range 78Electrical Terminal Type Non-Removable Nut
5.84
This site is protected by reCAPTCHA and the Google Privacy Policy and Terms of Service apply.