reCAPTCHA script loading
MC-1-96705 -MerCruiser Exhaust Manifold 4Cyl. See Detail Page
Your Price
$409.56
You save $124.55

MC-1-96705 - Exhaust Manifold
Direct replacement water cooled manifold using a Rochester carburetor (Carb bolt pattern 3-1/4" x 1-7/8"). 6-bolt mounting. Direct replacement for MerCruiser part number 96705A1. Manifold includes plugs, gaskets and mounting hardware as shown.
Please Read: This is a direct replacement 6 bolt exhaust manifold. This manifold is used when you have a Rochester Carburetor. You should measure the distance between your carb mounting hole,they should measure (3-1/4" x 1 7/8") this will be helpful in finding the correct manifold.
For additional details see:
Mercruiser 4-Cylinder 153 & 181 C.I.D. 120 H.P. (2.5L), 140 H.P. (3.0L) (Models 120R & 140R-MR / Alpha 1 engine log style direct replacement)
Barr Marine Merc Mani (51#) Mc-1-96705 is equivalent to parts:
96705A1 Mercury Marine
96705A 1 Mercury Marine

Barr Marine by EDM is the last and only U.S. manufacturer of inboard parts, and produces a large selection of manifolds and inboard parts.
MC-1-96705 -MerCruiser Exhaust Manifold 4Cyl. See Detail Page
51.0000
Barr Marine
MC-1-96705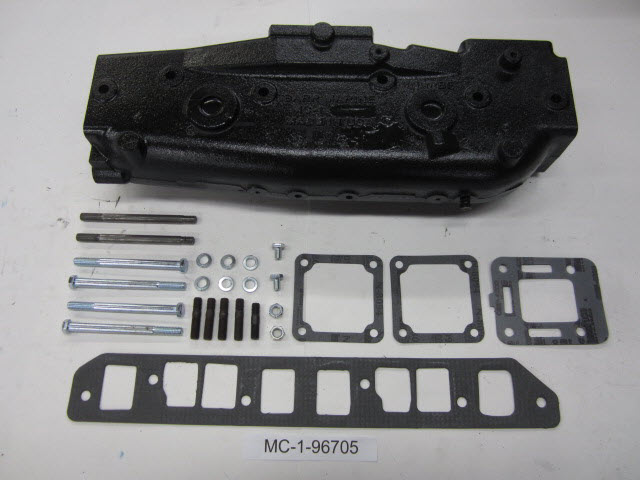 MC-1-96705 - Exhaust Manifold Direct replacement water cooled manifold using a Rochester carburetor (Carb bolt pattern 3-1/4" x 1-7/8"). 6-bolt mounting. Direct replacement for MerCruiser part number 96705A1. Manifold includes plugs, gaskets and mounting hardware as shown. Please Read: This is a direct replacement 6 bolt exhaust manifold. This manifold is used when you have a Rochester Carburetor. You should measure the distance between your carb mounting hole,they should measure (3-1/4" x 1 7/8") this will be helpful in finding the correct manifold. For additional details see: Mercruiser 4-Cylinder 153 and 181 C.I.D. 120 H.P. (2.5L), 140 H.P. (3.0L) (Models 120R and 140R-MR / Alpha 1 engine log style direct replacement)
409.56
This site is protected by reCAPTCHA and the Google Privacy Policy and Terms of Service apply.