reCAPTCHA script loading
CM-20-6672 - 20 Degree Chrysler Exhaust Elbow
Your Price
$145.79
You save $54.20
Manufacturer
Barr Marine
AFTERMARKET

CM-20-6672 - 20-Degree Exhaust Elbow Connector
20-degree exhaust elbow connector, fully jacketed. Accepts 3"inch i.d. exhaust hose. Includes all mounting hardware, gaskets and plugs. Swivel-style connector packages must be purchased separate for the corresponding riser/elbows. Direct replacement for Chrysler part # 3527794. Requires one (1) gasket per connector. Will mount directly onto manifold, or can be used with riser # CM-20-6674. May require mounting kit. Order one (1) of the appropriate exhaust risers or connectors according to your requirements.
For additional details see:
Chrysler V8-273, 318, 340 & 360 C.I.D. (All models 1966+ log style direct replacement)
Barr Marine Elbow,20 Degree,(14#) Cm-20-6672 is equivalent to parts:
18-1946 Sierra Marine
9-40313 Mallory Marine

Barr Marine by EDM is the last and only U.S. manufacturer of inboard parts, and produces a large selection of manifolds and inboard parts.
CM-20-6672 - 20 Degree Chrysler Exhaust Elbow
14.0000
Barr Marine
CM-20-6672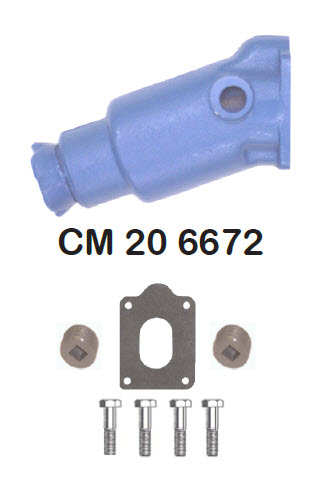 CM-20-6672 - 20-Degree Exhaust Elbow Connector 20-degree exhaust elbow connector, fully jacketed. Accepts 3"inch i.d. exhaust hose. Includes all mounting hardware, gaskets and plugs. Swivel-style connector packages must be purchased separate for the corresponding riser/elbows. Direct replacement for Chrysler part # 3527794. Requires one (1) gasket per connector. Will mount directly onto manifold, or can be used with riser # CM-20-6674. May require mounting kit. Order one (1) of the appropriate exhaust risers or connectors according to your requirements. For additional details see: Chrysler V8-273, 318, 340 and 360 C.I.D. (All models 1966+ log style direct replacement)
145.79
This site is protected by reCAPTCHA and the Google Privacy Policy and Terms of Service apply.