reCAPTCHA script loading
65050 - Alternator, 75AMP
Your Price
$276.47
You save $16.63
Manufacturer
Arco Marine
AFTERMARKET
ARCO NEW Original Equipment Quality Replacement Alternator - 65050

ARCO Part #65050
ARCO NEW Original Equipment Quality Replacement Alternator
Fits: Late model Mercruiser, 12 Volt, 75 Amp, Internal regulator
2-inch mounting foot, Single groove pulley included.
Replaces Part Numbers:
MARINE POWER 1210-000
MERCURY 12449
MERCURY 78403A1
MERCURY 78403A2
MERCURY 817119A1
MERCURY 817119A4
MERCURY 92497A3
MERCURY 98555
MERCURY 98555A1 MERCURY 805447T
MERCURY 805884T
QUALITY ASSURANCE
· All alternators are engineered for performance and reliability.
· All alternators are engineered and manufactured with precision and quality.
· All alternators must meet or exceed OEM performance before being boxed
ARCO Marine is a USA based manufacturer

ARCO is a leading supplier of electrical products for marine engines including inboard/outboard starters, trim/tilt motors, alternators, solenoids, rectifiers and more. All of ARCO's parts are built to meet or exceed OEM qualifications.
65050 - Alternator, 75AMP
8.0000
8.0000 lb
Arco Marine
65050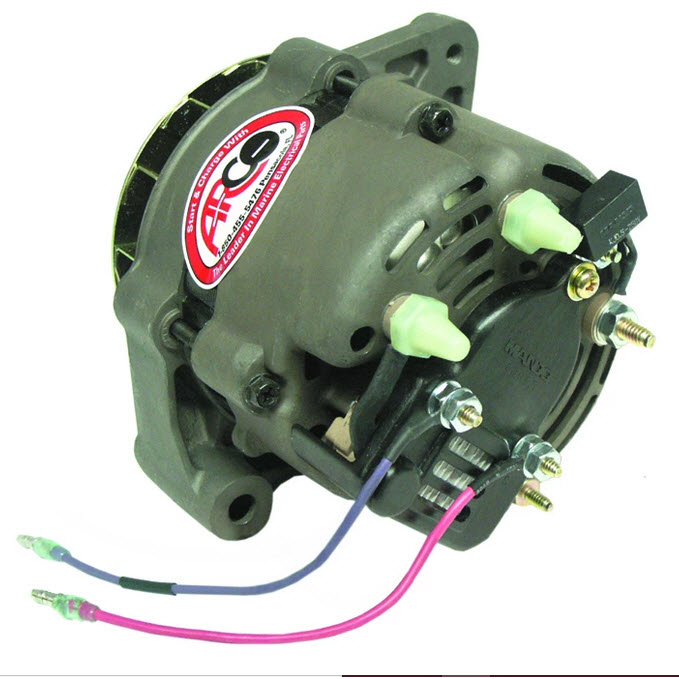 ARCO NEW Original Equipment Quality Replacement Alternator - 65050 ARCO Part #65050 ARCO NEW Original Equipment Quality Replacement Alternator Fits: Late model Mercruiser, 12 Volt, 75 Amp, Internal regulator2-inch mounting foot, Single groove pulley included. Replaces Part Numbers:MARINE POWER 1210-000MERCURY 12449MERCURY 78403A1MERCURY 78403A2MERCURY 817119A1MERCURY 817119A4MERCURY 92497A3MERCURY 98555MERCURY 98555A1 MERCURY 805447TMERCURY 805884T QUALITY ASSURANCE · All alternators are engineered for performance and reliability. · All alternators are engineered and manufactured with precision and quality. · All alternators must meet or exceed OEM performance before being boxed ARCO Marine is a USA based manufacturer
276.47
This site is protected by reCAPTCHA and the Google Privacy Policy and Terms of Service apply.