reCAPTCHA script loading
30460 - Starter, 50-806963A2, Straight Across Bolt Pattern
Your Price
$254.89
You save $22.81
Replaces OEM 0988217.
ARCO NEW OEM Premium Replacement Inboard Starter - 30460

New OEM Quality Hi Torque, Permanent Magnet, Gear Reduction Starter. 1.7 KW
This unit features HIGH PERFORMANCE in a COMPACT SIZE. See tech info sheet (also included with unit) for installation instructions.
Fits: Mercruiser, Volvo Penta, OMC, Yamaha and others. 12 3/4" flywheel. Clockwise Rotation. Will replace all CW rotating 10MT starters with one long and one short bolt straight across pattern. Includes mounting bolts and gasket. Anodized casting, nickel plated brush holder.
Replaces Part Numbers:
BRP/ OMC 381781, BRP/ OMC 384198, BRP/ OMC 981074, BRP/ OMC 981078, BRP/ OMC 982107, BRP/ OMC 982121,BRP/ OMC 982200, BRP/ OMC 983248, BRP/ OMC 983444, BRP/ OMC 983790, BRP/ OMC 985966, BRP/ OMC 988217
BRP/ OMC 3850526
BRP/ OMC 3854750
BRP/ OMC 3855882
BRP/ OMC 3858463
Delco 9000763
Delco 9000820
Delco 9000822
Marine Power 0172-000
Mercury 50-32703
Mercury 50-45120
Mercury 50-46282
Mercury 50-59799
Mercury 50-69863A1
Mercury 50-69864A1
Mercury 50-77328A1
Mercury 50-77328A3
Mercury 50-79821A2
Mercury 50-79822A1
Mercury 50-79822A2
Mercury 50-79823A1
Mercury 50-806963A2
Mercury 50-806963A4
Mercury 50-806965A2
Mercury 50-806965A4
Mercury 50-812429A2
Mercury 50-99417A2
Volvo 3862308
Volvo 3854750-1
Volvo 3856003-3
Volvo 855326-5
PRECISION TESTING
• All armatures tested to withstand 50 times operation voltage (12V)
• All motors performance tested at 5 different load levels
• All motors must meet or exceed OEM performance before being boxed
ARCO Marine is a USA based manufacturer
Arco Marine Inboard Starter is equivalent to parts:
3862308 Volvo Penta
3858463 Evinrude Johnson OMC BRP
3855882 Evinrude Johnson OMC BRP
988217 Evinrude Johnson OMC BRP
8M0090697 Mercury Marine
863007A1 Mercury Marine
508M0090697 Mercury Marine
50863007A 1 Mercury Marine
9-15903 Mallory Marine
9-15901 Mallory Marine

ARCO is a leading supplier of electrical products for marine engines including inboard/outboard starters, trim/tilt motors, alternators, solenoids, rectifiers and more. All of ARCO's parts are built to meet or exceed OEM qualifications.
30460 - Starter, 50-806963A2, Straight Across Bolt Pattern
9.0000
Arco Marine
30460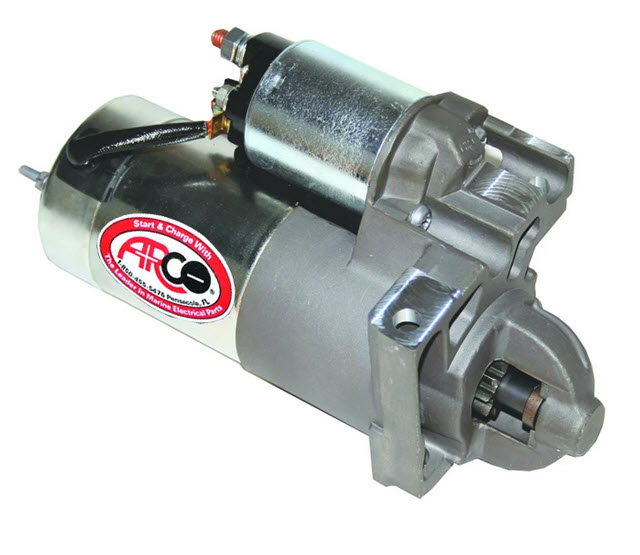 Replaces OEM 0988217.ARCO NEW OEM Premium Replacement Inboard Starter - 30460 New OEM Quality Hi Torque, Permanent Magnet, Gear Reduction Starter. 1.7 KW This unit features HIGH PERFORMANCE in a COMPACT SIZE. See tech info sheet (also included with unit) for installation instructions. Fits: Mercruiser, Volvo Penta, OMC, Yamaha and others. 12 3/4" flywheel. Clockwise Rotation. Will replace all CW rotating 10MT starters with one long and one short bolt straight across pattern. Includes mounting bolts and gasket. Anodized casting, nickel plated brush holder. Replaces Part Numbers: BRP/ OMC 381781, BRP/ OMC 384198, BRP/ OMC 981074, BRP/ OMC 981078, BRP/ OMC 982107, BRP/ OMC 982121,BRP/ OMC 982200, BRP/ OMC 983248, BRP/ OMC 983444, BRP/ OMC 983790, BRP/ OMC 985966, BRP/ OMC 988217BRP/ OMC 3850526BRP/ OMC 3854750BRP/ OMC 3855882BRP/ OMC 3858463Delco 9000763Delco 9000820Delco 9000822Marine Power 0172-000Mercury 50-32703Mercury 50-45120Mercury 50-46282Mercury 50-59799Mercury 50-69863A1Mercury 50-69864A1Mercury 50-77328A1Mercury 50-77328A3Mercury 50-79821A2Mercury 50-79822A1Mercury 50-79822A2Mercury 50-79823A1Mercury 50-806963A2Mercury 50-806963A4Mercury 50-806965A2Mercury 50-806965A4Mercury 50-812429A2Mercury 50-99417A2Volvo 3862308Volvo 3854750-1Volvo 3856003-3Volvo 855326-5 PRECISION TESTING• All armatures tested to withstand 50 times operation voltage (12V)• All motors performance tested at 5 different load levels• All motors must meet or exceed OEM performance before being boxed ARCO Marine is a USA based manufacturer
254.89
This site is protected by reCAPTCHA and the Google Privacy Policy and Terms of Service apply.