Johnson Outboard Motor Model Numbers
Find Johnson Evinrude Manuals from 1958 to 2014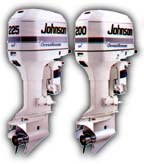 Your Johnson outboard model number can usually be found on the nameplate located on the motor or the mounting bracket. The nameplate should contain a model number and a serial number. The model number will identify the year and certain details of that motor.
1980-Present: Johnson outboards from 1980 to present use a model number that will indicate the year & features of that motor. See the model number codes here.

Pre-1980: Johnson outboards prior to 1980 do not have a consistent model number code. See the model number information below.
Click on a HP rating below for a list of years & model numbers for pre-1980 motors
1.1HP, 1.4HP, 1.5HP, 1.7HP, 2HP, 2.5HP, 2.8HP, 3HP, 3.3HP, 3.7HP, 4HP, 4.1HP, 4.2HP, 4.5HP, 5HP, 5.5HP, 6HP, 7HP, 7.15HP, 7.5HP, 8HP, 8.1HP, 9.2HP, 9.3HP, 9.5HP, 9.8HP, 9.9HP, 10HP, 12HP, 13HP, 13.15HP, 13.3HP, 15HP, 16HP, 16.5HP, 18HP, 20HP, 21.4HP, 22HP, 24HP, 25HP, 25.75HP, 26HP, 26.1HP, 27HP, 28HP, 30HP, 32HP, 33HP, 35HP, 36HP, 40HP, 50HP, 55HP, 60HP, 65HP, 70HP, 75HP, 80HP, 85HP, 90HP, 100HP, 115HP, 125HP, 135HP, 140HP, 150HP, 175HP, 200HP, 235HP, ACCESSORIES
   Year     Model
   1928     KR-40
   1931     XR-55
   1931-37  KR-55
   1932     SR-60
   1938     KR-38
            SR-38

Johnson 1.1 HP Outboard Manuals return to top
   Year     Model           
   1938		MD-38
	        MS-38
   1939     MD-39
            MS-39

Johnson 1.4 HP Outboard Manuals return to top
   Year     Model           
   1933     J-65
   1934     J-70
   1935     J-75

Johnson 1.5 HP Outboard Manuals return to top
   Year     Model           
   1925-32  J-25
   1940     MD-15
            MS-15
   1941-42  MD-20
            MS-20
   1968     SC-10
   1969     1R69
   1970     1R70

Johnson 1.7 HP Outboard Manuals return to top
   Year     Model           
   1936     100
            J-80
   1937     110

Johnson 2 HP Outboard Manuals return to top
   Year     Model           
   1922-24  A
            BN
   1925-26  A-25
            AB-25
   1971     2R71
   1972     2R72
   1973     2R73
   1974     2R74
   1975     2R75
   1976     2R76
   1977     2R77
   1978     2R78
   1979     2R79

Johnson 2.1 HP Outboard Manuals return to top
   Year     Model           
   1937     DS-37
	        LS-37
   1938     DS-38
            LS-38

Johnson 2.5 HP Outboard Manuals return to top
   Year     Model           
   1927-28  A-35
   1939     HA-39
            HD-39
   1940     HA-10
            HA-15
            HD-10
            HD-15
            HS-10
            HS-15
   1941-42  HD-20
            HS-20
   1946-50  HD-25
   1951     HD-26

Johnson 2.8 HP Outboard Manuals return to top
   Year     Model           
   1933     OA-65
		    OB-65
   1934     OB-70

Johnson 3 HP Outboard Manuals return to top
   Year     Model           
   1929     A-45
   1931     OA-55
   1932     OA-60
   1952-54  JW-10
   1955     JW-11
   1956     JW-12
   1957     JW-JWL-13
   1958     JW-JWL-14
   1959     JW-JWL-15
   1960     JW-JWL-16
   1961-62  JW-JWL-17
   1963     JW-JWL-18
   1964     JH-JHL-19
            JW-JWL-19
   1965     JH-JHL-20
            JW-JWL-20
   1966     JH-JHL-21
            JW-JWL-21
   1967     JH-JHL-22
            JHF-21
            JHF-22
            JW-JWL-22
            JWF-21
   1968     JH-JHL-23
            JHF-23
            JW-JWL-23
            JWF-23

Johnson 3.3 HP Outboard Manuals return to top
   Year     Model           
   1934     F-70
   1935     F-75
   1936     200
   1937     210

Johnson 3.7 HP Outboard Manuals return to top
   Year     Model           
   1935-36  300J

Johnson 4 HP Outboard Manuals return to top
   Year     Model           
   1930-32  A-50
   1969     4R69-4RL69
            4W69
   1970     4R70-4RL70
            4W70-4WL70
   1971     4R71-4RL71
            4W71-4WL71
   1972     4R72-4RL72
            4W72
   1973     4R73-4RL73
            4W73
   1974     4R74-4RL74
            4W74
   1975     4R75-4RL75
            4W75
   1976     4R76-4RL76
            4W76
	   1977     4R77-4RL77
            4W77
   1978     4R78-4RL78
            4W78
   1979     4R79-4RL79
            4W79

Johnson 4.1 HP Outboard Manuals return to top
   Year     Model           
   1933     A-65
   1934     A-70

Johnson 4.2 HP Outboard Manuals return to top
   Year     Model           
   1937     DT-37
            LT-37
   1938     DT-38
            LT-38

Johnson 4.5 HP Outboard Manuals return to top
   Year     Model           
   1935     A-75
   1936     A-80
   1937     AA-37

Johnson 5 HP Outboard Manuals return to top
   Year     Model           
   1939     AT-39
            DT-39
            LT-39
   1940     AT-10
            DT-10
            LT-10
   1941-42  TD-15
            TS-15
   1946     TS-20
   1946-49  TD-20
   1950-51  TN-25
            TN-26
            TN-27
   1952-53  TN-28
	   1965     LD-LDL-10
   1966     LD-LDL-11
   1967     LD-LDL-12
   1968     LD-LDL-13

Johnson 5.5 HP Outboard Manuals return to top
   Year     Model           
   1954     CD-10
            CD-11
   1955     CD-12
   1956     CD-13
   1957     CD-CDL-14
   1958     CD-CDL-15
   1959     CD-CDL-16
   1960     CD-CDL-17
   1961     CD-CDL-18
   1962     CD-CDL-19
   1963     CD-CDL-20
   1964     CD-CDL-21

Johnson 6 HP Outboard Manuals return to top
   Year     Model           
   1926     P-30
   1927     K-35
   1965     CD-CDL-22
   1966     CD-CDL-23
   1967     CD-CDL-24
   1968     CD-CDL-25
   1969     6R69-6RL69
   1970     6R70-6RL70
   1971     6R71-6RL71
   1972     6R72-6RL72
   1973     6R73-6RL73
   1974     6R74-6RL74
   1975     6R75-6RL75
   1976     6R76-6RL76
   1977     6R77-6RL77
   1978     6R78-6RL78
   1979     6R79-6RL79

Johnson 7 HP Outboard Manuals return to top
   Year     Model           
   1932     OK-60

Johnson 7.15 HP Outboard Manuals return to top
   Year     Model           
   1928     K-40
   1929     K-45

Johnson 7.5 HP Outboard Manuals return to top
   Year     Model           
   1956     AD-10
   1957     AD-ADL-11
   1958     AD-ADL-12

Johnson 8 HP Outboard Manuals return to top
   Year     Model           
   1927     P-35
   1930-32  K-50
   1931     OK-55

Johnson 8.1 HP Outboard Manuals return to top
   Year     Model           
   1935     OK-75

Johnson 9.2 HP Outboard Manuals return to top
   Year     Model           
   1933     K-65
   1934     K-70

Johnson 9.3 HP Outboard Manuals return to top
   Year     Model           
   1935     K-75
   1936     K-80
   1937     KA-37
   1938     KA-38

Johnson 9.5 HP Outboard Manuals return to top
   Year     Model           
   1964     MQ-MQL-10
   1965     MQ-MQL-11
   1966     MQ-MQL-12
   1967     MQ-MQL-13
   1968     MQ-MQL-14
   1969     9R69-9RL69
   1970     9R70-9RL70
   1971     9R71-9RL71
   1972     4R72-9RL72
            9R72-9RL72
   1973     9R73-9RL73

Johnson 9.8 HP Outboard Manuals return to top
   Year     Model           
   1939     KA-39
   1940     KA-10
   1941-42  KS-15
   1941-48  KD-15

Johnson 9.9 HP Outboard Manuals return to top
   Year     Model           
   1974     10E74-10EL74
            10R74-10RL74
   1975     10E75-10EL75
            10R75-10RL75
   1976     10E76-10EL76
            10R76-10RL76
   1977     10E77-10EL77
            10R77-10RL77
   1978     10E78-10EL78
            10R78-10RL78
            10SEL78
   1979     10E79-10EL79
            10R79-10RL79
            10SEL79

Johnson 10 HP Outboard Manuals return to top
   Year     Model           
   1949-50  QD-10
            QD-11
   1951-52  QD-12
            QD-13
   1953     QD-14
   1954     QD-15
   1955     QD-16
   1956     QD-17
   1957     QD-QDL-18
   1958     QD-QDL-19
   1959     QD-QDL-20
   1960     QD-QDL-21
   1961     QD-QDL-22
   1962     QD-QDL-23
   1963     QD-QDL-24

Johnson 12 HP Outboard Manuals return to top
   Year     Model           
   1929     P-45

Johnson 13 HP Outboard Manuals return to top
   Year     Model           
   1929-32  S-45

Johnson 13.15 HP Outboard Manuals return to top
   Year     Model           
   1928     P-40

Johnson 13.3 HP Outboard Manuals return to top
   Year     Model           
   1930-32  SA-50
            SE-50
   1933     S-65
   1934     S-70

Johnson 15 HP Outboard Manuals return to top
   Year     Model           
   1956     E-10
            FD-10
   1974     15E74-15EL74
            15R74-15RL74
   1975     15E75-15EL75
            15R75-15RL75
   1976     15E76-15EL76
            15R76-15RL76
   1977     15E77-15EL77
            15R77-15RL77
   1978     15E78-15EL78
            15R78-15RL78
   1979     15E79-15EL79
            15R79-15RL79

Johnson 16 HP Outboard Manuals return to top
   Year     Model           
   1929     SR-45
   1930     SR-50
   1940-42  SD-10
   1946-48  SD-15
   1949-50  SD-20

Johnson 16.5 HP Outboard Manuals return to top
   Year     Model           
   1928     PR-40

Johnson 18 HP Outboard Manuals return to top
   Year     Model           
   1931     SR-55
   1957     E-11
            FD-FDL-11
            FDE-FDEL-11
   1958     E-12
            FD-FDL-12
            FDE-FDEL-12
   1959     FD-FDL-13
   1960     FD-FDL-14
   1961     FD-FDL-15
   1962     FD-FDL-16
   1963     FD-FDL-17
   1964     FD-FDL-18
   1965     FD-FDL-19

Johnson 20 HP Outboard Manuals return to top
   Year     Model           
   1930-32  P-50
            PA-50
            PE-50
   1966     FD-20
   1967     FD-FDL-21
   1968     FD-FDL-22
   1969     20R69-20RL69
   1970     20R70-20RL70
   1971     20R71-20RL71
   1972     20R72-20RL72
   1973     20R73-20RL73

Johnson 21.4 HP Outboard Manuals return to top
   Year     Model           
   1933     P-65
   1934     P-70

Johnson 22 HP Outboard Manuals return to top
   Year     Model           
   1935     P-75
   1936     P-80
   1937     PO-37
   1938     PO-38
   1939     PO-39
   1940     PO-10
   1941-50  PO-15

Johnson 24 HP Outboard Manuals return to top
   Year     Model           
   1930     PR-50

Johnson 25 HP Outboard Manuals return to top
   Year     Model           
   1951     RD-10
            RD-11
   1952     RD-12
            RD-13
   1953     RD-14
   1953-54  RD-15
   1954     RD-16
            RDE-16
   1955     RD-17
            RDE-17
   1969     25R69-25RL69
   1970     25R70-25RL70
   1971     25R71-25RL71
   1972     25E72-25EL72
            25R72-25RL72
   1973     25E73-25EL73
            25R73-25RL73
   1974     25E74-25EL74
            25R74-25RL74
   1975     25E75-25EL75
            25R75-25RL75
   1976     25E76-25EL76
            25R76-25RL76
   1977     25E77-25EL77
            25R77-25RL77
   1978     25E78-25EL78
            25R78-25RL78
   1979     25E79-25EL79
            25R79-25RL79

Johnson 25.75 HP Outboard Manuals return to top
   Year     Model           
   1928-29  TR-40

Johnson 26 HP Outboard Manuals return to top
   Year     Model           
   1929-32  V-45

Johnson 26.1 HP Outboard Manuals return to top
   Year     Model           
   1930-32  VA-50
            VE-50
   1933     V-65
   1934     V-70

Johnson 27 HP Outboard Manuals return to top
   Year     Model           
   1931     PR-55
   1932     PR-60
   1933     PR-65

Johnson 28 HP Outboard Manuals return to top
   Year     Model           
   1962     RX-RXL-10
   1963     RX-RXL-11
            RXE-11
   1964     RX-RXL-12
            RXE-12

Johnson 30 HP Outboard Manuals return to top
   Year     Model           
   1956     RD-18
            RDE-18
            RJE-18

Johnson 32 HP Outboard Manuals return to top
   Year     Model           
   1929     VR-45
   1930     VR-50

Johnson 33 HP Outboard Manuals return to top
   Year     Model           
   1965     RX-RXL-13
            RXE-RXEL-13
   1966     RX-RXL-14
            RXE-RXEL-14
   1967     RX-RXL-15
            RXE-RXEL-15
   1968     RX-RXL-16
            RXE-RXEL-16
   1969     33E69-33EL69
            33R69-33RL69
   1970     33E70-33EL70
            33R70-33RL70

Johnson 35 HP Outboard Manuals return to top
   Year     Model           
   1957     RD-RDL-19
            RDE-RDEL-19
            RJE-RJEL-19
   1958     RD-RDL-19C
            RDE-RDEL-19C
            RDS-RDSL-20
   1959     RD-RDL-21
            RDS-RDSL-21
   1976     35E76-35EL76
            35R76-35RL76
   1977     35E77-35EL77
            35R77-35RL77
            V4ML1135EL77
   1978     35E78-35EL78
            35R78-35RL78
   1979     35E79-35EL79
            35R79-35RL79

Johnson 36 HP Outboard Manuals return to top
   Year     Model           
   1931     VR-55

Johnson 40 HP Outboard Manuals return to top
   Year     Model           
   1960     RD-RDL-22
            RDS-RDSL-22
   1961     RD-RDL-23
            RDS-RDSL-23
   1962     RD-RDL-24
            RDS-RDSL-24
            RK-RKL-24
   1963     RD-RDL-25
            RDS-RDSL-25
            RK-RKL-25
   1964     RD-RDL-26
            RDS-RDSL-26
            RK-RKL-26
   1965     RD-RDL-27
            RDS-RDSL-27
            RK-RKL-27
   1966     RD-RDL-28
            RDS-RDSL-28
            RK-RKL-28
   1967     RD-RDL-29
            RDS-RDSL-29
            RK-RKL-29
   1968     RD-RDL-30
            RDS-RDSL-30
            RK-RKL-30
   1969     40E69-40EL69
            40ES69-40ESL69
            40R69-40RL69
   1970     40E70-40EL70
            40ES70-40ESL70
            40R70-40RL70
   1971     40E71-40EL71
            40R71-40RL71
   1972     40E72-40EL72
            40R72-40RL72
   1973     40E73-40EL73
            40R73-40RL73
   1974     40E74-40EL74
            40R74-40RL74
   1975     40E75-40EL75
            40R75-40RL75
   1976     40E76-40EL76
            40R76-40RL76

Johnson 50 HP Outboard Manuals return to top
   Year     Model           
   1958     V4-V4L-10
            V4S-V4SL-10
   1959     V4-V4L-11
            V4S-V4SL-11
   1971     50ES71-50ESL71
   1972     50ES72-50ESL72
            50R72-50RL72
   1973     50ES73-50ESL73
            50R73-50RL73
   1974     50ES74-50ESL74
   1975     50ES75-50ESL75
   1977     50R77-50RL77
   1978     50R78-50RL78
   1979     50R79-50RL79

Johnson 55 HP Outboard Manuals return to top
   Year     Model           
   1968     TR-TRL-10
   1969     55ES69-55ESL69
   1976     55E76-55EL76
   1977     55E77-55EL77
   1978     55E78-55EL78
   1979     55E79
            55R79-55RL79

Johnson 60 HP Outboard Manuals return to top
   Year     Model           
   1964     VX-VXL-10
            VXH-VXHL-10
   1965     VX-VXL-11
            VXH-VXHL-11
   1966     VX-VXL-12M,R
            VXH-VXHL-12
   1967     VX-VXL-13
            VXH-VXHL-13
   1970     60ES70-60ESL70
   1971     60ES71-60ESL71

Johnson 65 HP Outboard Manuals return to top
   Year     Model           
   1968     VX-VXL-14
            VXH-VXHL-14
   1972     65ES72-65ESL72
            65ESLR72
   1973     65ES73-65ESL73
            65ESR73-65ESLR73

Johnson 70 HP Outboard Manuals return to top
   Year     Model           
   1974     70ES74-70ESL74
            70ESLR74
   1975     70ES75-70ESL75
   1976     70EL76
   1977     70EL77
   1978     70EL78
   1979     70EL79

Johnson 75 HP Outboard Manuals return to top
   Year     Model           
   1960     V4S-V4SL-12
   1961     V4A-V4AL-13
            V4S-V4SL-13
   1962     V4S-V4SL-14
   1962-63  V4A-V4AL-14
            V4A-V4AL-15
   1963     V4S-V4SL-15
   1964     V4A-V4AL-16
            V4H-V4HL-16
            V4S-V4SL-16
   1965     V4A-V4AL-17
            V4H-V4HL-17
            V4S-V4SL-17
   1966     V4H-18
   1975     75ESR75-75ESLR75
   1976     75ER76-75ELR76
   1977     75ER77-75ELR77
   1978     75ER78-75ELR78
   1979     75ER79-75ELR79

Johnson 80 HP Outboard Manuals return to top
   Year     Model           
   1966     V4A-V4AL-18
            V4S-V4SL-18
   1967     V4A-V4AL-19
            V4S-V4SL-19

Johnson 85 HP Outboard Manuals return to top
   Year     Model           
   1968     V4A-V4AL-20
            V4S-V4SL-20
   1969     85ESL69
   1970     85ESL70
   1971     85ESL71
   1972     85ESL72
   1973     85ESL73
   1974     85ESL74
   1975     85ESL75
   1976     85EL76
            85ETLR76
   1977     85EL77
            85ETLR77
            85TXLR77
   1978     140943
            85ETLR78
            85ML78
            85TXLR78
   1979     85ML79
            85TL79
            85TXL79

Johnson 90 HP Outboard Manuals return to top
   Year     Model           
   1964     V4M-V4ML-10
   1965     V4M-V4ML-11

Johnson 100 HP Outboard Manuals return to top
   Year     Model           
   1966     V4ML-12
   1967     V4T-V4TL-13
            V4TL-13
   1968     V4T-V4TL-14
            V4TL-14
   1971     100ESL71
   1972     100ESL72
   1979     100ML79
            100TLR79
            100TXLR79

Johnson 115 HP Outboard Manuals return to top
   Year     Model           
   1969     115ESL69
   1970     115ESL70
   1973     115ESL73
   1974     115ESL74
            115ETL74
   1975     115ESL75
            115ETL75
   1976     115EL76
            115ETL76
   1977     115EL77
            115ETL77
            115TXL77
   1978     115ETL78
            115ML78
            115TXL78
   1979     115ML79
            115TL79
            115TXL79

Johnson 125 HP Outboard Manuals return to top
   Year     Model           
   1971     125ESL71
   1972     125ESL72

Johnson 135 HP Outboard Manuals return to top
   Year     Model           
   1973     135ESL73
   1974     135ESL74
            135ETL74
   1975     135ESL75
            135ETL75
   1976     135EL76
            135ETL76

Johnson 140 HP Outboard Manuals return to top
   Year     Model           
   1977     140ML77
            140TL77
            140TXL77
   1978     140ML78
            140TL78
            140TXL78
   1979     140ML79
            140TL79
            140TXL79

Johnson 150 HP Outboard Manuals return to top
   Year     Model           
   1978     150TL78
            150TXL78
   1979     150TL79
            150TXL79

Johnson 175 HP Outboard Manuals return to top
   Year     Model           
   1977     175TL77
            175TXL77
   1978     175TL78
            175TXL78
   1979     175TL79
            175TXL79

   Year     Model           
   1976     200TL76
            200TXL76
   1977     200TL77
            200TXL77
   1978     200TL78
            200TXL78
   1979     200TL79
            200TXL79

   Year     Model           
   1978     235TL78
            235TXL78
   1979     235TL79
            235TXL79

   Year     Model           
   1960     JM1960ACCESSORY
   1961     JM1961ACCESSORY
   1962     JM1962ACCESSORY
   1963     JM1963ACCESSORY
   1964     JM1964ACCESSORY
   1965     JM1965ACCESSORY
   1966     JM1966ACCESSORY
   1967     JM1967ACCESSORY
   1968     JM1968ACCESSORY