Alternators (p. 3)
Table of Contents | < Previous Page|Next Page >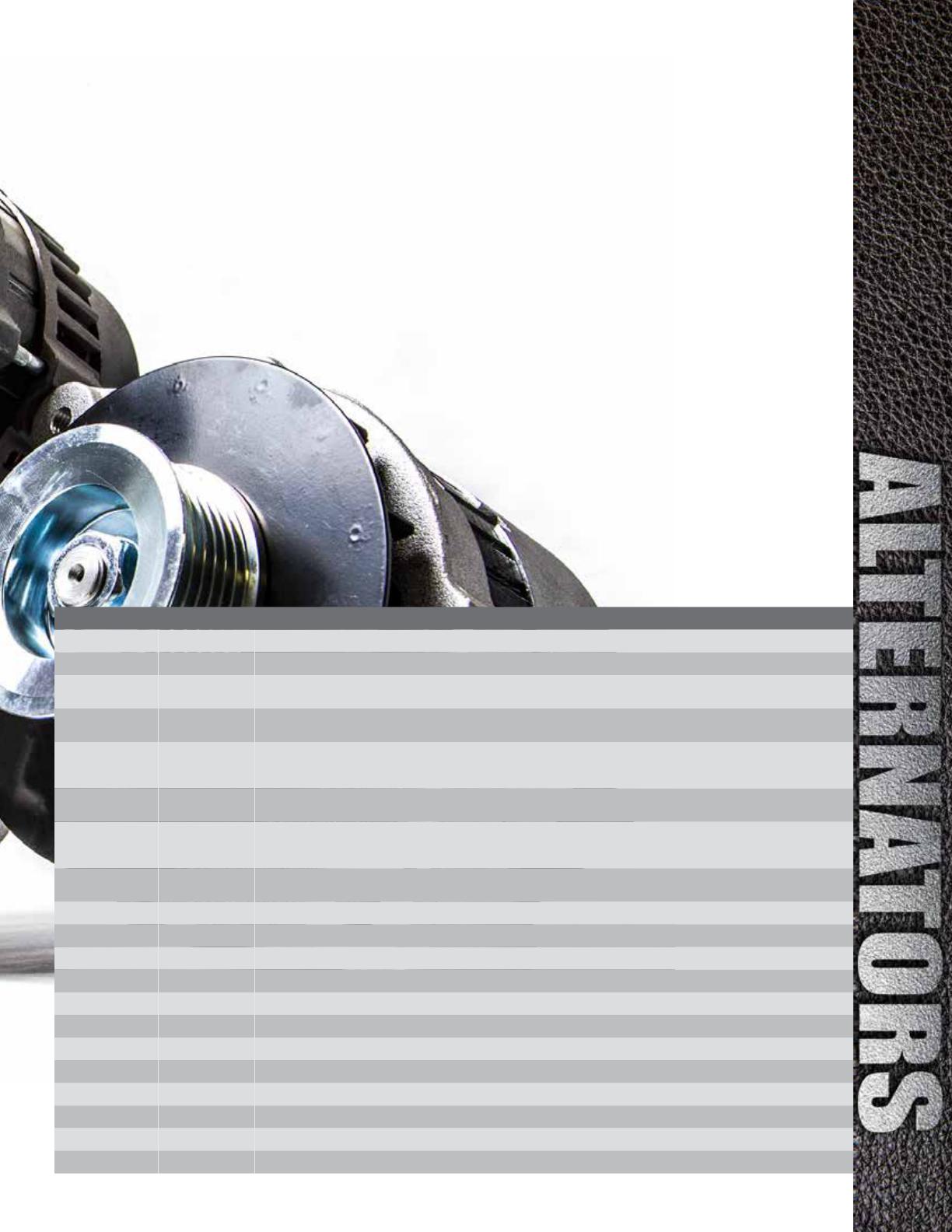 3
69729
For: 37-63A Marine Applications
69729
For: 37-63A Marine Applications
69729
(1-Wire) (No Core) (68 Amp) Single wire connection fits Mercruiser and many other applications. Equipped with fan and
drive pulley. Replaces: 69729 • SAE J1171 (Remanufactured)
69729
(1-Wire) (No Core) (68 Amp) Single wire connection fits Mercruiser and many other applications. Equipped with fan and
drive pulley. Replaces: 69729 • SAE J1171
78403A2
(3-Wire) (No Core) (68 Amp) Replaces Mando, Motorola and original equipment Delco. Uses same electrical connections
and mounting method. Equipped with fan and drive pulley. Replaces: 78477, 78403A2, 92497A3 (Remanufactured) • SAE
J1171
78403A2
(3-Wire) (No Core) (68 Amp) Replaces Mando, Motorola and original equipment Delco. Uses same electrical connections
and mounting method. Equipped with fan and drive pulley. Replaces: 78477, 78403A2, 92497A3. • SAE J1171
78477
(3-Wire) (No Core) (68 Amp) Replaces Mando, Motorola and original equipment Delco. Uses same electrical connections
and mounting method. Equipped with fan and drive pulley. Replaces: 78477, 78403A2, 92497A3 (Remanufactured) • SAE
J1171
78477
(3-Wire) (No Core) (68 Amp) Replaces Mando, Motorola and original equipment Delco. Uses same electrical connections
and mounting method. Equipped with fan and drive pulley. Replaces: 78477, 78403A2, 92497A3. • SAE J1171
805884T
65 Amp • SAE J1171
807652T
Serpentine Pulley • 55 Amp • SAE J1171
807653T
Serpentine Pulley • 65 Amp • SAE J1171
817119A1
65 Amp • SAE J1171
817119A4
65 Amp • SAE J1171
817119A4
Single Groove Pulley • 55 Amp • SAE J1171
821663
225-250 50 Amp, 12 Volt
821663-1
225-250 50 Amp, 12 Volt
821663A1
225-250 50 Amp, 12 Volt
834832
500 EFI 8.2L 60 Amp
834832T2
500 EFI 8.2L 60 Amp
857006A3
500 EFI 8.2L 60 Amp
DID YOU KNOW?
The most common cause of alternator failure is using the unit with an improperly charged
battery. An alternator's purpose is to maintain proper system voltage during operation and
discharged, an alternator has to operate at maximum output which can either destroy the
unit or greatly shorten it's operational longevity.
Like all Sierra products, all of our alternators are covered by our industry leading
limited lifetime warranty. We cover not only product replacement but labor and
incidental charges. No one protects your investment like Sierra.