5006180 - Johnson Evinrude Remote Control Assembly

6 in stock.
Part Number
5006180 Johnson
5006180 Evinrude

Manufacturer
Evinrude Johnson OMC
CURRENT
Control - Surface or Side Mount with Ignition Switch

Wired for 1996 and newer engines.
1996 and newer harnesses are:
0176339 12 Ft
0176340 15 Ft
0176341 20 Ft
0176342 28 Ft

Adapter harness 0768411 required for 1973-1995 engines and includes trim and tilt adapter.
Pre 1979 engines require replacing the control cables with post 1979 control cables CC205XX.

Another option for an adapter harness that includes trim is CDI part number, 423-6344 (engine end only). This is an 18" extension harness for trim and tilt hook up. If converting a pre-1995 motor you may also need this male plug end #514685 and wedge pin #514682 to to convert the female plug to male plug complete the installation when using the existing boat side harness.

Standard Features
-Port or Starboard station mounting
-Side of center console mounting
-Accepts 1979 and newer control cables
-Trim and tilt
-Push-to-prime ignition key switch
-Fast idle warm-up lever
-Emergency cut-off switch and lanyard
-Neutral lock
-Start-in-gear prevention
-Adjustable throttle friction
-Warning horn included
-Note: Not for use with Stern Drive applications

Original Evinrude Outboard, Johnson Outboard, OMC Inboard, OMC Stern Drive, OMC Sail Drive and OMC Sea Drive parts.
5006180 - Johnson Evinrude Remote Control Assembly
Evinrude Johnson OMC
5006180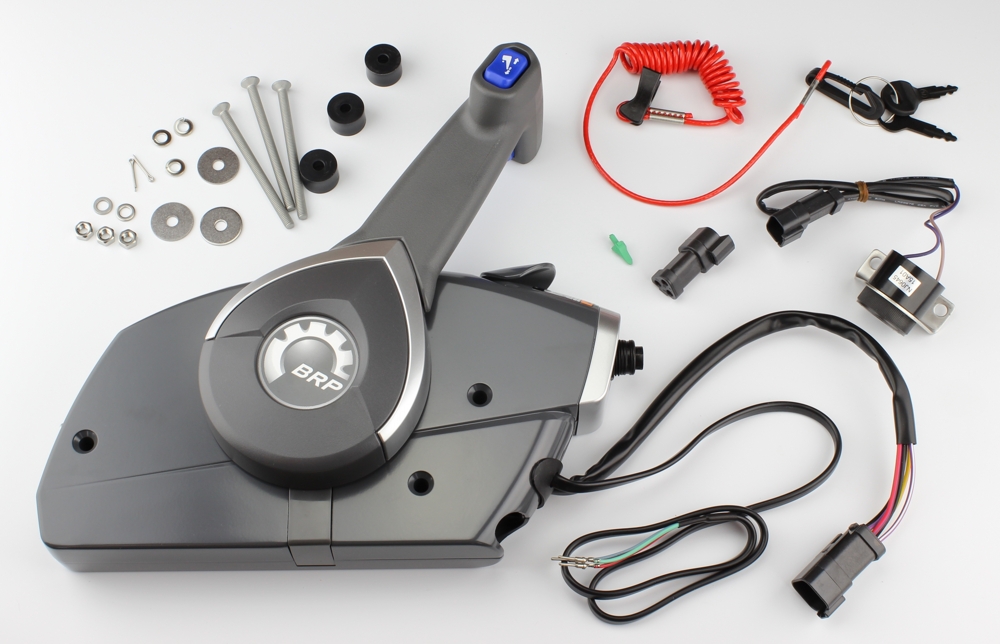 Control - Surface or Side Mount with Ignition Switch Wired for 1996 and newer engines.1996 and newer harnesses are:0176339 12 Ft0176340 15 Ft0176341 20 Ft0176342 28 Ft Adapter harness 0768411 required for 1973-1995 engines and includes trim and tilt adapter. Pre 1979 engines require replacing the control cables with post 1979 control cables CC205XX. Another option for an adapter harness that includes trim is CDI part number, 423-6344 (engine end only). This is an 18" extension harness for trim and tilt hook up. If converting a pre-1995 motor you may also need this male plug end #514685 and wedge pin #514682 to to convert the female plug to male plug complete the installation when using the existing boat side harness. Standard Features -Port or Starboard station mounting -Side of center console mounting -Accepts 1979 and newer control cables -Trim and tilt -Push-to-prime ignition key switch -Fast idle warm-up lever -Emergency cut-off switch and lanyard -Neutral lock -Start-in-gear prevention -Adjustable throttle friction -Warning horn included -Note: Not for use with Stern Drive applications
$342.33