174-9873-16 - Stator, 398-9873A39, A4
#174-9873-16 - Stator
6 Cylinder
Fits Most: 1990-1991 (135-200 HP
*Glued in magnet flywheel)
1997-1999 (210 HP
Sport jet)
1997-2005 (175 HP
Sport jet) (16 Amp)
Replaces: Mercury #398-9873A 1, 398-9873A 3,
398-9873A 4, 398-9873A36,
398-9873A39
CDI Electronics Merc Stator 6 Cyl. - 16 Amp is equivalent to parts:
9873A4 Mercury Marine
9873A39 Mercury Marine
9873A3 Mercury Marine
398 9873A39 Mercury Marine
398 9873A 4 Mercury Marine

CDI Electronics produces state of the art Quick Strike Ignitions and components that have become the industry standard for quality electronic ignition systems. CDI also makes a line of electronics testing equipment for marine engine applications.
174-9873-16 - Stator, 398-9873A39, A4
CDI Electronics
174-9873-16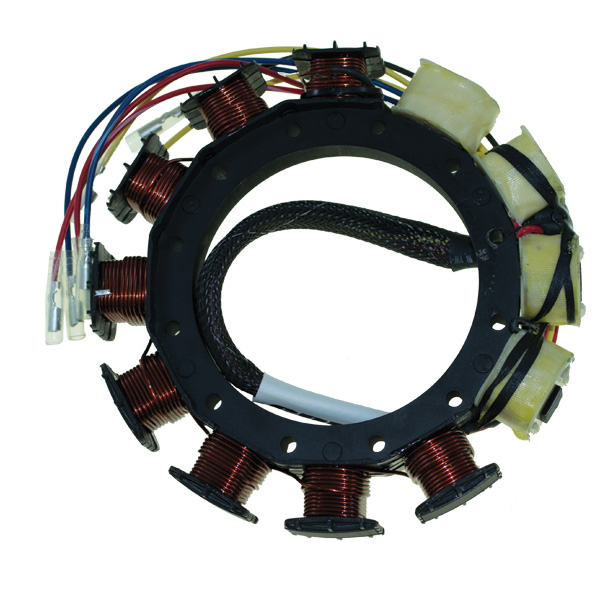 #174-9873-16 - Stator6 Cylinder Fits Most: 1990-1991 (135-200 HP*Glued in magnet flywheel)1997-1999 (210 HPSport jet)1997-2005 (175 HPSport jet) (16 Amp) Replaces: Mercury #398-9873A 1, 398-9873A 3,398-9873A 4, 398-9873A36,398-9873A39
230.82