116-8301 - CD Module (Blue), 300-F685301-2, 300-888788
116-8301 Ignition Pack 2/3/4/5 Cylinder
Fits: 1988 (50 HP - Model D) 1985- 1989 (85-125 HP - L Drive) 1989 (85 HP) 1990-1991 (90 HP) 1990-1991
(120 HP - E000001-0E0006550) 1990 (120 HP - L Drive - Model ,B &C) 1989 (125 HP - L Drive)1988-1989 (125 HP) 1989-1993 (150 HP - w/Prestolite ign.)
Replaces: 685301-2, F685301-2, 300-F658301-2, 300-888788
CDI Electronics Force Cd B/c W/o/plug (blue is equivalent to parts:
888788 Mercury Marine
300888788 Mercury Marine
Additional information about this part can be found on page(s) 121 of the CDI Electronics catalog.

CDI Electronics produces state of the art Quick Strike Ignitions and components that have become the industry standard for quality electronic ignition systems. CDI also makes a line of electronics testing equipment for marine engine applications.
116-8301 - CD Module (Blue), 300-F685301-2, 300-888788
CDI Electronics
116-8301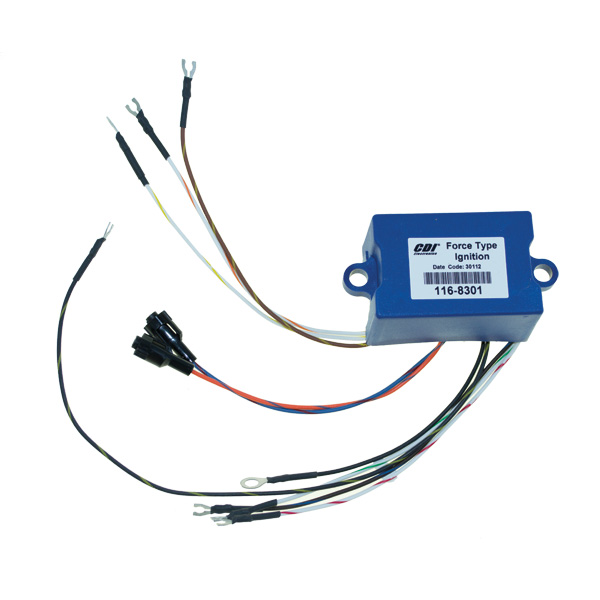 116-8301 Ignition Pack 2/3/4/5 Cylinder Fits: 1988 (50 HP - Model D) 1985- 1989 (85-125 HP - L Drive) 1989 (85 HP) 1990-1991 (90 HP) 1990-1991(120 HP - E000001-0E0006550) 1990 (120 HP - L Drive - Model ,B and C) 1989 (125 HP - L Drive)1988-1989 (125 HP) 1989-1993 (150 HP - w/Prestolite ign.) Replaces: 685301-2, F685301-2, 300-F658301-2, 300-888788
$322.33