5393 - Outboard Starter
ARCO NEW Original Equipment Quality Replacement Outboard Starter - 5393

ARCO Part #5393
ARCO NEW Original Equipment Quality Replacement Outboard Starter
Fits: Chrysler /Force, 70-150 HP, 9-tooth drive gear.
Replaces Part Numbers:
CHRYSLER 480955
CHRYSLER 490955
CHRYSLER F616955
CHRYSLER FK616955
MERCURY 50-819085
MERCURY 50-819085-1
MERCURY 50-819085T1
MERCURY 50-853869
MERCURY 50-853869T
MERCURY 50-898265002
FORCE 50-819085
FORCE 50-F616955-1
FORCE F616955

QUALITY ASSURANCE
• Epoxy Powder coated for maximum corrosion protection
• Motor shafts induction case hardened at bearing surfaces for superior wear resistance

PRECISION TESTING
• All armatures tested to withstand 50 times operation voltage (12V)
• All motors performance tested at 5 different load levels
• All motors must meet or exceed OEM performance before being boxed

ARCO Marine is a USA based manufacturer
Arco Marine Outboard Starter is equivalent to parts:
FK616955 Mercury Marine
898265002 Mercury Marine
50898265002 Mercury Marine
9-15004 Mallory Marine

ARCO is a leading supplier of electrical products for marine engines including inboard/outboard starters, trim/tilt motors, alternators, solenoids, rectifiers and more. All of ARCO's parts are built to meet or exceed OEM qualifications.
5393 - Outboard Starter
Arco Marine
5393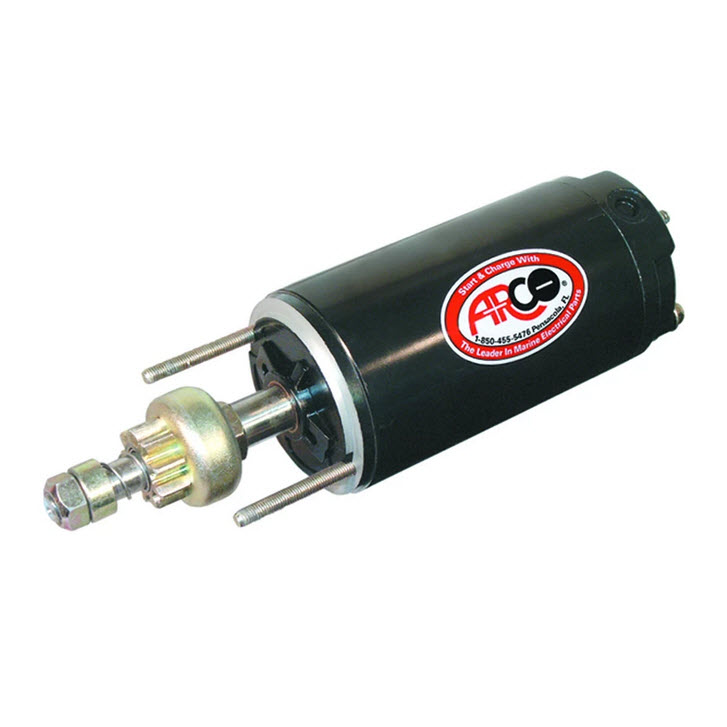 ARCO NEW Original Equipment Quality Replacement Outboard Starter - 5393 ARCO Part #5393 ARCO NEW Original Equipment Quality Replacement Outboard Starter Fits: Chrysler /Force, 70-150 HP, 9-tooth drive gear. Replaces Part Numbers:CHRYSLER 480955CHRYSLER 490955CHRYSLER F616955CHRYSLER FK616955MERCURY 50-819085MERCURY 50-819085-1MERCURY 50-819085T1MERCURY 50-853869MERCURY 50-853869TMERCURY 50-898265002FORCE 50-819085FORCE 50-F616955-1FORCE F616955 QUALITY ASSURANCE • Epoxy Powder coated for maximum corrosion protection • Motor shafts induction case hardened at bearing surfaces for superior wear resistance PRECISION TESTING • All armatures tested to withstand 50 times operation voltage (12V) • All motors performance tested at 5 different load levels • All motors must meet or exceed OEM performance before being boxed ARCO Marine is a USA based manufacturer
209.02