30433 - Starter, Standard Duty, Staggered Bolt Pattern

4 in stock.
Manufacturer
Arco Marine
AFTERMARKET
ARCO NEW OEM Premium Replacement Inboard Starter - 30433

ARCO Part #30433
ARCO NEW OEM Premium Replacement Inboard Starter NEW Direct OEM replacement, Gear Reduction Starter.
Fits: Mercruiser, Volvo Penta, OMC, Marine Power and others. All GM engines with 14" flywheel using a staggered bolt pattern. Recommended for late model 3.0 Liter with 14" flywheel using tail bracket. Can also be used in place of 10MZT style starter with two long bolt staggered patter. Mounting bolt kit MBK450 required if replacing 10MT
Replaces Part Numbers:
BRP/ OMC 984456
BRP/ OMC 986505
BRP/ OMC 3850525
BRP/ OMC 3853982
BRP/ OMC 3854751
BRP/ OMC 3855177
BRP/ OMC 3857747
BRP/ OMC 3860566
Delco 9000735
Delco 9000762
Delco 9000768
Delco 9000789
Delco 9000819
Delco 9000821
Delco 9000839
Delco 9000840
Delco 9000849
Delco 9000885
Delco 9000940
Delco 9000884 (Hi Perf)
Marine Power 0174-000
Mercury 50-12121A2
Mercury 50-12177A2
Mercury 50-806964A2
Mercury 50-806964A3
Mercury 50-806964A4
Mercury 50-812428A3
Mercury 50-812604A2
Mercury 50-822330A2
Mercury 50-864340A2
Mercury 50-8M8021116
Mercury 50-807904A1
Mercury 50-863007A1
Pleasurecraft RA122015
Mercury 50-99418A2
Mercury
Volvo 3587625
Volvo 3857747
Volvo 3860566
Volvo 3860764
Volvo 3885317
Volvo 3850525-1
Volvo 3853982-1
Volvo 3854751-9
Volvo 3855177-6
Volvo 3856004-1
PRECISION TESTING
• All armatures tested to withstand 50 times operation voltage (12V)
• All motors performance tested at 5 different load levels
• All motors must meet or exceed OEM performance before being boxed
ARCO Marine is a USA based manufacturer
Arco Marine Starter 30433 is equivalent to parts:
863007A1 Mercury Marine
50863007A 1 Mercury Marine
9-15907 Mallory Marine

ARCO is a leading supplier of electrical products for marine engines including inboard/outboard starters, trim/tilt motors, alternators, solenoids, rectifiers and more. All of ARCO's parts are built to meet or exceed OEM qualifications.
30433 - Starter, Standard Duty, Staggered Bolt Pattern
Arco Marine
30433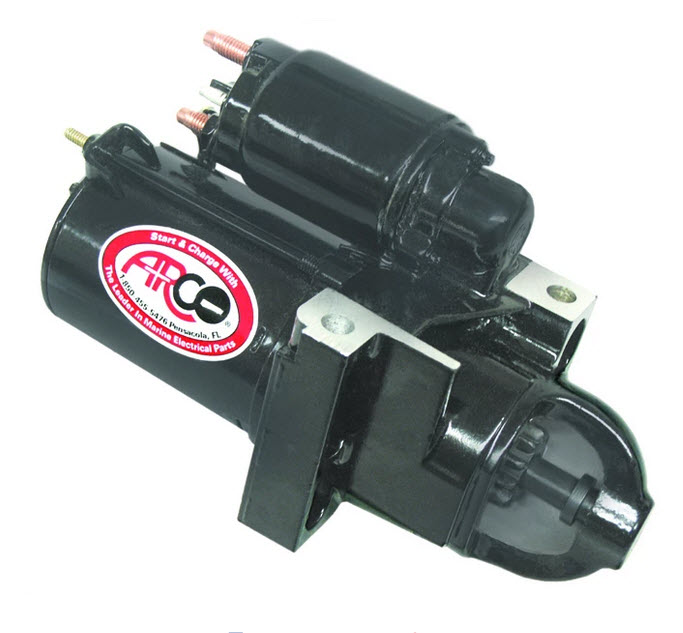 ARCO NEW OEM Premium Replacement Inboard Starter - 30433 ARCO Part #30433 ARCO NEW OEM Premium Replacement Inboard Starter NEW Direct OEM replacement, Gear Reduction Starter. Fits: Mercruiser, Volvo Penta, OMC, Marine Power and others. All GM engines with 14" flywheel using a staggered bolt pattern. Recommended for late model 3.0 Liter with 14" flywheel using tail bracket. Can also be used in place of 10MZT style starter with two long bolt staggered patter. Mounting bolt kit MBK450 required if replacing 10MT Replaces Part Numbers: BRP/ OMC 984456BRP/ OMC 986505BRP/ OMC 3850525BRP/ OMC 3853982BRP/ OMC 3854751BRP/ OMC 3855177BRP/ OMC 3857747BRP/ OMC 3860566Delco 9000735Delco 9000762Delco 9000768Delco 9000789Delco 9000819Delco 9000821Delco 9000839Delco 9000840Delco 9000849Delco 9000885Delco 9000940Delco 9000884 (Hi Perf)Marine Power 0174-000Mercury 50-12121A2Mercury 50-12177A2Mercury 50-806964A2Mercury 50-806964A3Mercury 50-806964A4Mercury 50-812428A3Mercury 50-812604A2Mercury 50-822330A2Mercury 50-864340A2Mercury 50-8M8021116 Mercury 50-807904A1 Mercury 50-863007A1 Pleasurecraft RA122015Mercury 50-99418A2Mercury Volvo 3587625Volvo 3857747Volvo 3860566Volvo 3860764Volvo 3885317Volvo 3850525-1Volvo 3853982-1Volvo 3854751-9Volvo 3855177-6Volvo 3856004-1 PRECISION TESTING• All armatures tested to withstand 50 times operation voltage (12V)• All motors performance tested at 5 different load levels• All motors must meet or exceed OEM performance before being boxed ARCO Marine is a USA based manufacturer
222.51