How to build a variable speed controller for trolling motor? just want to share this cool PWM tech
Why? 2 reasons. (1) so i can increase my battery run time while i troll for fish (2) so i can sneak close or on top of a school of crappies without startling them.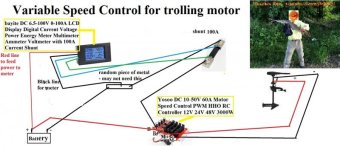 I bought a 4-in-1 digital LCD display multimeter, voltage, amperage, watts, and energy and a PWM (pulse width modulation) motor control. Wire them together for my minn kota endura c2 30 pound push trolling motor. It worked great.
In this video you will see how I control the trolling motor speed from zero to full speed with a dial button by setting my speed at F5. Instead of turning the knob on the trolling motor one gear at a time from 1-2-3-4-5, I just dial the button and my trolling motor will change from slow to fast and get to my desirable speed i need to be as quiet as possible so i can sneak next to the fish without startling them. This is particular useful for fishing for a big school of crappies. The most important reason to use PWM (pulse width modulation) is to increase my battery's run time. So, i get more juice out of my battery when I go out trolling on the water.
I will build one for my foot controlled motorguide 70 pound push trolling motor. It will be connected to two 12 volts (24 volts) marine deep cycle batteries. It will really make my big boat more efficient to go fishing.