reCAPTCHA script loading
BARCM-1-5972A - Chrysler Big Block Exhaust Man
CM-1-5972A - Chrysler Big Block Exhaust Manifold
Direct replacement water cooled manifold for big block Chrysler. Manifold includes gaskets and plugs. Swivel-style connector packages must be purchased separate for the corresponding riser / elbows. Manifold mounting hardware must be purchased separately.
Fits: Chrysler V8-361, 383, 400, 426 & 440 C.I.D and ALL MODELS — 1959 AND UP LOG STYLE DIRECT REPLACEMENT
For additional details see:
Chrysler V8-361, 383, 400, 426 & 440 C.I.D. (All models 1959+ log style direct replacement)
*** IMPORTANT INFORMATION: If we don't show this part to be "in stock" it will likely take 60 days to get it. The normal availability of eight days does NOT apply to this manifold. If we show a quantity in stock it will ship right away. ***
Barr Marine Barcm-1-5972a - Chrysler Big Block Exhaust Man is equivalent to parts:

Barr Marine by EDM is the last and only U.S. manufacturer of inboard parts, and produces a large selection of manifolds and inboard parts.
BARCM-1-5972A - Chrysler Big Block Exhaust Man
1
Barr Marine
CM-1-5972A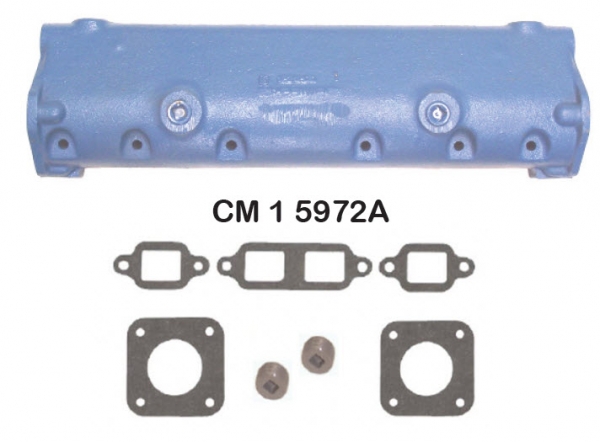 CM-1-5972A - Chrysler Big Block Exhaust Manifold Direct replacement water cooled manifold for big block Chrysler. Manifold includes gaskets and plugs. Swivel-style connector packages must be purchased separate for the corresponding riser / elbows. Manifold mounting hardware must be purchased separately. Fits: Chrysler V8-361, 383, 400, 426 and 440 C.I.D and ALL MODELS — 1959 AND UP LOG STYLE DIRECT REPLACEMENT For additional details see: Chrysler V8-361, 383, 400, 426 and 440 C.I.D. (All models 1959+ log style direct replacement) *** IMPORTANT INFORMATION: If we don't show this part to be "in stock" it will likely take 60 days to get it. The normal availability of eight days does NOT apply to this manifold. If we show a quantity in stock it will ship right away. ***
This site is protected by reCAPTCHA and the Google Privacy Policy and Terms of Service apply.