reCAPTCHA script loading
6268 - Tilt Trim Motor, Suzuki
Your Price
$296.09
You save $20.56
ARCO NEW Original Equipment Quality Replacement Tilt Trim Motor - 6268
Features:
Arco Superior Quality, E-Coat Finish

Fits: Suzuki ONLY 1991-1997 DT90, 1991-2000 DT100, 1991-2003 DT150, 1991-1992 DT175, 1991-2000 DT200, 1991-2003 DT225. WILL NOT FIT TOHATSU OR Nissan. 2-wire connection, 3-bolt mount, Includes O-ring and adaptor, Ring Terminal Ends.
DT90/100 1989-2000 | DT150 1991-2003 | DT175 1991-1992 | DT200
1991-2000 | DT225 1991-2003
Replaces Part Numbers:
SUZUKI 38100-87D10-0ED
SUZUKI 38100-87D10-35J
SUZUKI 38100-87D10-0IT
SUZUKI 38100-87D10-0ED
SUZUKI 38100-87E20-0ED
SUZUKI 38100-92E00-0ED
SUZUKI 38100-92E00-OEP

QUALITY ASSURANCE
• Epoxy Powder coated for maximum corrosion protection
• Motor shafts induction case hardened at bearing surfaces for superior wear resistance
PRECISION TESTING
• All armatures tested to withstand 50 times operation voltage (12V)
• All motors performance tested at 5 different load levels
• All motors must meet or exceed OEM performance before being boxed
ARCO Marine is a USA based manufacturer
Arco Marine Tilt & Trim Motor is equivalent to parts:
38100-92E00-0EP Suzuki Marine
38100-92E00-0ED Suzuki Marine
38100-87E20-OED Suzuki Marine
38100-87E20-0ED Suzuki Marine
38100-87D10-0ED Suzuki Marine
9-18301 Mallory Marine

ARCO is a leading supplier of electrical products for marine engines including inboard/outboard starters, trim/tilt motors, alternators, solenoids, rectifiers and more. All of ARCO's parts are built to meet or exceed OEM qualifications.
6268 - Tilt Trim Motor, Suzuki
4.0000
4.0000 lb
Arco Marine
6268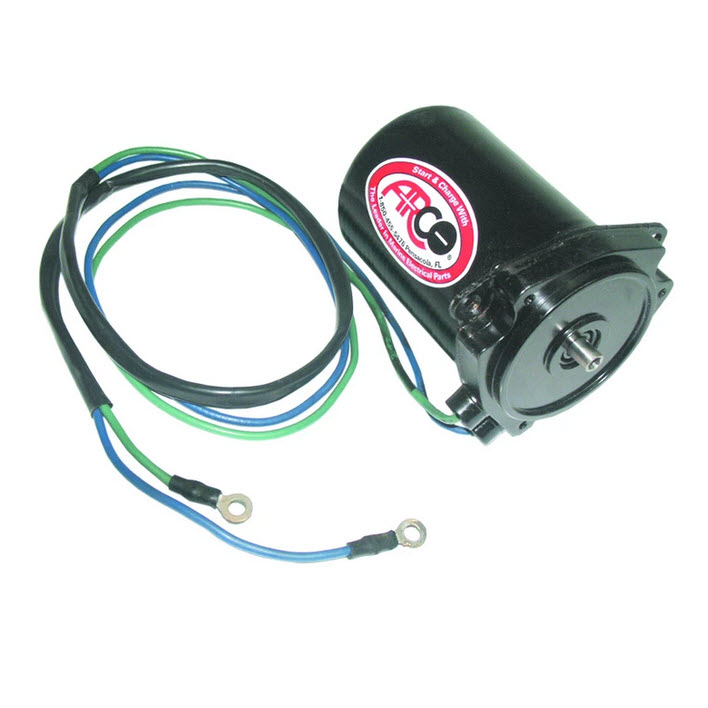 ARCO NEW Original Equipment Quality Replacement Tilt Trim Motor - 6268 Features:Arco Superior Quality, E-Coat Finish Fits: Suzuki ONLY 1991-1997 DT90, 1991-2000 DT100, 1991-2003 DT150, 1991-1992 DT175, 1991-2000 DT200, 1991-2003 DT225. WILL NOT FIT TOHATSU OR Nissan. 2-wire connection, 3-bolt mount, Includes O-ring and adaptor, Ring Terminal Ends. DT90/100 1989-2000 | DT150 1991-2003 | DT175 1991-1992 | DT2001991-2000 | DT225 1991-2003 Replaces Part Numbers:SUZUKI 38100-87D10-0EDSUZUKI 38100-87D10-35JSUZUKI 38100-87D10-0ITSUZUKI 38100-87D10-0EDSUZUKI 38100-87E20-0EDSUZUKI 38100-92E00-0EDSUZUKI 38100-92E00-OEP QUALITY ASSURANCE • Epoxy Powder coated for maximum corrosion protection • Motor shafts induction case hardened at bearing surfaces for superior wear resistance PRECISION TESTING • All armatures tested to withstand 50 times operation voltage (12V) • All motors performance tested at 5 different load levels • All motors must meet or exceed OEM performance before being boxed ARCO Marine is a USA based manufacturer
296.09
This site is protected by reCAPTCHA and the Google Privacy Policy and Terms of Service apply.