441194-1 - 194, Wedge, 2CP, 14V, Cd/2
Section
Light Bulbs For Marine Use
Additional Info
441194 Wedge Bulb (2 pack)

Measurements;
A- 1'', B- 3/8 Inch
Similar to a bi-pin connector a wedge base uses two wires that extend into the bulb and are bent up onto the sides of the base where they make contact with the socket.
Compression force holds the bulb in the socket preventing loosening from vibration.
Wedge base light bulbs are ideal for inside cabinets or under cabinets and shelves. 12.8 VDC.
441993-1 - PR3, Min. Flange, 1.5CP, 3V, Cd/2
SeaDog Line
3161944
441993-1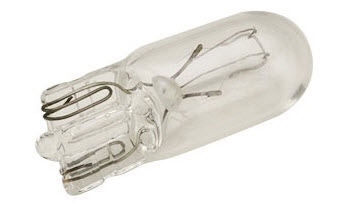 For use in Navigation and Trailer Lights. In single or double contact bayonet type bases.
2.66