441034-1 - 1034, D.C. Bay, 32CP, 12V, Cd/2
Section
Light Bulbs For Marine Use
Additional Info
441034-1 1034, Dual Contact Bayonet Base Bulbs (2 pack)
Measuements;
A 1-15/16'', B- 1 Inch
General purpose incandescent double contact bayonet base lamps feature nickel plated brass bases for corrosion resistance and positive contact.
Heavy duty glass bulb housing and filaments for break resistance and longevity.
The 441143 bulbs have red lenses. The 441034 and 441157 are dual filament bulbs. 441082 is 6.5 VDC all others are 12.8 VDC.
441993-1 - PR3, Min. Flange, 1.5CP, 3V, Cd/2
SeaDog Line
3161944
441993-1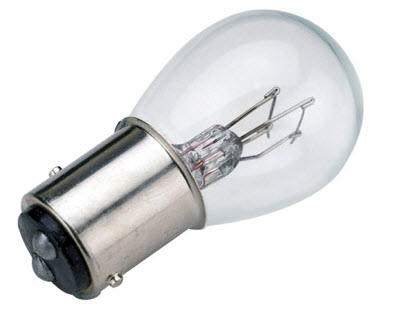 For use in Navigation and Trailer Lights. In single or double contact bayonet type bases.
2.66