420810-1 - Ther. Circuit Breaker, 10AMP 420810-1
Section
Push Button Resettable Thermal Ac/dc Circuit Breakers
Additional Info
420810-1 10 Amp Push Button Circuit Breaker
Measurements
A -1 3/8, B -7/16, C -1 1/4, D -9/16
Panel mounted thermal AC/DC circuit breakers are constructed of molded Bakelite with stamped brass contacts.
Used to protect an electrical circuit from damage caused by excess current these push-to-reset circuit breakers are an economical alternative to magnetic breakers.
Quick connect terminal style breakers are vibration and shock resistant.
An alternative to fuses they have the advantage of being re settable after tripping.
Compact design. Optional thermal breaker boot provides additional protection in wet environments. 4-35 amps @125-250VAC, 32VDC
420820-1 - Ther. Circuit Breaker, 20AMP 420820-1
SeaDog Line
3160820
420820-1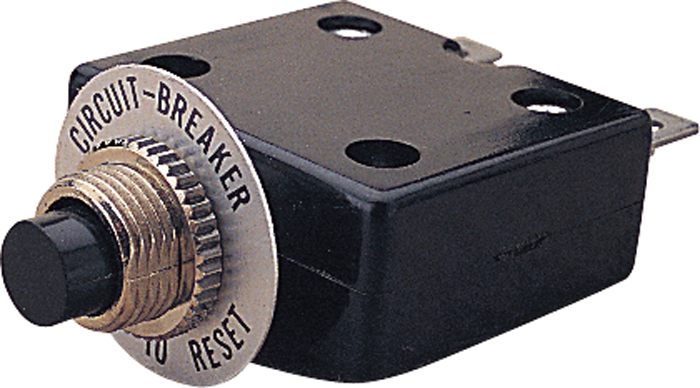 Replacements for the very popular panel mounted breakers used everywhere in the industry. Top quality and a wide range of amp ratings for most applications make these a "must have". Every boat owner should keep a spare (or two). Two 1/4" blade terminals. Mounts in 1/2" hole.
4.49