420502-1 - Fuse Holder, Panel Mount, Solder
Section
Panel Mount Fuse Holder
Additional Info
420502-1 Panel Mount Fuse Holder

Panel mounted round Bakelite fuse holder with stamped brass contacts and a screw in cap.
Used to provide over-current protection to help safeguard wiring in electrical circuits.
For use with standard AGC ¼"X1-1/4" glass style fuses. Maximum 15 amps @ 12VDC. Solder terminal.
Fuse not included.
420503-1 - Fuse Holder, Panel Mount, Push-on
SeaDog Line
3160503
420503-1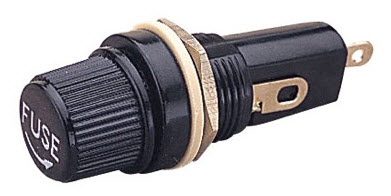 Molded bakelite construction. Quick-twist opening. Stem diameter 19-32". Stem length 7/16". Accepts every automotive type fuse 1/4" in diameter. Individually boxed. 12V 10Amp.
3.24