Parts for Mercury Marine 8 HP (Bodensee) 4-Stroke (International) Gear Housing (Drive Shaft) (2.00:1 Gear Ratio)
NEED PARTS OR KITS?
View diagram and parts list below.
Each product listed is an OEM or aftermarket equivalent part. [ Example ]
LOOKING FOR A PROP?
Try our prop finder.
COMPLETE GEARCASE?
Aftermarket gearcase may be available for less than $900 USD. 70 HP+ only. Please call.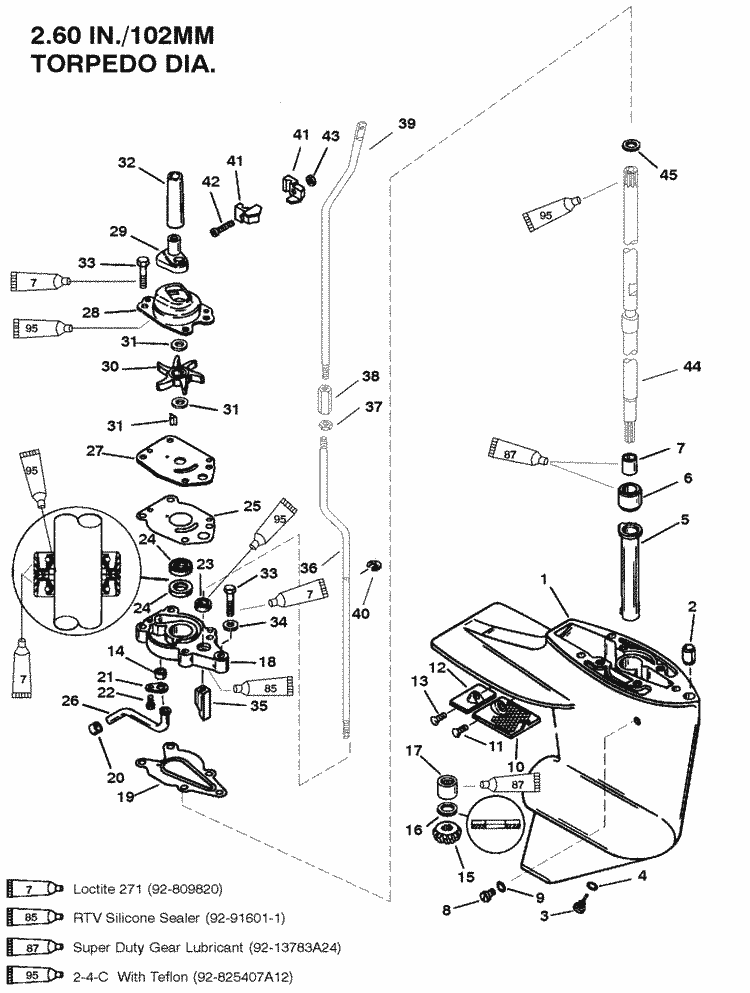 Reference numbers in this diagram can be found in a light blue row below — scroll down to order.
Each product listed is an OEM or aftermarket equivalent part. [ Example ]
Ref. No.
Part No.
Description
Manufacturer
List Price
Your Price
Order
#-
1666-8833A25
GEAR HOUSING-COMPLETE (1 required per assembly) (SHORT) BLACK
1666-8833A25
GEAR HSG-SHORT-BL O - Replaced by 1666-8833T25
(more info)
Unavailable
1666-8833T25
GEAR HSG-SHORT-BL O NLA
(more info)
Unavailable
#-
1666-8833A27
GEAR HOUSING-COMPLETE (1 required per assembly) (LONG) BLACK
1666-8833A27
GEAR HSG-LONG-BLK O - Replaced by 1666-8833T27
(more info)
Unavailable
1666-8833T27
GEAR HSG-LONG-BLK O NLA
(more info)
Unavailable
#-
1666-8833A26
GEAR HOUSING-COMPLETE (1 required per assembly) (SHORT) GRAY
1666-8833A26
GEAR HSG-SHORT-GR O - Replaced by 1666-8833T26
(more info)
Unavailable
1666-8833T26
GEAR HSG-SHORT-GR O NLA
(more info)
Unavailable
#-
1666-8833A28
GEAR HOUSING-COMPLETE (1 required per assembly) (LONG) GRAY
1666-8833A28
GEAR HSG-LONG-GR O - Replaced by 1666-8833T28
(more info)
Unavailable
1666-8833T28
GEAR HSG-LONG-GR O NLA
(more info)
Unavailable
#1
1666-8833A17
GEAR HOUSING (1 required per assembly) (BLACK)
1666-8833A17
1666-8833A17 - Gear Housing -Basic-bk (more info)
$403.84
$403.84

1 in stock.
16008M0083312
16008M0083312 - Gear Housing Basic 9.9 15 4S (more info)
$437.25
$437.25

Available to order:
Usually ships
within 8 days
#1
1666-8833A18
GEAR HOUSING (1 required per assembly) (GRAY)
1666-8833A18
ORD 1666-8833A17 O NLA
(more info)
Unavailable
#2
23-12009
BUSHING-GEAR HOUSING (1 required per assembly)
23-12009
23-12009 - Bushing (more info)
$1.90
$1.90

Available to order:
Usually ships
within 8 days
#3
22-67892
DRAIN SCREW (1 required per assembly)
22-67892
PLUG @5 O - Replaced by 22-67892A 1
(more info)
Unavailable
22-67892A 1
PLUG KIT-DRAIN O - Replaced by 22-67892A05
(more info)
Unavailable
22-67892A05
PLUG KIT-DRAIN O - Replaced by 22-67892A06
(more info)
Unavailable
22-67892A06
PLUG KIT-DRAIN O - Replaced by 22-8M0058389
(more info)
Unavailable
22-8M0058389
22-8M0058389 - Screw Kit - Priced Individually (more info)
$6.16
$6.16

5 in stock.
18-23751-9
18-23751-9 - Drain Screw , Package of 50 - Special Order - No Returns (more info)
Unavailable
18-2375
18-2375 - Plug, 22-67892A1 (more info)

$6.99

$4.59

10+ in stock.
#4
12-19183
SEALING WASHER (1 required per assembly)
12-19183
12-19183 - Washer-BLK - Priced Individually (more info)
$0.80
$0.80

10+ in stock.
12-19183 2
WASHER-ORAN @15 O - Replaced by 12-19183 3
(more info)
Unavailable
12-19183 3
12-19183 3 - Seal -Blue - Priced Individually (more info)
$1.00
$1.00

10+ in stock.
18-2945-9
18-2945-9 - Gasket 12-19183 2-Pack (more info)
Replaces OEM #0307552

$2.78

$1.52

10+ in stock.
12-19183Q02
12-19183Q02 - Seals, Pack of 4 (more info)
$5.00
$5.00

Available to order:
Usually ships
within 8 days
12-19183K02
12-19183K02 - Seal, Pack of 4 (more info)
$5.00
$5.00

Available to order:
Usually ships
within 8 days
#5
822244A 1
SLEEVE ASSEMBLY (1 required per assembly)
822244A 1
822244A 1 - Sleeve Kit (more info)
$21.67
$21.67

Available to order:
Usually ships
within 8 days
#6
23-823944
SLEEVE (1 required per assembly)
23-823944
23-823944 - Sleeve (more info)
$11.90
$11.90

1 in stock.
#7
23-823943
BUSHING (1 required per assembly)
23-823943
23-823943 - Bushing (more info)
$14.30
$14.30

1 in stock.
#8
10-79953
SCREW PLUG KIT (1 required per assembly)
10-79953
SCREW @5 O - Replaced by 10-79953A 2
(more info)
Unavailable
10-79953A 2
SCREW KIT-DRAIN O - Replaced by 10-79953Q 2
(more info)
Unavailable
10-79953Q 2
SCREW KIT @2 O - Replaced by 10-79953Q04
(more info)
Unavailable
10-79953Q04
10-79953Q04 - Screw Kit - Priced Individually (more info)
$5.70
$5.70

10+ in stock.
18-2244
18-2244 - Plug Kit, 10-79953A2 (more info)

$2.99

$2.07

10+ in stock.
10-79953K04
10-79953K04 - Drain Screw - Priced Individually (more info)
$5.70
$5.70

1 in stock.
#10
35-42199 1
SCREEN (1 required per assembly)
35-42199 1
35-42199 1 - Screen (more info)
$4.10
$4.10

3 in stock.
#11
10-13954
SCREW (1 required per assembly)
10-13954
10-13954 - Screw (more info)
$3.10
$3.10

Available to order:
Usually ships
within 8 days
#12
42121A 2
ANODE ASSEMBLY (1 required per assembly)
42121A 2
ANODE KIT O - Replaced by 97-42121Q02
(more info)
Unavailable
97-42121Q02
97-42121Q02 - Anode Assembly - Priced Individually (more info)
$10.80
$10.80

3 in stock.
#14
26-42133
SEAL (1 required per assembly)
26-42133
26-42133 - Seal (more info)
$0.90
$0.90

Available to order:
Usually ships
within 8 days
#15
43-821925 1
PINION GEAR (13 TEETH) (1 required per assembly)
43-821925 1
43-821925 1 - Pinion Gear (more info)
$93.17
$93.17

1 in stock.
#16
12-41369
WASHER-THRUST (1 required per assembly)
12-41369
12-41369 - Washer (more info)
$3.20
$3.20

Available to order:
Usually ships
within 8 days
#17
31-22756
BEARING (1 required per assembly)
31-22756
31-22756 - Bearing (more info)

$17.40

$14.91

2 in stock.
#18
46-42040A 5
WATER PUMP BASE (1 required per assembly)
46-42040A 5
BASE ASSY-W/P O - Replaced by 46-42040T 5
(more info)
Unavailable
46-42040T 5
46-42040T 5 - Water Pump Base (more info)
$34.08
$34.08

Available to order:
Usually ships
within 8 days
18-3149-1
18-3149-1 - Water Pump Base, 46-42040T5 - Special Order - No Returns (more info)
Special Order Please Call
#19
27-19204 2
GASKET (1 required per assembly)
27-19204 2
GASKET O - Replaced by 27-19204 3
(more info)
Unavailable
27-19204 3
27-19204 3 - Gasket (more info)
$5.70
$5.70

Available to order:
Usually ships
within 8 days
18-2558-9
18-2558-9 - Gasket 27-19204 2-Pack (more info)

$9.98

$8.42

1 in stock.
#20
26-33613
SEAL (1 required per assembly)
26-33613
26-33613 - Seal - Priced Individually (more info)
$3.50
$3.50

10+ in stock.
#21
42375
RETAINER (1 required per assembly)
42375
42375 - Retainer (more info)
$1.40
$1.40

1 in stock.
#22
10-48408
SCREW (1 required per assembly)
10-48408
10-48408 - Screw - Priced Individually (more info)
$1.63
$1.63

Available to order:
Usually ships
within 8 days
#23
25-822236
QUAD RING (1 required per assembly)
25-822236
25-822236 - Ring - Quad (more info)
$1.50
$1.50

10+ in stock.
#24
26-41365 1
OIL SEAL (2 required per assembly)
26-41365 1
26-41365 1 - Seal (more info)
$7.70
$7.70

Available to order:
Usually ships
within 8 days
18-0581
18-0581 - Seal, 26-41365 1 (more info)

$7.49

$5.18

1 in stock.
#25
27-19202
GASKET (1 required per assembly)
27-19202
GASKET O - Replaced by 27-19202001
(more info)
Unavailable
27-19202001
27-19202001 - Gasket (more info)
$3.10
$3.10

Available to order:
Usually ships
within 8 days
18-2559-9
18-2559-9 - Gasket 27-19202 2-Pack (more info)

$5.98

$5.00

1 in stock.
#26
32-42185A 1
WATER TUBE (1 required per assembly)
32-42185A 1
32-42185A 1 - Water Tube Kit (more info)

$18.60

$15.93

Available to order:
Usually ships
within 8 days
#27
42200
FACE PLATE (1 required per assembly)
42200
42200 - Face Plate (more info)
$9.40
$9.40

Available to order:
Usually ships
within 8 days
#28
46-42089A 2
COVER ASSEMBLY (1 required per assembly)
46-42089A 2
46-42089A 2 - Cover Assembly (more info)
$22.25
$22.25

2 in stock.
#29
26-42102 1
SEAL (1 required per assembly)
26-42102 1
26-42102 1 - Seal (more info)
$4.60
$4.60

5 in stock.
#30
47-42038 2
IMPELLER (1 required per assembly)
47-42038 2
IMPELLER O - Replaced by 47-42038Q02
(more info)
Unavailable
47-42038Q02
47-42038Q02 - Impeller - Priced Individually (more info)
$20.42
$20.42

10+ in stock.
18-3062
18-3062 - Impeller, 47-42038-2 (more info)

$18.49

$15.11

10+ in stock.
#31
28-42376A 2
KEY ASSEMBLY (1 required per assembly)
28-42376A 2
28-42376A 2 - Impeller Key Kit (more info)
$2.70
$2.70

10+ in stock.
#32
44467 1
GUIDE (1 required per assembly)
44467 1
44467 1 - Guide - Water Tube (more info)
$9.80
$9.80

Available to order:
Usually ships
within 8 days
#33
10-826844 30
SCREW-WATER PUMP (5 required per assembly)
10-826844 30
10-826844 30 - Screw - Priced Individually (more info)
$1.90
$1.90

1 in stock.
#34
12-29245
WASHER (1 required per assembly)
12-29245
12-29245 - Washer (more info)
$0.86
$0.86

Available to order:
Usually ships
within 8 days
18-4275
18-4275 - SS Washer (more info)

$1.99

$1.46

Available to order:
Usually ships
within 8 days
#35
42039
CAM-SHIFT (1 required per assembly)
42039
42039 - Shift Cam (more info)
$12.80
$12.80

Available to order:
Usually ships
within 8 days
#36
825536
SHIFT SHAFT (1 required per assembly) (SHORT)
825536
825536 - Shift Shaft - Short, NLA (more info)
$80.00
$80.00

10+ in stock.
#36
826873
SHIFT SHAFT (1 required per assembly) (LONG)
826873
826873 - Shift Shaft - Long, NLA (more info)
$42.00
$42.00

10+ in stock.
#37
11-40021 2
NUT (1 required per assembly)
11-40021 2
11-40021 2 - Nut (more info)
$1.90
$1.90

2 in stock.
#38
822419
COUPLER (1 required per assembly)
822419
822419 - Coupler-vertical (more info)

$22.60

$19.36

Available to order:
Usually ships
within 8 days
#39
826875
SHIFT SHAFT (UPPER) (1 required per assembly)
826875
826875 - Shift Shaft - Upper, NLA (more info)
$60.00
$60.00

10+ in stock.
#40
53-42389
E-RING (1 required per assembly)
53-42389
53-42389 - Ring - Retaining (more info)
$0.70
$0.70

Available to order:
Usually ships
within 8 days
#41
42126
GUIDE (2 required per assembly)
42126
42126 - Guide (more info)
$9.42
$9.42

1 in stock.
8M0036770
8M0036770 - Guide (more info)
$11.17
$11.17

Available to order:
Usually ships
within 8 days
#42
10-40011109
SCREW (1 required per assembly)
10-40011109
10-40011109 - Screw (more info)
$1.90
$1.90

1 in stock.
#43
11-40063 3
NUT-GUIDE SCREW (1 required per assembly)
11-40063 3
NUT O - Replaced by 11-40138 5
(more info)
Unavailable
11-40138 5
11-40138 5 - Nut (more info)
$3.30
$3.30

2 in stock.
#44
45-825537
DRIVE SHAFT (1 required per assembly) (SHORT)
45-825537
45-825537 - Drive Shaft - Short (more info)
$180.17
$180.17

Available to order:
Usually ships
within 8 days
#44
45-825843
DRIVE SHAFT (1 required per assembly) (LONG)
45-825843
45-825843 - Drive Shaft - Long (more info)
$213.75
$213.75

Available to order:
Usually ships
within 8 days
#45
12-822248
THRUST WASHER (1 required per assembly)
12-822248
12-822248 - Thrust Washer (more info)
$2.90
$2.90

Available to order:
Usually ships
within 8 days
#-
26-41365A 3
SEAL KIT (1 required per assembly)
26-41365A 3
26-41365A 3 - Seal Kit (more info)

$58.90

$50.43

Available to order:
Usually ships
within 8 days
18-2697-1
18-2697-1 - Seal Kit, 26-41365A3 (more info)

$44.49

$36.79

10 in stock.
#-
46-42089A 5
REPAIR KIT (1 required per assembly)
46-42089A 5
46-42089A 5 - Water Pump Repair Kit (more info)
$97.92
$97.92

5 in stock.
#-
27-825847A95
ENGINE GASKET SET (1 required per assembly)
27-825847A95
GASKET SET O NLA
(more info)
Unavailable