Parts for Mercury Marine 8 HP (4-Stroke) (209 cc) Gear Housing, Driveshaft-non Bigfoot
NEED PARTS OR KITS?
View diagram and parts list below.
Each product listed is an OEM or aftermarket equivalent part. [ Example ]
LOOKING FOR A PROP?
Try our prop finder.
COMPLETE GEARCASE?
Aftermarket gearcase may be available for less than $900 USD. 70 HP+ only. Please call.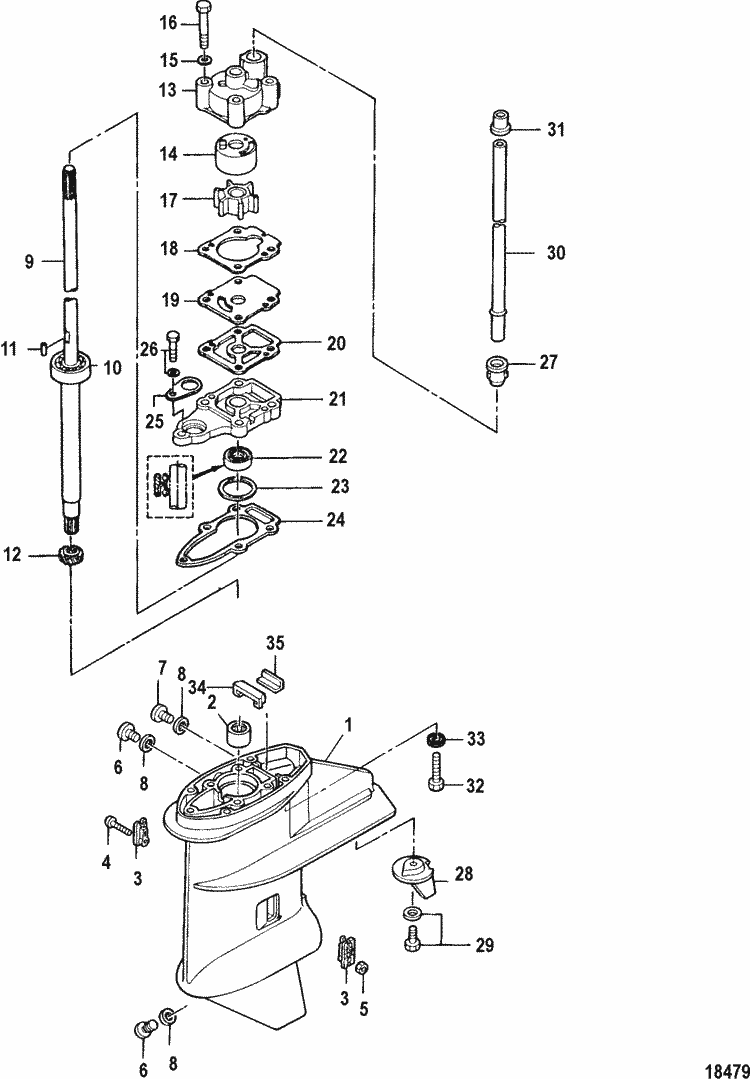 Reference numbers in this diagram can be found in a light blue row below — scroll down to order.
Each product listed is an OEM or aftermarket equivalent part. [ Example ]
Ref. No.
Part No.
Description
Manufacturer
List Price
Your Price
Order
#-
1668-895154T02
GEAR HOUSING ASSEMBLY, Complete (1 required per assembly) Short
1668-895154T02
GC 8/9.9 4S SH O - Replaced by 1668-895154T12
(more info)
Unavailable
1668-895154T12
GC 8/9.9 4S SH O - Replaced by 1668-8M0070881
(more info)
Unavailable
16688M0070881
16688M0070881 - Gearcase 8/9.9 4S SH (more info)
$875.00
$875.00

Available to order:
Usually ships
within 8 days
#-
1668-895154T03
GEAR HOUSING ASSEMBLY, Complete (1 required per assembly) Long
1668-895154T03
GEAR HOUSING LONG O - Replaced by 1668-895154T11
(more info)
Unavailable
1668-895154T11
GC 8/9.9 4S LG O - Replaced by 1668-8M0070883
(more info)
Unavailable
16688M0070883
16688M0070883 - Gear Housing Completelete (more info)
$875.00
$875.00

Available to order:
Usually ships
within 8 days
#1
1668-895154T01
GEAR HOUSING ASSEMBLY, Basic (1 required per assembly)
1668-895154T01
1668-895154T01 - Housing - Gear Basi (more info)
$315.75
$315.75

Available to order:
Usually ships
within 8 days
#2
31-803675004
BEARING, Roller (1 required per assembly)
31-803675004
31-803675004 - Bearing (more info)
$53.17
$53.17

2 in stock.
#3
803730001
STRAINER, Water (2 required per assembly)
803730001
803730001 - Strainer - Priced Individually (more info)
$5.20
$5.20

Available to order:
Usually ships
within 8 days
#4
10-17635
SCREW (1 required per assembly)
10-17635
10-17635 - Screw (more info)
$2.10
$2.10

Available to order:
Usually ships
within 8 days
#5
11-853722 16
NUT (1 required per assembly)
11-853722 16
NUT O NLA
(more info)
Unavailable
#6
22-95368 3
PLUG (2 required per assembly)
22-95368 3
22-95368 3 - Oil Plug (more info)
$7.30
$7.30

Available to order:
Usually ships
within 8 days
#8
27-95220
GASKET (3 required per assembly)
27-95220
ORD 8M0082880 O NLA
(more info)
Unavailable
#9
45-803738004
DRIVESHAFT (1 required per assembly) Short
45-803738004
DRIVESHAFT O - Replaced by 45-803738017
(more info)
Unavailable
45-803738017
45-803738017 - Drive Shaft - Short (more info)
$233.33
$233.33

1 in stock.
#9
45-803738005
DRIVESHAFT (1 required per assembly) Long
45-803738005
DRIVESHAFT O - Replaced by 45-803738018
(more info)
Unavailable
45-803738018
45-803738018 - Drive Shaft - Long (more info)
$221.58
$221.58

Available to order:
Usually ships
within 8 days
#10
30-16132 6
BEARING, Ball (1 required per assembly)
30-16132 6
30-16132 6 - Bearing (more info)

$19.00

$16.28

Available to order:
Usually ships
within 8 days
#11
17-95218 11
PIN, Roll - Stainless Steel (1 required per assembly)
17-95218 11
17-95218 11 - Pin -roll (more info)
$2.80
$2.80

Available to order:
Usually ships
within 8 days
#12
43-803740 1
GEAR, Pinion (1 required per assembly)
43-803740 1
43-803740 1 - Gear (more info)
$84.25
$84.25

Available to order:
Usually ships
within 8 days
#13
46-803750A02
HOUSING ASSEMBLY, Upper Water Pump (1 required per assembly)
46-803750A02
46-803750A02 - Water Pump Upper Housing (more info)
$47.67
$47.67

1 in stock.
18-43212
18-43212 - Water Pump Housing 46-803750A02, 3B2-65016-0 (more info)

$42.99

$35.88

Available to order:
Usually ships
within 8 days
#14
803751 1
LINER, Stainless Steel, Water Pump (1 required per assembly)
803751 1
803751 1 - Water Pump Liner (more info)

$17.60

$15.07

Available to order:
Usually ships
within 8 days
#16
10-16126 8
BOLT, Stainless Steel (4 required per assembly)
10-16126 8
BOLT O - Replaced by 10-879194305
(more info)
Unavailable
10-879194305
10-879194305 - Bolt (more info)
$4.30
$4.30

Available to order:
Usually ships
within 8 days
#17
47-803748 1
IMPELLER (1 required per assembly)
47-803748 1
47-803748 1 - Impeller (more info)
$21.83
$21.83

4 in stock.
#18
27-16158 5
GASKET (1 required per assembly)
27-16158 5
GASKET O - Replaced by 27-16158015
(more info)
Unavailable
27-16158015
GASKET O - Replaced by 27-8M0072137
(more info)
Unavailable
27-8M0072137
27-8M0072137 - Gasket (more info)
$4.30
$4.30

Available to order:
Usually ships
within 8 days
#19
803753 1
GUIDE PLATE, Stainless Steel (1 required per assembly)
803753 1
803753 1 - Guide Plate (more info)
$8.30
$8.30

3 in stock.
#20
27-16158 6
GASKET (1 required per assembly)
27-16158 6
GASKET O - Replaced by 27-16158014
(more info)
Unavailable
27-16158014
GASKET O - Replaced by 27-8M0072138
(more info)
Unavailable
278M0072138
278M0072138 - Gasket (more info)
$4.60
$4.60

Available to order:
Usually ships
within 8 days
#21
46-803750A01
BASE ASSEMBLY, Water Pump, Lower (1 required per assembly)
46-803750A01
46-803750A01 - Base for Water Pump (more info)
$27.50
$27.50

Available to order:
Usually ships
within 8 days
#22
26-95348
SEAL, Oil (1 required per assembly)
26-95348
26-95348 - Oil Seal (more info)
$11.20
$11.20

Available to order:
Usually ships
within 8 days
#23
15-853795 5
SHIM (AR required per assembly)
15-853795 5
15-853795 5 - Shim (more info)
$5.30
$5.30

Available to order:
Usually ships
within 8 days
#24
27-16158 7
GASKET, Lower (1 required per assembly)
27-16158 7
GASKET O - Replaced by 27-8M0072139
(more info)
Unavailable
278M0072139
278M0072139 - Gasket (more info)
$13.10
$13.10

1 in stock.
#25
16165
RETAINER (1 required per assembly)
16165
16165 - Retainer (more info)
$4.80
$4.80

Available to order:
Usually ships
within 8 days
#26
10-825702002
BOLT, Stainless Steel (1 required per assembly)
10-825702002
BOLT O - Replaced by 10-879194263
(more info)
Unavailable
10-879194263
10-879194263 - Bolt (more info)
$2.90
$2.90

Available to order:
Usually ships
within 8 days
#27
25-804903
GROMMET, Lower (1 required per assembly)
25-804903
25-804903 - Grommet (more info)
$4.20
$4.20

Available to order:
Usually ships
within 8 days
#28
853762T01
TRIM TAB (1 required per assembly)
853762T01
853762T01 - Trim Tab Anode, Zinc (more info)
$14.33
$14.33

Available to order:
Usually ships
within 8 days
#29
10-16705 1
BOLT, (M6 x 20) (1 required per assembly)
10-16705 1
10-16705 1 - Bolt (more info)
$4.30
$4.30

Available to order:
Usually ships
within 8 days
#30
32-803755004
TUBE, Water (1 required per assembly) Short
32-803755004
32-803755004 - Water Tube (more info)
$18.25
$18.25

Available to order:
Usually ships
within 8 days
#30
32-803755005
TUBE, Water (1 required per assembly) Long
32-803755005
32-803755005 - Water Tube (more info)
$17.92
$17.92

Available to order:
Usually ships
within 8 days
#31
25-804899002
GROMMET, Upper (1 required per assembly)
25-804899002
25-804899002 - Grommet (more info)
$3.20
$3.20

Available to order:
Usually ships
within 8 days
#32
10-804367002
BOLT (4 required per assembly)
10-804367002
BOLT O - Replaced by 10-879194304
(more info)
Unavailable
10-879194304
10-879194304 - Bolt (more info)
$3.70
$3.70

Available to order:
Usually ships
within 8 days
#33
12-895106
WASHER, Stainless Steel (4 required per assembly)
12-895106
WASHER @2 O - Replaced by 12-879194338
(more info)
Unavailable
12-879194338
12-879194338 - Washer - Priced Individually (more info)
$2.10
$2.10

1 in stock.
#34
895155
SEAL, Water (1 required per assembly)
895155
895155 - Seal (more info)
$6.10
$6.10

Available to order:
Usually ships
within 8 days
#35
895156
PLATE, Water Seal (1 required per assembly)
895156
895156 - Plate (more info)
$5.40
$5.40

Available to order:
Usually ships
within 8 days
#-
27-804908A00
GASKET SET, Lower Unit (1 required per assembly)
27-804908A00
GASKET SET O - Replaced by 27-8M0060176
(more info)
Unavailable
27-8M0060176
GASKET SET O
(more info)
Unavailable
18-74805
18-74805 - Seal Kit, Lower Unit 27-804908A00, 3B2-87321-0 (more info)

$65.49

$54.56

Available to order:
Usually ships
within 8 days
#-
46-803750A03
PUMP KIT, Water - Complete (1 required per assembly)
46-803750A03
46-803750A03 - Water Pump Repair Kit (more info)
$103.00
$103.00

Available to order:
Usually ships
within 8 days
18-48317
18-48317 - Water Pump Kit, Without Base, 46-803750A03, 46-80375A03, 3B2-87322-0 (more info)

$94.99

$79.31

3 in stock.
#-
853792T06
REPAIR KIT, Water Pump - Chrome (1 required per assembly)
853792T06
REPAIR KIT-CHROME O - Replaced by -853792T11
(more info)
Unavailable
853792T11
853792T11 - Repair Kit -chrome (more info)
$130.25
$130.25

Available to order:
Usually ships
within 8 days
#-
47-803748K01
REPAIR KIT, Water Impeller (1 required per assembly) Mercury Brand
47-803748K01
47-803748K01 - Impeller Kit - Priced Individually (more info)
$65.74
$65.74

Available to order:
Usually ships
within 8 days
47-803748Q01
47-803748Q01 - Repair Kit - Priced Individually (more info)
$65.74
$65.74

Available to order:
Usually ships
within 8 days
#-
47-803748Q01
REPAIR KIT, Water Impeller (1 required per assembly) Quicksilver Brand