Parts for Mercury Marine 75 HP (3 Cylinder) Gear Housing, Drive 2.31:1 Usa 0T627235 / Bel 0P215669 & Up
NEED PARTS OR KITS?
View diagram and parts list below.
Each product listed is an OEM or aftermarket equivalent part. [ Example ]
LOOKING FOR A PROP?
Try our prop finder.
COMPLETE GEARCASE?
Aftermarket gearcase may be available for less than $900 USD. 70 HP+ only. Please call.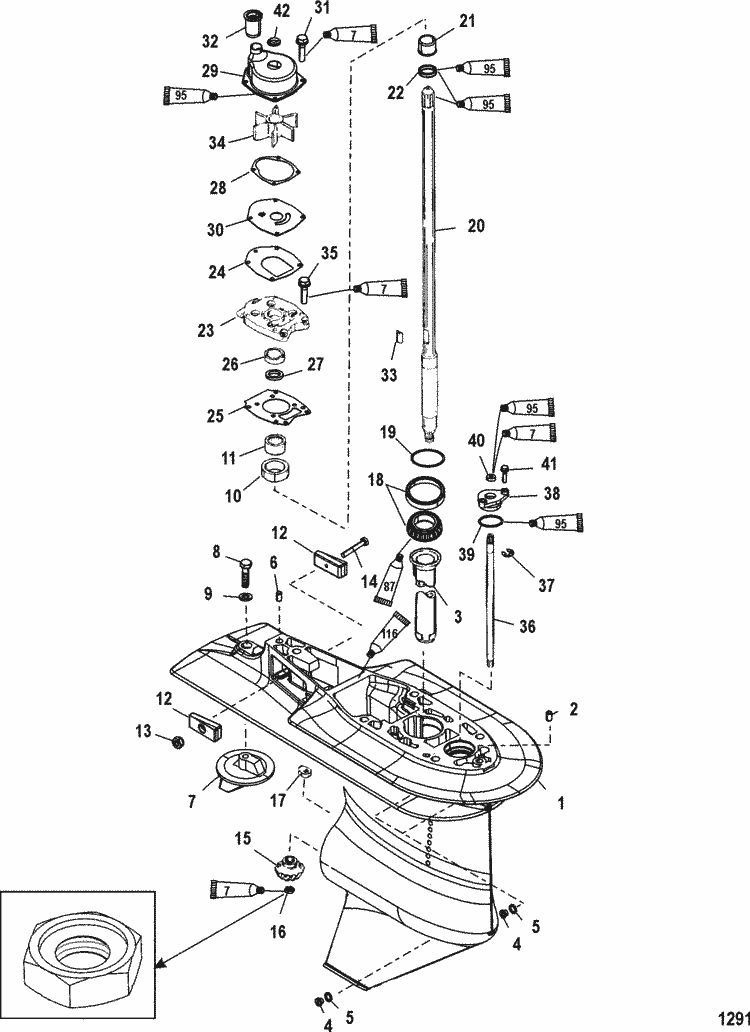 Reference numbers in this diagram can be found in a light blue row below — scroll down to order.
Each product listed is an OEM or aftermarket equivalent part. [ Example ]
Ref. No.
Part No.
Description
Manufacturer
List Price
Your Price
Order
#0
1667-9011J15
GEAR HOUSING ASSEMBLY, Complete (1 required per assembly) (L)
1667-9011J15
1667-9011J15 - Gearcase 75-125 Lg 2.33 (more info)
$1,762.50
$1,762.50

Available to order:
Usually ships
within 8 days
90-205-B20
90-205-B20 - SE 205, 2.33:1, 20" Driveshaft, 2 stroke (more info)
$845.00
$845.00
Call to order
#0
1667-9011J21
GEAR HOUSING ASSEMBLY, Complete (1 required per assembly) (LL)
1667-9011J21
1667-9011J21 - Gearcase 75-90 Ll - Black (more info)
$1,762.50
$1,762.50

Available to order:
Usually ships
within 8 days
#0
1667-9011J23
GEAR HOUSING ASSEMBLY, Complete (1 required per assembly) (XL)
1667-9011J23
1667-9011J23 - Gearcase 75-90 Xl Black (more info)
$1,762.50
$1,762.50

Available to order:
Usually ships
within 8 days
90-205-B25
90-205-B25 - SE 205, 2.33:1, 25" Driveshaft, 2 stroke (more info)
$845.00
$845.00
Call to order
#1
1667-9011G59
GEAR HOUSING ASSEMBLY, Basic (1 required per assembly)
1667-9011G59
1667-9011G59 - Gear Housing -Basic-bl (more info)
$1,192.86
$1,192.86

Available to order:
Usually ships
within 8 days
18-4830
18-4830 - Gear Housing Assembly (more info)
$1,299.10
$1,299.10

Available to order:
Usually ships
within 8 days
#2
17-43043
PIN, Dowel - With Hole (.375 x .625) , Front (1 required per assembly)
17-43043
PIN-DOWEL-HOLLOW O - Replaced by 17-8M0084244
(more info)
Unavailable
178M0084244
178M0084244 - Pin - Dowel (more info)
$1.90
$1.90

Available to order:
Usually ships
within 8 days
#3
43046
TUBE, Oiler (1 required per assembly)
43046
43046 - Tube - Oiler (more info)
$20.17
$20.17

Available to order:
Usually ships
within 8 days
#4
10-79953Q 2
SCREW KIT, (.375-16 x .250) Drain (3 required per assembly)
10-79953Q 2
SCREW KIT @2 O - Replaced by 10-79953Q04
(more info)
Unavailable
10-79953Q04
10-79953Q04 - Screw Kit - Priced Individually (more info)
$5.70
$5.70

10+ in stock.
18-2244
18-2244 - Plug Kit, 10-79953A2 (more info)

$2.99

$2.07

10+ in stock.
10-79953K04
10-79953K04 - Drain Screw - Priced Individually (more info)
$5.70
$5.70

1 in stock.
#4
22-67892A 1
FITTING KIT, Magnetic, Plug Fill/Drain (OPT required per assembly) (Magnetic)
22-67892A 1
PLUG KIT-DRAIN O - Replaced by 22-67892A05
(more info)
Unavailable
22-67892A05
PLUG KIT-DRAIN O - Replaced by 22-67892A06
(more info)
Unavailable
22-67892A06
PLUG KIT-DRAIN O - Replaced by 22-8M0058389
(more info)
Unavailable
22-8M0058389
22-8M0058389 - Screw Kit - Priced Individually (more info)
$6.16
$6.16

2 in stock.
18-23751-9
18-23751-9 - Drain Screw , Package of 50 - Special Order - No Returns (more info)
Unavailable
18-2375
18-2375 - Plug, 22-67892A1 (more info)

$6.99

$4.59

10+ in stock.
#5
12-19183 2
WASHER (3 required per assembly)
12-19183 2
WASHER-ORAN @15 O - Replaced by 12-19183 3
(more info)
Unavailable
12-19183 3
12-19183 3 - Seal -Blue - Priced Individually (more info)
$1.00
$1.00

10+ in stock.
18-2945-9
18-2945-9 - Gasket 12-19183 2-Pack (more info)
Replaces OEM #0307552

$2.78

$1.52

10+ in stock.
12-19183Q02
12-19183Q02 - Seals, Pack of 4 (more info)
$5.00
$5.00

Available to order:
Usually ships
within 8 days
12-19183K02
12-19183K02 - Seal, Pack of 4 (more info)
$5.00
$5.00

Available to order:
Usually ships
within 8 days
#6
17-43044
PIN, Dowel - Without Hole (.375 x .625), Rear (1 required per assembly)
17-43044
17-43044 - Pin -Dowel-solid (more info)
$1.60
$1.60

Available to order:
Usually ships
within 8 days
#7
31640T 5
TRIM TAB (1 required per assembly)
97-31640T 5
TRIM TAB O - Replaced by -31640T07
(more info)
Unavailable
31640T07
31640T07 - Trim Tab (more info)
$19.25
$19.25

2 in stock.
#8
10-825427
SCREW, (.437-14 x 1.250) Stainless Steel (1 required per assembly)
10-825427
10-825427 - Screw (more info)
$4.70
$4.70

10+ in stock.
#9
12-45176 1
WASHER, (.453 x .812 x .105) Black Oxide (1 required per assembly)
12-45176 1
12-45176 1 - Washer (more info)
$1.80
$1.80

Available to order:
Usually ships
within 8 days
#10
43040T 1
CARRIER ASSEMBLY (1 required per assembly)
43040T 1
43040T 1 - Carrier Assembly (more info)
$53.50
$53.50

Available to order:
Usually ships
within 8 days
#12
826134Q
ANODE (2 required per assembly)
97-826134Q
97-826134Q - Anode Outboard Side Pocket - Priced Individually (more info)
$10.00
$10.00

Available to order:
Usually ships
within 8 days
18-6068
18-6068 - Anode, Zinc, 826134 (more info)

$9.99

$7.60

1 in stock.
97-8M0059344
97-8M0059344 - Anode Bulk-10 PCS (more info)
$90.42
$90.42

Available to order:
Usually ships
within 8 days
97-826134T
97-826134T - Anode - Outboard Side Pocket - Priced Individually (more info)
$10.00
$10.00

Available to order:
Usually ships
within 8 days
#13
11-40138 6
NUT, (M6) Stainless Steel (1 required per assembly)
11-40138 6
11-40138 6 - Nut - Priced Individually (more info)
$3.30
$3.30

7 in stock.
#14
10-40003 33
SCREW, (M6 x 40) (1 required per assembly)
10-40003 33
10-40003 33 - Screw - Priced Individually (more info)
$2.70
$2.70

1 in stock.
#16
11-35921
NUT, (.625-18) (1 required per assembly)
11-35921
11-35921 - Nut - Priced Individually (more info)
$5.00
$5.00

10+ in stock.
18-3719
18-3719 - Nut, 11-35921, 314730 (more info)
Replaces OEM #0314730

$4.95

$3.20

3 in stock.
18-2359
18-2359 - Nut Kit (more info)

$8.21

$6.23

1 in stock.
#17
850307
CAM, Shift Control (1 required per assembly)
850307
850307 - Shift Control Cam (more info)
$27.92
$27.92

Available to order:
Usually ships
within 8 days
#18
31-883047A 1
BEARING ASSEMBLY, Tapered Roller (1 required per assembly)
31-883047A 1
31-883047A 1 - Bearing Assembly (more info)
$54.67
$54.67

1 in stock.
#19
15-44492A 1
SHIM SET (1 required per assembly)
15-44492A 1
15-44492A 1 - Shim Set (more info)
$9.02
$9.02

6 in stock.
#20
45-43031A 1
DRIVESHAFT ASSEMBLY (1 required per assembly) (L -32 Inches)
45-43031A 1
45-43031A 1 - Drive Shaft Assembly -l (more info)
$649.17
$649.17

Available to order:
Usually ships
within 8 days
18-1736
18-1736 - Drive Shaft Assembly (more info)
$696.96
$696.96

1 in stock.
#20
45-43032A 6
DRIVESHAFT ASSEMBLY (1 required per assembly) (LL -34.50 Inches)
45-43032A 6
45-43032A 6 - Drive Shaft Assembly -ml (more info)

$587.17

$95.49

Available to order:
Usually ships
within 8 days
#20
45-43032A 4
DRIVESHAFT ASSEMBLY (1 required per assembly) (XL -36.915 Inches)
45-43032A 4
45-43032A 4 - Drive Shaft Assembly -xl (more info)
$508.79
$508.79

Available to order:
Usually ships
within 8 days
#21
42461A 1
SLEEVE/RING KIT (1 required per assembly)
42461A 1
42461A 1 - Sleeve/Ring Kit (more info)

$19.20

$16.44

Available to order:
Usually ships
within 8 days
#22
NSS
NOT SOLD SEPARATE, Seal Ring (1 required per assembly)
#23
43055A 4
COVER ASSEMBLY, Water Pump (1 required per assembly)
43055A 4
43055A 4 - Water Pump Cover Assembly (more info)

$99.50

$98.25

Available to order:
Usually ships
within 8 days
#24
27-43033 1
GASKET (1 required per assembly)
27-43033 1
27-43033 1 - Gasket (more info)
$7.70
$7.70

1 in stock.
#25
27-43047 2
GASKET (1 required per assembly)
27-43047 2
27-43047 2 - Gasket (more info)
$9.50
$9.50

1 in stock.
18-2565-9
18-2565-9 - Gasket 27-430472 2-Pack (more info)

$19.98

$14.02

1 in stock.
#26
26-43036
SEAL, Oil, Lower (1 required per assembly)
26-43036
26-43036 - Seal (more info)
$13.90
$13.90

Available to order:
Usually ships
within 8 days
18-0522
18-0522 - Seal, 26-43036 (more info)

$12.49

$9.54

10+ in stock.
#27
26-43035
SEAL, Oil, Upper (1 required per assembly)
26-43035
26-43035 - Seal (more info)
$13.90
$13.90

2 in stock.
18-0583
18-0583 - Seal, 26-43035 (more info)

$11.99

$9.12

4 in stock.
#28
27-817277 1
GASKET (1 required per assembly)
27-817277 1
27-817277 1 - Gasket (more info)
$3.60
$3.60

2 in stock.
18-2566-9
18-2566-9 - Gasket 27-817277 2-Pack (more info)

$6.98

$4.91

10+ in stock.
#29
817275A 2
HOUSING KIT, Upper Water Pump (1 required per assembly)
817275A 2
817275A 2 - Water Pump Housing Upper (more info)
$76.75
$76.75

Available to order:
Usually ships
within 8 days
43050
43050 - Water Pump Upper Housing (more info)
$9.00
$9.00

5 in stock.
#30
817276 1
FACEPLATE (1 required per assembly)
817276 1
817276 1 - Water Pump Face Plate (more info)
$10.30
$10.30

Available to order:
Usually ships
within 8 days
18-3122
18-3122 - Plate, 817276 (more info)

$9.99

$7.55

2 in stock.
#31
10-826844 30
SCREW, (M6 x 30) (4 required per assembly)
10-826844 30
10-826844 30 - Screw - Priced Individually (more info)
$1.90
$1.90

1 in stock.
#32
43023 2
SEAL (1 required per assembly)
43023 2
43023 2 - Seal (more info)
$8.40
$8.40

2 in stock.
#33
28-43037
KEY (1 required per assembly)
28-43037
KEY O - Replaced by 28-8M0032833
(more info)
Unavailable
28-8M0032833
28-8M0032833 - Key (more info)
$2.90
$2.90

3 in stock.
18-3293
18-3293 - Key, 28-43037 (more info)

$2.99

$2.23

Available to order:
Usually ships
within 8 days
#34
47-43026T 2
IMPELLER (1 required per assembly)
47-43026T 2
47-43026T 2 - Water Pump Impeller (more info)
$27.58
$27.58

9 in stock.
18-3056
18-3056 - Impeller 47-43026-2 (more info)

$25.49

$15.73

10+ in stock.
47-43026Q02
47-43026Q02 - Water Pump Impeller (more info)
$28.59
$28.59

1 in stock.
#36
853906A 1
SHIFT SHAFT ASSEMBLY (1 required per assembly) (L-12 Inches)
853906A 1
853906A 1 - Shaft Kit - Long (more info)
$61.83
$61.83

2 in stock.
#36
853907A 1
SHIFT SHAFT ASSEMBLY (1 required per assembly) (LL-14.50 Inches)
853907A 1
853907A 1 - Shaft Kit -ll (more info)

$63.70

$54.54

Available to order:
Usually ships
within 8 days
#36
853908A 1
SHIFT SHAFT ASSEMBLY (1 required per assembly) (XL-17 Inches)
853908A 1
853908A 1 - Shaft Kit -xl (more info)
$67.08
$67.08

10+ in stock.
#37
53-29641
E RING (1 required per assembly)
53-29641
53-29641 - E Ring - Priced Individually (more info)
$1.30
$1.30

Available to order:
Usually ships
within 8 days
18-4295-9
18-4295-9 - Clip, 53-29461, 2PK (more info)

$2.98

$1.83

Available to order:
Usually ships
within 8 days
#38
23-43052A 4
BUSHING ASSEMBLY (1 required per assembly)
23-43052A 4
23-43052A 4 - Bushing Kit (more info)

$38.00

$32.54

2 in stock.
#39
25-45710
O-RING, (1.424 x .103) (1 required per assembly)
25-45710
25-45710 - O-Ring - Priced Individually (more info)
$1.00
$1.00

10+ in stock.
25-45710 1
25-45710 1 - O-Ring - Priced Individually (more info)

$2.50

$1.50

10+ in stock.
18-7198-9
18-7198-9 - O-Ring (PK5) 25-45710, 308626 (more info)
Replaces OEM #0308626

$12.45

$7.30

1 in stock.
#40
26-816464 1
SEAL, Oil (1 required per assembly)
26-816464 1
26-816464 1 - Seal (more info)
$11.90
$11.90

Available to order:
Usually ships
within 8 days
18-8347
18-8347 - Seal, 26-816464 1 (more info)
$11.99
$11.99

1 in stock.
18-2054
18-2054 - Oil Seal Mercury (more info)

$9.99

$8.09

10+ in stock.
#41
10-826844 25
SCREW, (M6 x 25) (2 required per assembly)
10-826844 25
10-826844 25 - Screw (more info)
$1.60
$1.60

Available to order:
Usually ships
within 8 days
#42
26-816575
FACE SEAL (1 required per assembly)
26-816575
FACE SEAL O - Replaced by 26-861415
(more info)
Unavailable
26-861415
ORD 26-816575A 2 O NLA
(more info)
Unavailable
#-
26-43035A 4
SEAL KIT, Gear Housing (1 required per assembly)
26-43035A 4
26-43035A 4 - Seal Kit (more info)

$78.20

$66.97

1 in stock.
18-2626
18-2626 - Seal Kit, 26-43035A4 (more info)

$65.99

$49.73

1 in stock.
#-
46-43024A 7
REPAIR KIT, Water Pump (1 required per assembly)
46-43024A 7
ORD 8M0113799 * NLA
(more info)
Unavailable
18-3214
18-3214 - Impeller Repair Kit (more info)

$43.49

$27.70

10+ in stock.
46-8M0113799
46-8M0113799 - Water Pump Repair Kit (more info)
$129.92
$129.92

9 in stock.
#-
27-13461A99
GASKET SET (1 required per assembly)
27-13461A99
27-13461A99 - Gasket Set (more info)
$196.42
$196.42

Available to order:
Usually ships
within 8 days
18-4340
18-4340 - Gasket Set, 27-13461A99 (more info)

$225.99

$182.19

2 in stock.
#-
47-43026T11
REPAIR KIT, Water Pump Impeller (1 required per assembly)
47-43026T11
REPAIR KIT-W/P O - Replaced by 47-43026Q06
(more info)
Unavailable
47-43026Q06
REPAIR KIT - IMP - Replaced by 47-8M0100526
(more info)
Unavailable
47-8M0100526
47-8M0100526 - Repair Kit - Impeller (more info)
$47.17
$47.17

Available to order:
Usually ships
within 8 days
18-3265
18-3265 - Water Pump Kit 47-43026Q06 (more info)

$42.49

$34.75

10+ in stock.
47-8M0100527
47-8M0100527 - Repair Kit - Impeller (more info)
$47.17
$47.17

Available to order:
Usually ships
within 8 days