Parts for Mercury Marine 70 HP (3 Cylinder) Gear Housing Assembly, Complete (Serial Group No. 3) (Page 2)
NEED PARTS OR KITS?
View diagram and parts list below.
Each product listed is an OEM or aftermarket equivalent part. [ Example ]
LOOKING FOR A PROP?
Try our prop finder.
COMPLETE GEARCASE?
Aftermarket gearcase may be available for less than $900 USD. 70 HP+ only. Please call.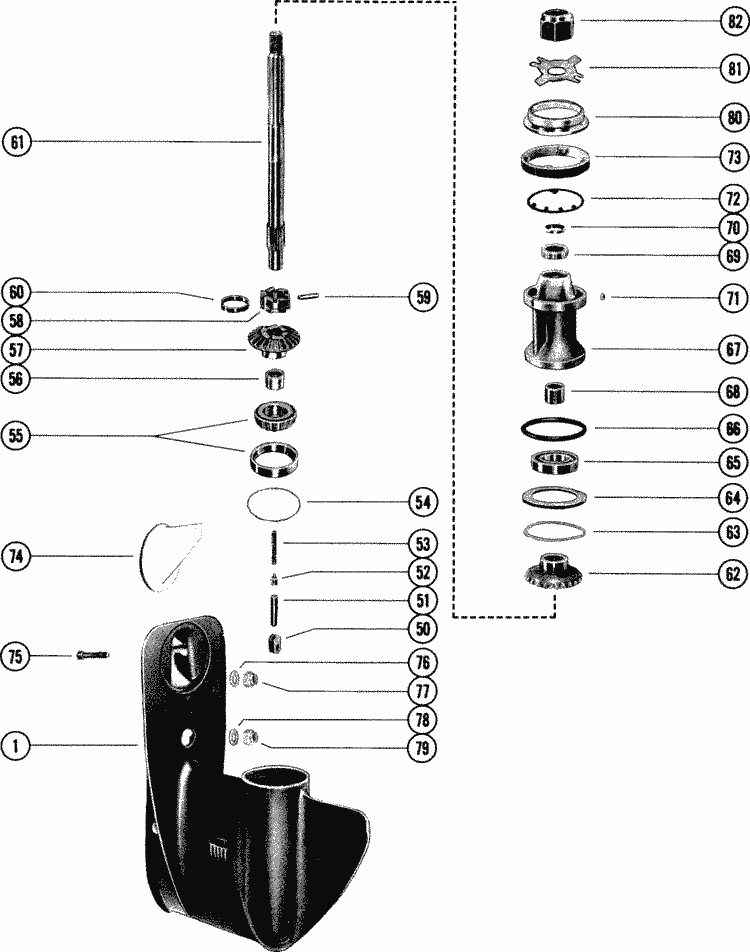 Reference numbers in this diagram can be found in a light blue row below — scroll down to order.
Each product listed is an OEM or aftermarket equivalent part. [ Example ]
Ref. No.
Part No.
Description
Manufacturer
List Price
Your Price
Order
#-
1643-6038A19
GEAR HOUSING ASSEMBLY, COMPLETE (1 required per assembly) (SHORT SHAFT) SEE NOTE
1643-6038A19
GEAR HOUSING O NLA
(more info)
Unavailable
#-
1643-6038A20
GEAR HOUSING ASSEMBLY, COMPLETE (LONG SHAFT) (1 required per assembly) SEE NOTE
1643-6038A20
GEAR HOUSING O NLA
(more info)
Unavailable
#1
1643-6038A 6
GEAR HOUSING ASSEMBLY (SEE F6 FOR BREAKDOWN) (1 required per assembly)
1643-6038A 6
GEAR HOUSING ASSY O NLA
(more info)
Unavailable
#50
54346
CAM, SHIFT (1 required per assembly)
54346
54346 - Cam (more info)
$6.80
$6.80

10 in stock.
76039
CAM-SHIFT @2 O - Replaced by -76039 4
(more info)
Unavailable
76039 4
76039 4 - Shift Cam - Priced Individually (more info)
$26.92
$26.92

1 in stock.
#51
38441
FOLLOWER, CAM (1 required per assembly)
38441
38441 - Cam Follower (more info)
$40.33
$40.33

1 in stock.
#52
20843
SLIDE, CROSS PIN (1 required per assembly)
20843
20843 - Slide (more info)
$16.92
$16.92

10+ in stock.
#53
24-39845
SPRING, COMPRESSION - CAM FOLLOWER (1 required per assembly)
24-39845
24-39845 - Spring, NLA (more info)
$7.50
$7.50

10+ in stock.
#54
15-38374A 1
SHIM, BEARING CUP TO GEAR HOUSING (.002-3-5-10) (AR required per assembly)
15-38374A 1
15-38374A 1 - Shim Set (more info)
$9.00
$9.00

1 in stock.
#55
31-38356A 1
TAPERED ROLLER BEARING ASSEMBLY (1 required per assembly)
31-38356A 1
31-38356A 1 - Bearing Set (more info)
$66.58
$66.58

Available to order:
Usually ships
within 8 days
18-1162
18-1162 - Bearing 31-38356A1 (more info)

$54.67

$43.41

Available to order:
Usually ships
within 8 days
#56
31-21739
BEARING, ROLLER - FORWARD GEAR (1 required per assembly)
31-21739
31-21739 - Bearing (more info)
$13.20
$13.20

10+ in stock.
#57
43-60247
FORWARD GEAR (1 required per assembly)
43-60247
FORWARD GEAR O - Replaced by 43-60247A 5
(more info)
Unavailable
43-60247A 5
43-60247A 5 - Forward Gear Assembly (more info)
$198.00
$198.00

2 in stock.
43-60247T 5
43-60247T 5 - Forward Gear Assembly (more info)
$302.75
$302.75

Available to order:
Usually ships
within 8 days
#58
52-47586
RATCHET, SLIDING CLUTCH (1 required per assembly)
52-47586
52-47586 - Clutch (more info)
$50.00
$50.00

2 in stock.
52-92911
CLUTCH O - Replaced by 52-92911T
(more info)
Unavailable
52-92911T
52-92911T - Clutch (more info)
$108.58
$108.58

Available to order:
Usually ships
within 8 days
#59
17-38113
PIN, CROSS - RATCHET TO PROPELLER SHAFT (1 required per assembly)
17-38113
17-38113 - Pin -cross - Priced Individually (more info)
$2.55
$2.55

10+ in stock.
17-8M0020942
17-8M0020942 - Pin -cross - Priced Individually (more info)
$3.00
$3.00

Available to order:
Usually ships
within 8 days
#60
24-38114
SPRING, RETAINING - CROSS PIN (1 required per assembly)
24-38114
24-38114 - Spring (more info)
$3.00
$3.00

Available to order:
Usually ships
within 8 days
#61
44-75365
SHAFT, PROPELLER (1 required per assembly)
44-75365
44-75365 - Propeller Shaft (more info)
$315.00
$315.00

2 in stock.
#62
43-66555
REVERSE GEAR (1 required per assembly)
43-66555
43-66555 - Reverse Gear (more info)
$100.00
$100.00

1 in stock.
43-79159A 1
43-79159A 1 - Reverse Gear (more info)
$100.00
$100.00

2 in stock.
43-79159
43-79159 - Reverse Gear (more info)
$100.00
$100.00

2 in stock.
43-79159T
43-79159T - Reverse Gear (more info)
$145.00
$145.00

10+ in stock.
#63
15-20927A 1
SHIM, THRUST WASHER TO GEAR HOUSING (.002-3-5-10) (AR required per assembly)
15-20927A 1
15-20927A 1 - Shim Set, NLA (more info)
$17.50
$17.50

2 in stock.
#64
12-32004
WASHER, THRUST - REVERSE GEAR (1 required per assembly)
12-32004
12-32004 - Washer, NLA (more info)
$11.25
$11.25

10+ in stock.
#65
30-20839
BEARING, BALL - REVERSE GEAR (1 required per assembly)
30-20839
BEARING-BALL O - Replaced by 30-20839T
(more info)
Unavailable
30-20839T
30-20839T - Ball Bearing (more info)

$67.00

$57.38

Available to order:
Usually ships
within 8 days
18-1190
18-1190 - Bearing, 30-20839T (more info)

$58.70

$47.67

1 in stock.
#66
25-31986
"O" RING, BEARING CARRIER (1 required per assembly)
25-31986
25-31986 - O-Ring Note: - Priced Individually (more info)
$3.10
$3.10

10+ in stock.
18-7160-9 O-Ring 25-31986 , 5 Pack
18-7160-9 O-Ring 25-31986 , 5 Pack (more info)

$17.45

$10.37

Available to order:
Usually ships
within 8 days
#67
69386A 1
BEARING CARRIER ASSEMBLY (1 required per assembly)
69386A 1
CARRIER ASSY-BRG O - Replaced by -69386T 1
(more info)
Unavailable
69386T 1
CARRIER ASSY-BRG O NLA
(more info)
Unavailable
#68
31-21700
BEARING, ROLLER - BEARING CARRIER (1 required per assembly)
31-21700
31-21700 - Bearing (more info)
$13.80
$13.80

1 in stock.
#69
26-69188
OIL SEAL, BEARING CARRIER (1 required per assembly)
26-69188
26-69188 - Seal (more info)
$13.40
$13.40

8 in stock.
18-2051
18-2051 - Seal, 26-69188 (more info)

$13.49

$9.07

10+ in stock.
#70
26-69189
OIL SEAL, BEARING CARRIER - LINE CUTTER (1 required per assembly)
26-69189
26-69189 - Seal (more info)
$15.90
$15.90

1 in stock.
18-2052
18-2052 - Seal, 26-69189 (more info)

$14.99

$10.75

10+ in stock.
#71
28-30281
KEY, LOCATING- BEARING CARRIER (1 required per assembly)
28-30281
28-30281 - Key - Priced Individually (more info)
$0.90
$0.90

9 in stock.
#72
14-53012
TAB WASHER, GEAR HOUSING COVER (1 required per assembly)
14-53012
14-53012 - Tab Washer (more info)
$13.90
$13.90

1 in stock.
#73
53013
COVER, GEAR HOUSING (1 required per assembly)
53013
COVER O - Replaced by 11-87763
(more info)
Unavailable
11-87763
11-87763 - Nut - Priced Individually (more info)
$8.00
$8.00

9 in stock.
#74
31640A 1
TRIM TAB ASSEMBLY, GEAR HOUSING (1 required per assembly)
31640A 1
TRIM TAB ASSY O - Replaced by -31640 3
(more info)
Unavailable
31640 3
TRIM TAB O - Replaced by -31640 4
(more info)
Unavailable
31640 4
ANODE/TRIM TAB O - Replaced by 97-31640Q 4
(more info)
Unavailable
97-31640Q4
97-31640Q4 - Anode/Trim Tab (more info)
$14.16
$14.16

Available to order:
Usually ships
within 8 days
18-6241
18-6241 - Trim Tab Anode, Magnesium 31640 (more info)

$13.49

$11.03

10+ in stock.
18-6011A
18-6011A - Trim Tab Anode, Aluminum (more info)

$12.99

$10.49

2 in stock.
18-6011
18-6011 - Trim Tab, Zinc, 31640A1 (more info)

$13.49

$10.15

10+ in stock.
97-8M0059338
97-8M0059338 - Anode BULK-25 PC 31640Q 4 QS (more info)
$266.58
$266.58

Available to order:
Usually ships
within 8 days
97-31640T 4
97-31640T 4 - Trim Tab Anode (more info)
$14.16
$14.16

Available to order:
Usually ships
within 8 days
#75
10-66024
SCREW, TRIM TAB TO GEAR HOUSING (1 3/4") (1 required per assembly)
10-66024
10-66024 - Screw - Priced Individually (more info)
$6.60
$6.60

7 in stock.
#76
12-45175
WASHER, DRIVE SHAFT HOUSING STUD (3/8") (1 required per assembly)
12-45175
WASHER @2 O - Replaced by 12-856774
(more info)
Unavailable
12-856774
12-856774 - Washer (more info)
$1.50
$1.50

1 in stock.
#77
11-34863
NUT (1 required per assembly) DRIVE SHAFT HOUSING TO GEAR HOUSING (3/8")
11-34863
NUT @3 O - Replaced by 11-826709113
(more info)
Unavailable
11-826709113
11-826709113 - Nut -ss - Priced Individually (more info)
$5.10
$5.10

3 in stock.
#78
12-65791
WASHER, DRIVE SHAFT HOUSING STUD (7/16") (1 required per assembly)
12-65791
12-65791 - Washer, NLA (more info)
$1.35
$1.35

1 in stock.
#79
11-34933
NUT (1 required per assembly) DRIVE SHAFT HOUSING TO GEAR HOUSING (7/16")
11-34933
11-34933 - Nut - Priced Individually (more info)
$3.80
$3.80

10+ in stock.
18-3721-9
18-3721-9 - Lock Nut, 11-34933, 5PK (more info)

$14.95

$10.17

5 in stock.
#80
73345
THRUST HUB, PROPELLER (1 required per assembly)
73345
73345 - Thrust Washer (more info)
$8.00
$8.00

10+ in stock.
73345A 1
73345A 1 - Thrust Washer (more info)
$12.58
$12.58

5 in stock.
18-4233
18-4233 - Thrust Washer, 73345A1 (more info)

$17.09

$13.32

10+ in stock.
#81
14-76281
TAB WASHER, PROPELLER (1 required per assembly)
14-76281
14-76281 - Tab Washer - Priced Individually (more info)
$4.18
$4.18

10+ in stock.
18-3204-9
18-3204-9 - Washer, 14-76281, 10PK (more info)

$16.04

$11.33

10+ in stock.
14-76281Q
14-76281Q - Tab Washer - Priced Individually (more info)
$4.18
$4.18

Available to order:
Usually ships
within 8 days
#82
11-69578
NUT, PROPELLER (1 required per assembly)
11-69578
11-69578 - Nut - Priced Individually (more info)
$3.00
$3.00

4 in stock.
11-69578A 1
NUT KIT-PROP O - Replaced by 11-69578Q 1
(more info)
Unavailable
11-69578Q 1
11-69578Q 1 - Prop Nut Kit - Priced Individually (more info)
$11.60
$11.60

9 in stock.
18-3704
18-3704 - Nut, 11-69578 (more info)

$17.39

$13.58

4 in stock.
18-3702
18-3702 - Nut Kit, 11-69578Q1 (more info)

$11.96

$9.94

10+ in stock.
11-69578T 1
11-69578T 1 - Prop Nut Kit - Priced Individually (more info)
$11.60
$11.60

2 in stock.
#-
A-27-76589A77
GASKET SET ( required per assembly)
27-76589A77
27-76589A77 - Gasket Set (more info)
$29.00
$29.00

1 in stock.
27-88449A32
27-88449A32 - Gasket Set (more info)
$88.25
$88.25

Available to order:
Usually ships
within 8 days
18-4357
18-4357 - Gasket Set 27-88449A32 (more info)

$97.99

$78.81

1 in stock.
#-
A-28-76589A78
GASKET SET ( required per assembly)
27-76589A78
GASKET SET O - Replaced by 27-76589A79
(more info)
Unavailable
27-76589A79
GASKET SET O - Replaced by 27-88449A80
(more info)
Unavailable
27-88449A80
GASKET SET O - Replaced by 27-88449A32
(more info)
Unavailable