Parts for Mercury Marine 450 (4 Cylinder) Gear Housing Assembly, Complete (Mercury 450m & 500e-1) (Page 1)
NEED PARTS OR KITS?
View diagram and parts list below.
Each product listed is an OEM or aftermarket equivalent part. [ Example ]
LOOKING FOR A PROP?
Try our prop finder.
COMPLETE GEARCASE?
Aftermarket gearcase may be available for less than $900 USD. 70 HP+ only. Please call.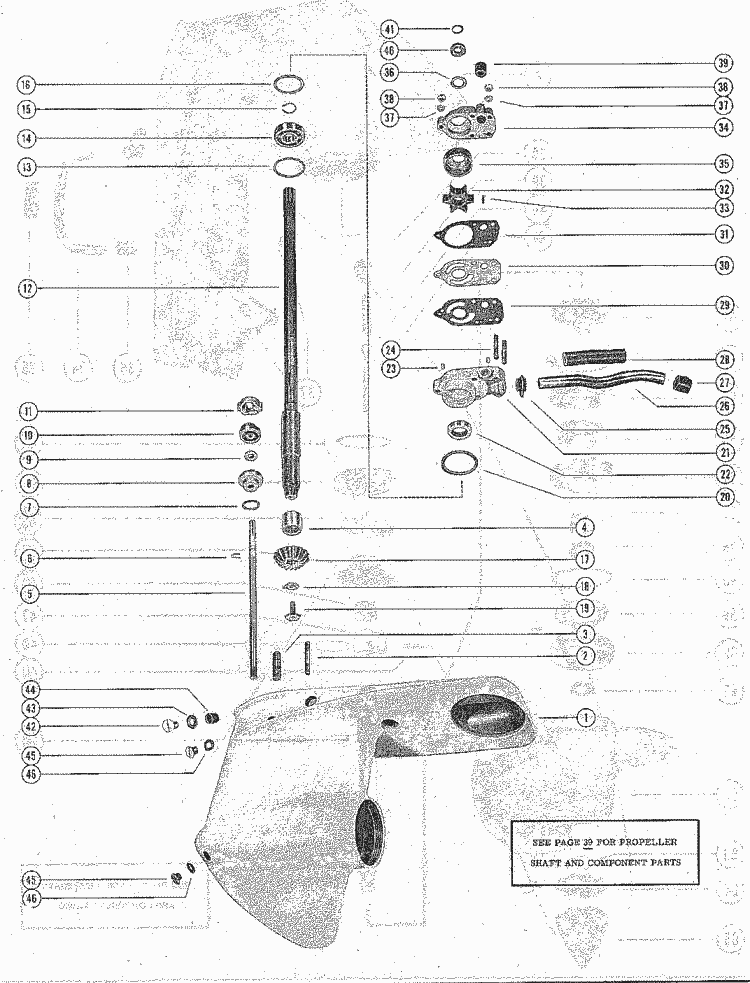 Reference numbers in this diagram can be found in a light blue row below — scroll down to order.
Each product listed is an OEM or aftermarket equivalent part. [ Example ]
Ref. No.
Part No.
Description
Manufacturer
List Price
Your Price
Order
#-
1626-1972A 3
GEAR HOUSING ASSEMBLY, COMPLETE (STANDARD) - SEE NOTE BELOW (1,1 required per assembly)
1626-1972A 3
GEAR HOUSING ASSY O NLA
(more info)
Unavailable
#1
1626-1972A 1
GEAR HOUSING ASSEMBLY (1,1 required per assembly)
1626-1972A 1
GEAR HOUSING ASSY O NLA
(more info)
Unavailable
#2
16-32027
STUD, WATER PUMP BODY AND BASE TO GEAR HOUSING (3,3 required per assembly)
16-32027
16-32027 - Stud, NLA (more info)
$11.25
$11.25

10+ in stock.
#3
16-32017
STUD, GEAR HOUSING TO DRIVE SHAFT HOUSING (2,2 required per assembly)
16-32017
STUD O NLA
(more info)
Unavailable
#4
31-20231
BEARING, ROLLER - DRIVE SHAFT (1,1 required per assembly)
31-20231
ROLLER BEARING O - Replaced by 31-62091
(more info)
Unavailable
31-62091
BEARING O - Replaced by 31-62091T
(more info)
Unavailable
31-62091T
31-62091T - Bearing (more info)
$47.50
$47.50

1 in stock.
#5
32008
SHAFT, SHIFT - LOWER (1,1 required per assembly)
32008
SHAFT O - Replaced by -56622A 1
(more info)
Unavailable
56622A 1
56622A 1 - Shaft Assembly (more info)
$58.08
$58.08

2 in stock.
#6
18-20233
CLIP, RETAINING - SHIFT SHAFT (1,1 required per assembly)
18-20233
18-20233 - Pin, Hair-Ext, Priced Individually (more info)
$0.90
$0.90

2 in stock.
53-29641
53-29641 - E Ring - Priced Individually (more info)
$1.30
$1.30

Available to order:
Usually ships
within 8 days
18-4295-9
18-4295-9 - Clip, 53-29461, 2PK (more info)

$2.98

$1.83

Available to order:
Usually ships
within 8 days
#7
25-25439
"O" RING, SHIFT SHAFT BUSHING (1,1 required per assembly)
25-25439
25-25439 - O-Ring - Priced Individually (more info)
$1.50
$1.50

10+ in stock.
18-7420-9
18-7420-9 - O-Ring (PK5) 25-21836 (more info)

$9.95

$4.35

4 in stock.
#8
23-28374A 1
BUSHING ASSEMBLY, SHIFT SHAFT (1,1 required per assembly)
23-28374A 1
BUSHING ASSY O - Replaced by 23-38993A 2
(more info)
Unavailable
23-38993A 2
BUSHING ASSY O - Replaced by 23-46284A 1
(more info)
Unavailable
23-46284A 1
23-46284A 1 - Bushing Assembly, NLA (more info)
$62.50
$62.50

10+ in stock.
#9
26-31249
OIL SEAL, SHIFT SHAFT BUSHING (1,1 required per assembly)
26-31249
OIL SEAL @5 O - Replaced by 26-46021
(more info)
Unavailable
26-46021
OIL SEAL @5 O - Replaced by 26-89236
(more info)
Unavailable
26-89236
SEAL O - Replaced by 26-89236 1
(more info)
Unavailable
26-89236 1
26-89236 1 - Seal (more info)
$11.50
$11.50

7 in stock.
18-2009
18-2009 - Seal, 26-89236 (more info)

$10.49

$7.28

2 in stock.
#10
25138
CAM, LOWER - REVERSE LOCKING (1,1 required per assembly)
25138
CAM O - Replaced by -52918
(more info)
Unavailable
52918
52918 - Cam, NLA (more info)
$25.00
$25.00

10 in stock.
#11
29823
CAM, UPPER - REVERSE LOCKING (1,1 required per assembly)
29823
CAM O - Replaced by -52919
(more info)
Unavailable
52919
52919 - Cam, NLA (more info)
$30.00
$30.00

10+ in stock.
#12
45-38466
DRIVE SHAFT (STANDARD) (1,1 required per assembly)
45-38466
45-38466 - Drive Shaft, NLA (more info)
$275.00
$275.00

10+ in stock.
#13
15-20929A 1
SHIM, DRIVE SHAFT BEARING TO GEAR HOUSING (AR,AR required per assembly)
15-20929A 1
15-20929A 1 - Shim Set, NLA (more info)
$8.00
$8.00

2 in stock.
#14
30-20861
BEARING, BALL - DRIVE SHAFT (1,1 required per assembly)
30-20861
BALL

[email protected]

O - Replaced by 30-72961
(more info)
Unavailable
30-72961
30-72961 - Ball Bearing (more info)

$20.30

$17.39

4 in stock.
18-1398
18-1398 - Bearing, 30-72961 (more info)

$16.99

$15.41

4 in stock.
#15
53-29116
RING, SNAP - BALL BEARING RETAINING (1,1 required per assembly)
53-29116
53-29116 - Retaining Ring, NLA (more info)
$2.50
$2.50

8 in stock.
#17
43-20834
GEAR, PINOIN - DRIVE SHAFT (1,1 required per assembly)
43-20834
43-20834 - Pinion Gear (more info)
$100.00
$100.00

10+ in stock.
#18
14-29163
TAB WASHER, PINOIN GEAR FASTENING SCREW (1,1 required per assembly)
14-29163
14-29163 - Tab Washer, NLA (more info)
$2.50
$2.50

10+ in stock.
#19
10-20925
SCREW, PINOIN GEAR TO DRIVE SHAFT (1,1 required per assembly)
10-20925
10-20925 - Screw, NLA (more info)
$4.50
$4.50

10+ in stock.
#20
25-26855
"O" RING, WATER PUMP BASE (1,1 required per assembly)
25-26855
25-26855 - O-Ring - Priced Individually (more info)
$2.40
$2.40

Available to order:
Usually ships
within 8 days
18-7155-9
18-7155-9 - (PK5) O-Ring 25-26855 (more info)
Replaces OEM #0305270

$14.95

$8.73

Available to order:
Usually ships
within 8 days
#21
46-32012A 1
WATER PUMP BASE ASSEMBLY (1,1 required per assembly)
46-32012A 1
46-32012A 1 - Base Assembly, NLA (more info)
$55.00
$55.00

9 in stock.
#22
26-23300
OIL SEA, WATER PUMP BASE (1,1 required per assembly)
26-23300
OIL SEAL @2 O - Replaced by 26-90562
(more info)
Unavailable
26-90562
26-90562 - Seal - Priced Individually (more info)
$15.30
$15.30

Available to order:
Usually ships
within 8 days
18-2011
18-2011 - Seal 26-90562 (more info)

$13.49

$9.66

10+ in stock.
#23
17-29596
DOWELL PIN, WATER PUMP BASE TO WATER PUMP BODY (2,2 required per assembly)
17-29596
17-29596 - Pin -Dowel - Priced Individually (more info)
$2.10
$2.10

10+ in stock.
17-29596T
17-29596T - Pin -Dowel - Priced Individually (more info)
$3.10
$3.10

1 in stock.
#24
16-20990
STUD, WATER PUMP BASE (2,2 required per assembly)
16-20990
STUD O NLA
(more info)
Unavailable
#25
26-32005
SEAL, WATER PUMP BODY TO WATER INTAKE TUBE (1,1 required per assembly)
26-32005
26-32005 - Seal, NLA (more info)
$3.50
$3.50

10+ in stock.
#26
32-31994
TUBE, WATER INTAKE - GEAR HOUSING (1,1 required per assembly)
32-31994
TUBE O NLA
(more info)
Unavailable
#27
26-29677
SEAL, WATER INTAKE TUBE TO GEAR HOUSING (1,1 required per assembly)
26-29677
SEAL O - Replaced by 26-36557A 1
(more info)
Unavailable
26-36557A 1
SEAL ASSY @5 O - Replaced by 26-38970
(more info)
Unavailable
26-38970
26-38970 - Seal - Priced Individually (more info)
$3.40
$3.40

10+ in stock.
18-3110
18-3110 - Seal, 26-38970 (more info)

$3.49

$2.40

10+ in stock.
#28
23-32052
SLEEVE, WATER INTAKE TUBE (1,1 required per assembly)
23-32052
23-32052 - Sleeve (more info)
$6.00
$6.00

5 in stock.
#29
27-32011
GASKET, LOWER - WATER PUMP BASE TO FACE PLATE (1,1 required per assembly)
27-32011
27-32011 - Gasket (more info)
$5.50
$5.50

7 in stock.
#30
32009
PLATE, FACE - WATER PUMP BASE TO WATER PUMP BODY (1,1 required per assembly)
32009
32009 - Plate (more info)
$9.50
$9.50

10+ in stock.
#31
27-32010
GASKET, UPPER - FACE PLATE TO WATER PUMP BODY (1,1 required per assembly)
27-32010
27-32010 - Gasket - Priced Individually, NLA (more info)
$9.00
$9.00

10+ in stock.
#32
47-20268
IMPELLER, WATER PUMP (1,1 required per assembly)
47-20268
IMPELLER @2 O - Replaced by 47-65959
(more info)
Unavailable
47-65959
IMPELLER @4 O - Replaced by 47-89983
(more info)
Unavailable
47-89983
IMPELLER O - Replaced by 47-89983T
(more info)
Unavailable
47-89983T
47-89983T - Impeller (more info)
$19.34
$19.34

10+ in stock.
18-3007
18-3007 - Impeller 47-89983 (more info)

$17.99

$13.02

10+ in stock.
#33
17-23733
PIN, IMPELLER DRIVE (1,1 required per assembly)
17-23733
DRIVE PIN @5 O - Replaced by 28-56662
(more info)
Unavailable
28-56662
KEY @5 O - Replaced by 28-8M0032837
(more info)
Unavailable
28-8M0032837
28-8M0032837 - Key - Priced Individually (more info)
$4.00
$4.00

10+ in stock.
#34
46-32013A 1
WATER PUMP BODY ASSEMBLY (1,1 required per assembly)
46-32013A 1
46-32013A 1 - Body Assembly, NLA (more info)
$62.50
$62.50

5 in stock.
#35
32001
INSERT, WATER PUMP BODY (1,1 required per assembly)
32001
32001 - Insert, NLA (more info)
$25.00
$25.00

10+ in stock.
#36
26-32121
OIL SEA, WATER PUMP BODY (1,1 required per assembly)
26-32121
26-32121 - Seal - Priced Individually (more info)
$14.70
$14.70

10+ in stock.
18-2017
18-2017 - Seal 26-32121 (more info)
$10.99
$10.99

2 in stock.
#37
13-26992
LOCKWASHER, WATER PUMP BODY AND BASE STUDS (5,5 required per assembly)
13-26992
13-26992 - LockWasher - Priced Individually (more info)
$0.80
$0.80

10+ in stock.
#38
11-29598
NUT, WATER PUMP BODY AND BASE FASTENING STUDS (5,5 required per assembly)
11-29598
11-29598 - Nut - Priced Individually (more info)
$1.90
$1.90

9 in stock.
#39
26-25192
SEAL, WATER PUMP BODY TO WATER INLET TUBE (1,1 required per assembly)
26-25192
26-25192 - Seal , NLA (more info)
$5.00
$5.00

10+ in stock.
#40
25-20273
RING, RUBBER - CENTRIFUGAL SLINGER (DRIVE SHAFT) (1,1 required per assembly)
25-20273
25-20273 - O-Ring - Priced Individually (more info)
$1.10
$1.10

10 in stock.
#41
25-29619
"O" RING, UPPER - DRIVE SHAFT (1,1 required per assembly)
25-29619
25-29619 - O-Ring - Priced Individually (more info)
$1.80
$1.80

10+ in stock.
#42
10-29608
SCREW, GEAR HOUSING FLUSHING HOLE (1,1 required per assembly)
10-29608
10-29608 - Screw, NLA (more info)
$8.00
$8.00

10+ in stock.
#43
27-29589
GASKET, GEAR HOUSING FLUSHING HOLE SCREW (1,1 required per assembly)
16-29589
STUD O - Replaced by 16-66290
(more info)
Unavailable
16-66290
STUD @2 O - Replaced by 16-68202
(more info)
Unavailable
16-68202
16-68202 - Stud (more info)
$25.58
$25.58

2 in stock.
#44
26-29612
SEAL, GEAR HOUSING FLUSHING HOLE (1,1 required per assembly)
26-29612
26-29612 - Seal - Priced Individually (more info)
$3.20
$3.20

10+ in stock.
#45
10-28634
SCREW, GREASE FILLER AND VENT HOLE (2,2 required per assembly)
10-28634
SCREW @5 O - Replaced by 10-79953
(more info)
Unavailable
10-79953
SCREW @5 O - Replaced by 10-79953A 2
(more info)
Unavailable
10-79953A 2
SCREW KIT-DRAIN O - Replaced by 10-79953Q 2
(more info)
Unavailable
10-79953Q 2
SCREW KIT @2 O - Replaced by 10-79953Q04
(more info)
Unavailable
10-79953Q04
10-79953Q04 - Screw Kit - Priced Individually (more info)
$5.70
$5.70

10+ in stock.
18-2244
18-2244 - Plug Kit, 10-79953A2 (more info)

$2.99

$2.07

10+ in stock.
10-79953K04
10-79953K04 - Drain Screw - Priced Individually (more info)
$5.70
$5.70

1 in stock.
#46
12-20260
WASHER, GREASE FILLER AND VENT HOLE SCREW (2,2 required per assembly)
12-20260
WASHER @15 O - Replaced by 12-19183
(more info)
Unavailable
12-19183
12-19183 - Washer-BLK - Priced Individually (more info)
$0.80
$0.80

10+ in stock.
12-19183 2
WASHER-ORAN @15 O - Replaced by 12-19183 3
(more info)
Unavailable
12-19183 3
12-19183 3 - Seal -Blue - Priced Individually (more info)
$1.00
$1.00

10+ in stock.
18-2945-9
18-2945-9 - Gasket 12-19183 2-Pack (more info)
Replaces OEM #0307552

$2.78

$1.52

10+ in stock.
12-19183Q02
12-19183Q02 - Seals, Pack of 4 (more info)
$5.00
$5.00

Available to order:
Usually ships
within 8 days
12-19183K02
12-19183K02 - Seal, Pack of 4 (more info)
$5.00
$5.00

Available to order:
Usually ships
within 8 days