Parts for Mercury Marine Model 402 40 HP Gear Housing Assembly, Complete (Page 1)
NEED PARTS OR KITS?
View diagram and parts list below.
Each product listed is an OEM or aftermarket equivalent part. [ Example ]
LOOKING FOR A PROP?
Try our prop finder.
COMPLETE GEARCASE?
Aftermarket gearcase may be available for less than $900 USD. 70 HP+ only. Please call.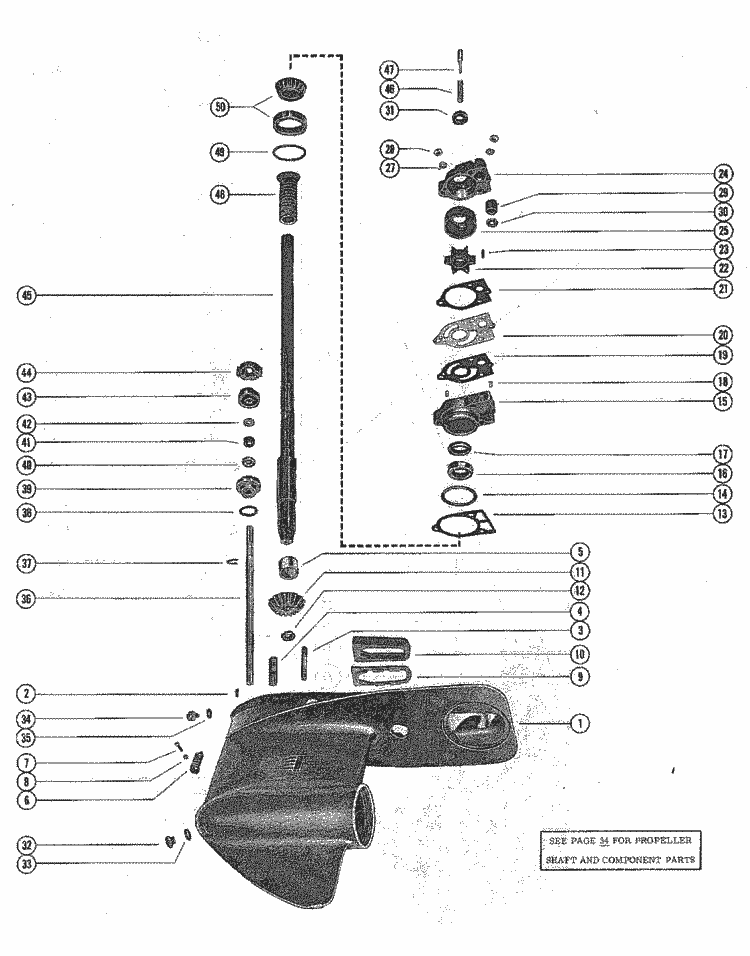 Reference numbers in this diagram can be found in a light blue row below — scroll down to order.
Each product listed is an OEM or aftermarket equivalent part. [ Example ]
Ref. No.
Part No.
Description
Manufacturer
List Price
Your Price
Order
#-
1643-4931A 9
GEAR HOUSING ASSEMBLY,COMPLETE(SHORT SHAFT) (1 required per assembly) THE ENCLOSED GEAR HOUSINGS INCLUDE ALL PARTS FROM REF. #1 THRU #76 AS LISTED ON PAGES 31 AND 34. U.S. 4275244 AND BELOW AUSTRALIA 8033704 AND BELOW BELGIUM 9099813 AND BELOW CANADA 7059932 AND BELOW
1643-4931A 9
GEAR HOUSING ASSY O - Replaced by 1643-6038A17
(more info)
Unavailable
1643-6038A17
GEAR HOUSING O NLA
(more info)
Unavailable
#-
1643-4931A10
GEAR HOUSING ASSEMBLY, COMPLETE(LONG SHAFT) (1 required per assembly) THE ENCLOSED GEAR HOUSINGS INCLUDE ALL PARTS FROM REF. #1 THRU #76 AS LISTED ON PAGES 31 AND 34. U.S. 4275244 AND BELOW AUSTRALIA 8033704 AND BELOW BELGIUM 9099813 AND BELOW CANADA 7059932 AND BELOW
1643-4931A10
GEAR HOUSING ASSY O - Replaced by 1643-6038A18
(more info)
Unavailable
1643-6038A18
GEAR HOUSING O NLA
(more info)
Unavailable
#-
1643-4931A29
GEAR HOUSING ASSEMBLY, COMPLETE(SHORT SHAFT) (1 required per assembly) THE ENCLOSED GEAR HOUSINGS INCLUDE ALL PARTS FROM REF. #1 THRU #76 AS LISTED ON PAGES 31 AND 34. U.S. 4275245-4362214 AUSTRALIA 8033705-8036449 BELGIUM 9099814-9108563 CANADA 7059933-7070272
1643-4931A29
GEAR HOUSING ASSY O - Replaced by 1643-6038A 5
(more info)
Unavailable
1643-6038A 5
GEAR HOUSING ASSY O NLA
(more info)
Unavailable
#-
1643-4931A30
GEAR HOUSING ASSEMBLY, COMPLETE(LONG SHAFT) (1 required per assembly) THE ENCLOSED GEAR HOUSINGS INCLUDE ALL PARTS FROM REF. #1 THRU #76 AS LISTED ON PAGES 31 AND 34. U.S. 4275245-4362214 AUSTRALIA 8033705-8036449 BELGIUM 9099814-9108563 CANADA 7059933-7070272
1643-4931A30
GEAR HOUSING ASSY O - Replaced by 1643-6038A 7
(more info)
Unavailable
1643-6038A 7
GEAR HOUSING ASSY O NLA
(more info)
Unavailable
#-
1643-6038A 5
GEAR HOUSING ASSEMBLY, COMPLETE(SHORT SHAFT) (1 required per assembly) THE ENCLOSED GEAR HOUSINGS INCLUDE ALL PARTS FROM REF. #1 THRU #76 AS LISTED ON PAGES 31 AND 34. U.S. 4362215-4564001 AUSTRALIA 8036450-8041799 BELGIUM 9108564-9135224 CANADA 7059933-7086372
#-
1643-6038A 7
GEAR HOUSING ASSEMBLY, COMPLETE(LONG SHAFT) (1 required per assembly) THE ENCLOSED GEAR HOUSINGS INCLUDE ALL PARTS FROM REF. #1 THRU #76 AS LISTED ON PAGES 31 AND 34. U.S. 4362215-4564001 AUSTRALIA 8036450-8041799 BELGIUM 9108564-9135224 CANADA 7059933-7086372
#-
1643-6038A17
GEAR HOUSING ASSEMBLY, COMPLETE(SHORT SHAFT) (1 required per assembly) THE ENCLOSED GEAR HOUSINGS INCLUDE ALL PARTS FROM REF. #1 THRU #76 AS LISTED ON PAGES 31 AND 34. U.S. 4564002 AND UP AUSTRALIA 8041800 AND UP BELGIUM 9135225 AND UP CANADA 7086373 AND UP
#-
1643-6038A18
GEAR HOUSING ASSEMBLY, COMPLETE(LONG SHAFT) (1 required per assembly) THE ENCLOSED GEAR HOUSINGS INCLUDE ALL PARTS FROM REF. #1 THRU #76 AS LISTED ON PAGES 31 AND 34. U.S. 4564002 AND UP AUSTRALIA 8041800 AND UP BELGIUM 9135225 AND UP CANADA 7086373 AND UP
#1
1643-4931A 6
GEAR HOUSING ASSEMBLY (1 required per assembly) UNITED STATES 4362214 AND BELOW AUSTRALIA 8036449 AND BELOW BELGIUM 9108563 AND BELOW CANADA 7070272 AND BELOW
1643-4931A 6
GEAR HOUSING ASSY O - Replaced by 1643-6038A 6
(more info)
Unavailable
1643-6038A 6
GEAR HOUSING ASSY O NLA
(more info)
Unavailable
#1
1643-6038A 6
GEAR ASSEMBLY (1 required per assembly) UNITED STATES 4362215 AND UP AUSTRALIA 8036450 AND UP BELGIUM 9108564 AND UP CANADA 7070273 AND UP
#2
17-46912
PIN, DOWEL-GEAR HOUSING (2 required per assembly)
17-46912
17-46912 - Pin -Dowel (more info)
$0.50
$0.50

10+ in stock.
17-85500
17-85500 - Pin -Dowel (more info)
$3.00
$3.00

10+ in stock.
178M0084726
178M0084726 - Pin - Dowel (more info)
$3.50
$3.50

Available to order:
Usually ships
within 8 days
#3
16-33778
STUD, WATER PUMP BODY/BASE TO GEAR HSG (2 5/8") (3 required per assembly)
16-33778
16-33778 - Stud (more info)
$7.90
$7.90

Available to order:
Usually ships
within 8 days
#4
16-57933
STUD, GEAR HOUSING TO DRIVE SHAFT HOUSING (2 required per assembly)
16-57933
16-57933 - STUD (more info)
$14.13
$14.13

2 in stock.
16-8M0034453
16-8M0034453 - Stud (more info)

$16.30

$13.96

Available to order:
Usually ships
within 8 days
#5
31-62091
BEARING, ROLLER-DRIVE SHAFT (1 required per assembly)
31-62091
BEARING O - Replaced by 31-62091T
(more info)
Unavailable
31-62091T
31-62091T - Bearing (more info)
$47.50
$47.50

1 in stock.
#6
-63850
SCREEN, WATER INTAKE-STARBOARD (1 required per assembly)
63850
63850 - Screen (more info)
$10.00
$10.00

10+ in stock.
#6
-63851
SCREEN, WATER INTAKE-PORT (1 required per assembly)
63851
63851 - Screen (more info)
$10.00
$10.00

6 in stock.
72849A 1
72849A 1 - Screen Assembly, NLA (more info)
—
$45.22

1 in stock.
#7
10-36070
SCREW,WATER INTAKE SCREEN TO GEAR HOUSING (1 required per assembly)
10-36070
10-36070 - Screw - Priced Individually (more info)
$5.40
$5.40

10+ in stock.
#8
11-45812
NUT,WATER INTAKE SCREEN SCREW (1 required per assembly)
11-45812
NUT @5 O - Replaced by 11-859124
(more info)
Unavailable
11-859124
11-859124 - Nut - Priced Individually (more info)
$12.92
$12.92

10+ in stock.
#9
-38071
PLATE, SUPPORT- EXHAUST TUBE (1 required per assembly)
38071
PLATE O - Replaced by -92815
(more info)
Unavailable
92815
92815 - Plate (more info)
$15.50
$15.50

2 in stock.
#10
-37721
SEAL, EXHAUST TUBE (1 required per assembly)
37721
SEAL @2 O - Replaced by -37721001
(more info)
Unavailable
Manual 23_118
Parts Catalog - 1929-1934; 26, 26.1, 32, 36; V-45, V-65, V-70, VA-50, VE-50, VR-45, VR-50; Johnson OUTBOARDS
$19.95
$19.95
37721001
37721001 - Seal - Priced Individually (more info)
$9.70
$9.70

8 in stock.
18-0539
18-0539 - Seal, 37721 37721-001 (more info)

$8.99

$7.23

1 in stock.
#11
43-55607
GEAR, PINION-DRIVE SHAFT (1 required per assembly)
43-55607
43-55607 - Pinion Gear (more info)
$100.00
$100.00

10+ in stock.
#12
11-55910
NUT, PINION GEAR TO DRIVE SHAFT (1 required per assembly)
11-55910
11-55910 - Nut - Priced Individually (more info)

$3.90

$2.64

10+ in stock.
#13
27-32771
GASKET, WATER PUMP BASE TO GEAR HOUSING (1 required per assembly)
27-32771
27-32771 - Gasket - Priced Individually (more info)
$2.50
$2.50

10+ in stock.
18-2825-9
18-2825-9 - Gasket 27-32771 2-Pack (more info)

$7.98

$4.56

Available to order:
Usually ships
within 8 days
#14
25-26855
"O" RING, WATER PUMP BASE (1 required per assembly)
25-26855
25-26855 - O-Ring - Priced Individually (more info)
$2.40
$2.40

Available to order:
Usually ships
within 8 days
18-7155-9
18-7155-9 - (PK5) O-Ring 25-26855 (more info)
Replaces OEM #0305270

$14.95

$8.73

Available to order:
Usually ships
within 8 days
#15
46-73842A 2
WATER PUMP BASE ASSEMBLY (1 required per assembly) UNITED STATES 4362214 AND BELOW AUSTRALIA 8036449 AND BELOW BELGIUM 9108563 AND BELOW CANADA 7070272 AND BELOW
46-73842A 2
46-73842A 2 - Base Assembly (more info)
$20.55
$20.55

4 in stock.
46-77516A 1
46-77516A 1 - Base Assembly (more info)

$35.75

$25.74

5 in stock.
18-3422
18-3422 - Water Pump Base, 46-77516A1 (more info)

$32.49

$25.33

1 in stock.
#15
46-73640A 1
WATER PUMP BASE ASSEMBLY (1 required per assembly) UNITED STATES 4362215 AND UP AUSTRALIA 8036450 AND UP BELGIUM 9108564 AND UP CANADA 7070273 AND UP
46-73640A 1
WATER PUMP ASSY O
(more info)
Unavailable
18-3423
18-3423 - Water Pump Base, 46-73640A1 (more info)

$37.99

$30.02

Available to order:
Usually ships
within 8 days
#16
26-26782
OIL SEAL, WATER PUMP BASE (1 required per assembly)
26-26782
OIL SEAL AT 2 O - Replaced by 26-79831
(more info)
Unavailable
26-79831
26-79831 - Seal (more info)
$12.40
$12.40

6 in stock.
18-2055
18-2055 - Seal, 26-79831 (more info)

$10.99

$8.48

2 in stock.
#17
26-23300
OIL SEAL, WATER PUMP BASE (1 required per assembly)
26-23300
OIL SEAL @2 O - Replaced by 26-90562
(more info)
Unavailable
26-90562
26-90562 - Seal - Priced Individually (more info)
$15.30
$15.30

Available to order:
Usually ships
within 8 days
18-2011
18-2011 - Seal 26-90562 (more info)

$13.49

$9.66

10+ in stock.
#18
17-35973
DOWEL PIN, WATER PUMP BASE TO WATER PUMP BODY (2 required per assembly)
17-35973
17-35973 - Pin -Dowel - Priced Individually (more info)
$1.40
$1.40

3 in stock.
18-3227-9
18-3227-9 - Pin, 17-35973, 5PK (more info)

$9.95

$7.44

Available to order:
Usually ships
within 8 days
#19
27-32769
GASKET,LOWER-WATER PUMP BASE TO FACE PLATE (1 required per assembly)
27-32769
GASKET @5 O - Replaced by 27-19553
(more info)
Unavailable
27-19553
27-19553 - Gasket - Priced Individually (more info)
$2.70
$2.70

3 in stock.
18-2823-9
18-2823-9 - Gasket 27-32769 2-Pack (more info)

$5.98

$3.46

3 in stock.
#20
-54705
PLATE, FACE-WATER PUMP BASE TO WATER PUMP BODY (1 required per assembly)
54705
54705 - Face Plate - Priced Individually (more info)
$2.50
$2.50

10+ in stock.
32768
32768 - Face Plate (more info)
$3.10
$3.10

10+ in stock.
18-3107
18-3107 - Plate 32768 (more info)

$2.99

$2.44

1 in stock.
#21
27-32770
GASKET,UPPER-FACE PLATE TO WATER PUMP BODY (1 required per assembly)
27-32770
GASKET @5 O - Replaced by 27-19551
(more info)
Unavailable
27-19551
27-19551 - Gasket - Priced Individually (more info)
$1.80
$1.80

10+ in stock.
18-2824-9
18-2824-9 - Gasket 27-32770 2-Pack (more info)

$4.98

$2.50

2 in stock.
#22
47-65959
IMPELLER, WATER PUMP (1 required per assembly)
47-65959
IMPELLER @4 O - Replaced by 47-89983
(more info)
Unavailable
47-89983
IMPELLER O - Replaced by 47-89983T
(more info)
Unavailable
47-89983T
47-89983T - Impeller (more info)
$19.34
$19.34

10+ in stock.
18-3007
18-3007 - Impeller 47-89983 (more info)

$17.99

$13.02

10+ in stock.
#23
28-56662
KEY,IMPELLER DRIVE (1 required per assembly)
28-56662
KEY @5 O - Replaced by 28-8M0032837
(more info)
Unavailable
28-8M0032837
28-8M0032837 - Key - Priced Individually (more info)
$4.00
$4.00

10+ in stock.
#24
46-48746A 1
WATER PUMP BODY ASSEMBLY (1 required per assembly)
46-48746A 1
BODY ASSY O - Replaced by 46-77822A 1
(more info)
Unavailable
46-77822A 1
46-77822A 1 - Water Pump Body (more info)

$24.90

$21.32

Available to order:
Usually ships
within 8 days
18-3118
18-3118 - Water Pump Housing, 46-77822A1 (more info)

$22.99

$17.91

Available to order:
Usually ships
within 8 days
#25
-48753
INSERT,WATER PUMP BODY (1 required per assembly)
48753
48753 - Insert (more info)
$4.90
$4.90

Available to order:
Usually ships
within 8 days
18-3115
18-3115 - Cup, 48753 (more info)

$4.99

$3.71

Available to order:
Usually ships
within 8 days
#27
12-29245
WASHER, WATER PUMP BODY AND BASE STUDS (3 required per assembly)
12-29245
12-29245 - Washer (more info)
$0.86
$0.86

Available to order:
Usually ships
within 8 days
18-4275
18-4275 - SS Washer (more info)

$1.99

$1.46

Available to order:
Usually ships
within 8 days
#28
11-36069
NUT, WATER PUMP BODY AND BASE STUDS (3 required per assembly)
11-36069
11-36069 - Nut - Priced Individually (more info)
$3.10
$3.10

10+ in stock.
#29
26-38452
SEAL, RUBBER-WATER INLET TUBE(WATER PUMP BODY) (1 required per assembly)
26-38452
26-38452 - Seal - Priced Individually (more info)
$3.10
$3.10

Available to order:
Usually ships
within 8 days
#30
12-38453
WASHER, NYLON-WATER PUMP BODY (1 required per assembly)
12-38453
12-38453 - Washer - Priced Individually (more info)
$0.89
$0.89

4 in stock.
#31
25-20273
RING, RUBBER-CENTRIFUGAL SLINGER(DRIVE SHAFT) (1 required per assembly)
25-20273
25-20273 - O-Ring - Priced Individually (more info)
$1.10
$1.10

10 in stock.
#32
10-28634
SCREW, GREASE FILLER AND VENT HOLE (2 required per assembly)
10-28634
SCREW @5 O - Replaced by 10-79953
(more info)
Unavailable
10-79953
SCREW @5 O - Replaced by 10-79953A 2
(more info)
Unavailable
10-79953A 2
SCREW KIT-DRAIN O - Replaced by 10-79953Q 2
(more info)
Unavailable
10-79953Q 2
SCREW KIT @2 O - Replaced by 10-79953Q04
(more info)
Unavailable
10-79953Q04
10-79953Q04 - Screw Kit - Priced Individually (more info)
$5.70
$5.70

10+ in stock.
18-2244
18-2244 - Plug Kit, 10-79953A2 (more info)

$2.99

$2.07

10+ in stock.
10-79953K04
10-79953K04 - Drain Screw - Priced Individually (more info)
$5.70
$5.70

1 in stock.
#33
12-20260
WASHER, GREASE FILLER AND VENT HOLE SCREW (2 required per assembly)
12-20260
WASHER @15 O - Replaced by 12-19183
(more info)
Unavailable
12-19183
12-19183 - Washer-BLK - Priced Individually (more info)
$0.80
$0.80

10+ in stock.
12-19183 2
WASHER-ORAN @15 O - Replaced by 12-19183 3
(more info)
Unavailable
12-19183 3
12-19183 3 - Seal -Blue - Priced Individually (more info)
$1.00
$1.00

10+ in stock.
18-2945-9
18-2945-9 - Gasket 12-19183 2-Pack (more info)
Replaces OEM #0307552

$2.78

$1.52

10+ in stock.
12-19183Q02
12-19183Q02 - Seals, Pack of 4 (more info)
$5.00
$5.00

Available to order:
Usually ships
within 8 days
12-19183K02
12-19183K02 - Seal, Pack of 4 (more info)
$5.00
$5.00

Available to order:
Usually ships
within 8 days
#34
19-48750
PLUG, GEAR HOUSING FLUSHING HOLE (1 required per assembly) UNITED STATES 4362214 AND BELOW AUSTRALIA 8036449 AND BELOW BELGIUM 9108563 AND BELOW CANADA 7070272 AND BELOW
19-48750
19-48750 - Plug - Priced Individually (more info)
$5.10
$5.10

7 in stock.
#35
12-49221
WASHER, GEAR HOUSING FLUSHING HOLE (1 required per assembly) UNITED STATES 4362214 AND BELOW AUSTRALIA 8036449 AND BELOW BELGIUM 9108563 AND BELOW CANADA 7070272 AND BELOW
12-49221
12-49221 - Washer - Priced Individually (more info)
$0.82
$0.82

10+ in stock.
18-2948-9
18-2948-9 - Washer, 12-49221, 5PK (more info)

$9.21

$3.45

2 in stock.
#36
-60241A 1
SHAFT ASSEMBLY, SHIFT-LOWER (1 required per assembly) UNITED STATES 4275244 AND BELOW AUSTRALIA 8033704 AND BELOW BELGIUM 9099813 AND BELOW CANADA 7059932 AND BELOW
60241A 1
SHAFT ASSY O - Replaced by -76063A 1
(more info)
Unavailable
76063A 1
76063A 1 - Shaft Assembly (more info)
—
$96.90

1 in stock.
#36
-69787A 1
SHAFT ASSEMBLY, SHIFT-LOWER (1 required per assembly) UNITED STATES 4275245 THRU 4564001 AUSTRALIA 8033705 THRU 8041799 BELGIUM 9099814 THRU 9135224 CANADA 7059933 THRU 7086372
69787A 1
69787A 1 - Shift Shaft Assembly, NLA (more info)
$50.00
$50.00

6 in stock.
#36
-76063A 1
SHAFT ASSEMBLY, SHIFT-LOWER (1 required per assembly) UNITED STATES 4564002 AND UP AUSTRALIA 8041800 AND UP BELGIUM 9135225 AND UP CANADA 7086373 AND UP
#37
53-29641
CLIP, RETAINING-SHIFT SHAFT (1 required per assembly)
53-29641
53-29641 - E Ring - Priced Individually (more info)
$1.30
$1.30

Available to order:
Usually ships
within 8 days
18-4295-9
18-4295-9 - Clip, 53-29461, 2PK (more info)

$2.98

$1.83

Available to order:
Usually ships
within 8 days
#38
25-25439
"O" RING, SHIFT SHAFT BUSHING (1 required per assembly)
25-25439
25-25439 - O-Ring - Priced Individually (more info)
$1.50
$1.50

10+ in stock.
18-7420-9
18-7420-9 - O-Ring (PK5) 25-21836 (more info)

$9.95

$4.35

4 in stock.
#39
23-55419A 1
BUSHING ASSEMBLY, SHIFT SHAFT (1 required per assembly)
23-55419A 1
BUSHING ASSY O - Replaced by 23-77631A 2
(more info)
Unavailable
23-77631A 2
23-77631A 2 - Bushing Assembly (more info)

$24.90

$21.32

1 in stock.
18-2155
18-2155 - Bushing, 23-77631A2 (more info)

$20.99

$16.70

Available to order:
Usually ships
within 8 days
#40
26-24590
OIL SEAL, SHIFT SHAFT BUSHING(UPPER) (1 required per assembly)
26-24590
26-24590 - Seal - Priced Individually (more info)
$9.30
$9.30

10+ in stock.
18-2048
18-2048 - Seal 26-24590 (more info)

$8.99

$6.66

1 in stock.
#41
26-31249
OIL SEAL, SHIFT SHAFT BUSHING(LOWER) (1 required per assembly)
26-31249
OIL SEAL @5 O - Replaced by 26-46021
(more info)
Unavailable
26-46021
OIL SEAL @5 O - Replaced by 26-89236
(more info)
Unavailable
26-89236
SEAL O - Replaced by 26-89236 1
(more info)
Unavailable
26-89236 1
26-89236 1 - Seal (more info)
$11.50
$11.50

7 in stock.
18-2009
18-2009 - Seal, 26-89236 (more info)

$10.49

$7.28

2 in stock.
#42
12-31266
WASHER, RUBBER-SHIFT SHAFT BUSHING (1 required per assembly)
12-31266
12-31266 - Washer - Priced Individually (more info)
$0.70
$0.70

10+ in stock.
18-2340-9
18-2340-9 - Washer, 12-31266, 5PK (more info)

$7.45

$2.83

1 in stock.
#43
-39021
CAM, REVERSE LOCKING- AND (1 required per assembly) U.S. 4564002 AND UP AUSTRALIA 8041800 AND UP BELGIUM 9135225 AND UP CANADA 7086373 AND UP U.S. 4275244 AND BELOW AUSTRALIA 8033704 AND BELOW BELGIUM 9099813 AND BELOW CANADA 7059932 AND BELOW
39021
CAM @3 O - Replaced by -98316
(more info)
Unavailable
98316
CAM O - Replaced by -43308
(more info)
Unavailable
43308
CAM O - Replaced by -43308 1
(more info)
Unavailable
43308 1
CAM O - Replaced by -43308T 1
(more info)
Unavailable
43308T 1
43308T 1 - Cam (more info)
$38.25
$38.25

1 in stock.
#43
-69542
CAM, REVERSE LOCKING (1 required per assembly) UNITED STATES 4275245 THRU 4564001 AUSTRALIA 8033705 THRU 8041799 BELGIUM 9099814 THRU 9135224 CANADA 7059933 THRU 7086372
69542
69542 - Cam, NLA (more info)
$20.00
$20.00

5 in stock.
#44
-39019
BASE, REVERSE LOCKING (1 required per assembly)
39019
39019 - Base Note: Must be ordered in multiples of 3 (more info)
$2.54
$2.54

10+ in stock.
78036
78036 - Base - Priced Individually (more info)
$5.20
$5.20

10+ in stock.
#45
45-69164A 2
DRIVE SHAFT ASSEMBLY(SHORT SHAFT) (1 required per assembly) UNITED STATES 4564001 AND BELOW AUSTRALIA 8041799AND BELOW BELGIUM 9135224 AND BELOW CANADA 7086372 AND BELOW
45-69164A 2
DRIVE SHAFT O - Replaced by 45-74855A 1
(more info)
Unavailable
45-74855A 1
45-74855A 1 - Drive Shaft Assembly (more info)
$118.05
$118.05

1 in stock.
45-76089A 2
45-76089A 2 - Drive Shaft Assembly, NLA (more info)
$150.00
$150.00

6 in stock.
#45
45-69165A 2
DRIVE SHAFT ASSEMBLY(LONG SHAFT) (1 required per assembly) UNITED STATES 4564001 AND BELOW AUSTRALIA 8041799AND BELOW BELGIUM 9135224 AND BELOW CANADA 7086372 AND BELOW
45-69165A 2
DRIVE SHAFT O - Replaced by 45-74854A 1
(more info)
Unavailable
45-74854A 1
DRIVE SHAFT ASSY O - Replaced by 45-76088A 2
(more info)
Unavailable
45-76088A 2
45-76088A 2 - Drive Shaft Assembly, NLA (more info)
$165.00
$165.00

10+ in stock.
#45
45-74855A 1
DRIVE SHAFT ASSEMBLY (SHORT SHAFT) (1 required per assembly) UNITED STATES 4564002 AND UP AUSTRALIA 8041800 AND UP BELGIUM 9135225 AND UP CANADA 7086373 AND UP
#45
45-74854A 1
DRIVE SHAFT ASSEMBLY(LONG SHAFT) (1 required per assembly) UNITED STATES 4564002 AND UP AUSTRALIA 8041800 AND UP BELGIUM 9135225 AND UP CANADA 7086373 AND UP
#46
24-20254
SPRING, COMPRESSION- DRIVE SHAFT (1 required per assembly)
24-20254
24-20254 - Spring, NLA (more info)
$7.00
$7.00

10+ in stock.
#47
17-30545
PIN, DRIVE SHAFT (1 required per assembly)
17-30545
17-30545 - Pin - Priced Individually (more info)
$4.20
$4.20

8 in stock.
#48
23-60242
SLEEVE, LUBRICATION-DRIVE SHAFT (1 required per assembly)
23-60242
SLEEVE O - Replaced by -88181
(more info)
Unavailable
88181
88181 - Sleeve (more info)
$10.00
$10.00

10+ in stock.
#49
15-20929A 1
SHIM, BEARING TO GEAR HOUSING(.002-3-5-10) (AR required per assembly)
15-20929A 1
15-20929A 1 - Shim Set, NLA (more info)
$8.00
$8.00

2 in stock.
#50
31-38146A 1
ROLLER BEARING ASSEMBLY,TAPERED-DRIVE SHAFT (1 required per assembly)
31-38146A 1
31-38146A 1 - Bearing (more info)
$152.75
$152.75

Available to order:
Usually ships
within 8 days