Parts for Mercury Marine 40 Lightning XR (International) Gear Housing, Propeller Shaft, Serial 0n116271 & Up
NEED PARTS OR KITS?
View diagram and parts list below.
Each product listed is an OEM or aftermarket equivalent part. [ Example ]
LOOKING FOR A PROP?
Try our prop finder.
COMPLETE GEARCASE?
Aftermarket gearcase may be available for less than $900 USD. 70 HP+ only. Please call.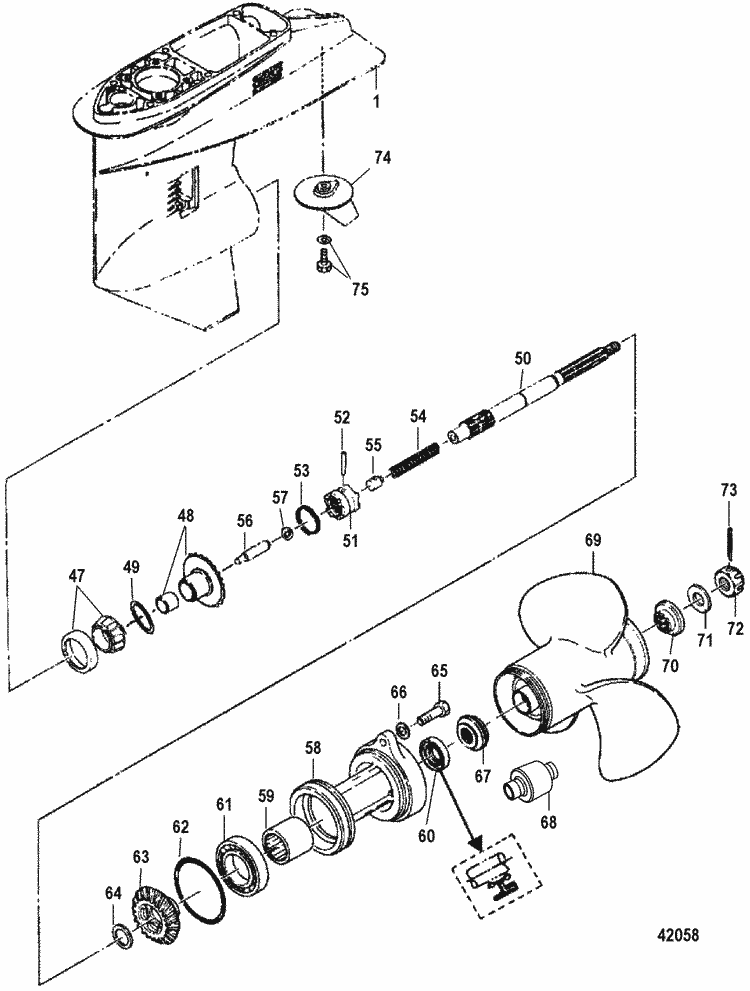 Reference numbers in this diagram can be found in a light blue row below — scroll down to order.
Each product listed is an OEM or aftermarket equivalent part. [ Example ]
Ref. No.
Part No.
Description
Manufacturer
List Price
Your Price
Order
#-
1668-8M0046098
GEAR HOUSING ASSEMBLY, Complete (1 required per assembly) (Short)
1668-8M0046098
1668-8M0046098 - Gearcase 40 2S SH INTL (more info)
$1,762.50
$1,762.50

Available to order:
Usually ships
within 8 days
#-
1668-825132T39
GEAR HOUSING ASSEMBLY, Complete (1 required per assembly) (Long)
1668-825132T39
1668-825132T39 - Gearcase 40 2S LG (more info)
$1,762.50
$1,762.50

Available to order:
Usually ships
within 8 days
#-
1668-8M0046099
GEAR HOUSING ASSEMBLY, Complete (1 required per assembly) (X-Long)
1668-8M0046099
GEAR HOUSING COMP O
(more info)
Unavailable
#1
1668-825132A10
GEAR HOUSING ASSEMBLY, Basic (1 required per assembly) (Short and Long)
1668-825132A10
GEAR HOUSING-BL O - Replaced by 1600-8M0084545
(more info)
Unavailable
16008M0084545
16008M0084545 - Gearcase Basic 40 2S (more info)
$625.00
$625.00

Available to order:
Usually ships
within 8 days
#1
1668-825132A19
GEAR HOUSING ASSEMBLY, Basic (1 required per assembly) (X-Long)
1668-825132A19
GEAR HOUSING BASI O
(more info)
Unavailable
#47
31-813048 8
BEARING, Needle (1 required per assembly)
31-813048 8
31-813048 8 - Bearing (more info)
$66.25
$66.25

Available to order:
Usually ships
within 8 days
#48
43-812944 2
GEAR, Forward (1 required per assembly)
43-812944 2
43-812944 2 - Forward Gear (more info)
$163.42
$163.42

Available to order:
Usually ships
within 8 days
#49
15-851860003
SHIM (AR required per assembly) (.3)
15-851860003
15-851860003 - Shim (more info)
$2.00
$2.00

Available to order:
Usually ships
within 8 days
#49
15-851860015
SHIM (AR required per assembly) (.15)
15-851860015
15-851860015 - Shim (more info)
$1.92
$1.92

Available to order:
Usually ships
within 8 days
#49
15-851860001
SHIM (AR required per assembly) (.1)
15-851860001
15-851860001 - Shim (more info)
$1.92
$1.92

Available to order:
Usually ships
within 8 days
#50
44-19513 2
PROPELLER SHAFT (1 required per assembly)
44-19513 2
44-19513 2 - Prop Shaft (more info)
$403.14
$403.14

Available to order:
Usually ships
within 8 days
#51
52-812946003
CLUTCH (1 required per assembly)
52-812946003
52-812946003 - Clutch (more info)
$102.83
$102.83

Available to order:
Usually ships
within 8 days
#52
17-16150 2
PIN, Clutch (1 required per assembly)
17-16150 2
17-16150 2 - PIN-Clutch (more info)
$1.92
$1.92

Available to order:
Usually ships
within 8 days
#53
24-812645 6
SPRING (1 required per assembly)
24-812645 6
24-812645 6 - Spring (more info)
$2.00
$2.00

Available to order:
Usually ships
within 8 days
#54
24-17667 3
SPRING (1 required per assembly)
24-17667 3
24-17667 3 - Spring (more info)
$2.00
$2.00

Available to order:
Usually ships
within 8 days
#55
853764 1
HOLDER, Spring (1 required per assembly)
853764 1
853764 1 - Holder (more info)
$12.83
$12.83

Available to order:
Usually ships
within 8 days
#56
30-16132 2
BALL, Steel (1 required per assembly)
30-16132 2
30-16132 2 - Ball - Steel (more info)
$2.90
$2.90

Available to order:
Usually ships
within 8 days
#57
16152 1
FOLLOWER, Cam (1 required per assembly)
16152 1
16152 1 - Cam Follower (more info)
$16.75
$16.75

Available to order:
Usually ships
within 8 days
#58
825119A 3
CARRIER ASSEMBLY, Bearing (1 required per assembly)
825119A 3
CARRIER-BRG-BLACK O - Replaced by -825119T03
(more info)
Unavailable
825119T03
825119T03 - Bearing Carrier (more info)
$129.83
$129.83

Available to order:
Usually ships
within 8 days
#59
31-813048 7
BEARING, Needle (1 required per assembly)
31-813048 7
31-813048 7 - Bearing (more info)
$41.75
$41.75

Available to order:
Usually ships
within 8 days
#60
26-16130 2
SEAL, Oil (1 required per assembly)
26-16130 2
26-16130 2 - Oil Seal (more info)
$9.50
$9.50

Available to order:
Usually ships
within 8 days
#61
30-16132 3
BEARING, Ball (1 required per assembly)
30-16132 3
30-16132 3 - Bearing (more info)
$20.92
$20.92

Available to order:
Usually ships
within 8 days
#62
25-16131 2
O-RING (1 required per assembly)
25-16131 2
25-16131 2 - O-Ring (more info)
$6.60
$6.60

Available to order:
Usually ships
within 8 days
#63
43-812945 3
GEAR, Reverse (1 required per assembly)
43-812945 3
43-812945 3 - Reverse Gear (more info)
$149.75
$149.75

Available to order:
Usually ships
within 8 days
#64
12-16140 8
WASHER (1 required per assembly)
12-16140 8
12-16140 8 - Washer (more info)
$6.50
$6.50

Available to order:
Usually ships
within 8 days
#65
10-16263 4
BOLT (2 required per assembly)
10-16263 4
BOLT O - Replaced by 10-16263010
(more info)
Unavailable
10-16263010
BOLT O - Replaced by 10-8M0086977
(more info)
Unavailable
10-8M0086977
BOLT O
(more info)
Unavailable
#66
12-895106
WASHER, Stainless Steel (2 required per assembly)
12-895106
WASHER @2 O - Replaced by 12-879194338
(more info)
Unavailable
12-879194338
12-879194338 - Washer - Priced Individually (more info)
$2.10
$2.10

1 in stock.
#67
16145 3
THRUST HUB (1 required per assembly)
16145 3
16145 3 - Thrust Hub (more info)
$55.00
$55.00

Available to order:
Usually ships
within 8 days
#68
48-879150151
HUB (1 required per assembly)
879150151
HUB-PROPELLOR O
(more info)
Unavailable
#69
48-802628003
PROPELLER, (10) (OPT required per assembly)
48-802628003
ORD QA2064X O NLA
(more info)
Unavailable
#69
48-802628002
PROPELLER, (11) (OPT required per assembly)
48-802628002
ORD 48-802628T04 O NLA
(more info)
Unavailable
#69
48-802621004
PROPELLER, (13.5) (1 required per assembly)
48-802621004
PROPELLER 13.5 O NLA
(more info)
Unavailable
#69
48-802621003
PROPELLER, (14.5) (OPT required per assembly)
48-802621003
ORD 48-802621T06 O NLA
(more info)
Unavailable
#69
48-802621T08
PROPELLER, (12) (OPT required per assembly)
48-802621T08
ORD 48-816702A45 O NLA
(more info)
Unavailable
#69
48-802621005
PROPELLER, (12.5) (1 required per assembly)
48-802621005
ORD 48-802621T08 O NLA
(more info)
Unavailable
#-
879782002
RUBBER HUB (1 required per assembly)
879782002
879782002 - Hub-Rubber (more info)
$110.92
$110.92

Available to order:
Usually ships
within 8 days
#70
851861
THRUST HUB (Rear) (1 required per assembly)
851861
851861 - Stopper-PROP (more info)
$26.33
$26.33

Available to order:
Usually ships
within 8 days
#71
12-16140 9
WASHER (1 required per assembly)
12-16140 9
12-16140 9 - Washer (more info)
$5.10
$5.10

Available to order:
Usually ships
within 8 days
#72
11-16147 2
PROP NUT (1 required per assembly)
11-16147 2
11-16147 2 - Nut (more info)
$17.50
$17.50

Available to order:
Usually ships
within 8 days
#73
18-815026 5
COTTER PIN (1 required per assembly)
18-815026 5
18-815026 5 - Cotter Pin - Priced Individually (more info)
$1.00
$1.00

Available to order:
Usually ships
within 8 days
#74
853762
TRIM TAB (1 required per assembly)
853762
853762 - Trim Tab (more info)
$17.75
$17.75

Available to order:
Usually ships
within 8 days
#75
10-16705 1
BOLT, (M6 x 20) (1 required per assembly)
10-16705 1
10-16705 1 - Bolt (more info)
$4.30
$4.30

Available to order:
Usually ships
within 8 days
#-
27-8M0046095
GASKET SET, Lower Unit (1 required per assembly)
27-8M0046095
GASKET SET O - Replaced by 27-8M0082886
(more info)
Unavailable
278M0082886
278M0082886 - Gasket Set (more info)
$97.17
$97.17

Available to order:
Usually ships
within 8 days