Parts for Mercury Marine 3.6 HP Gear Housing Assembly (Propeller Shaft)
NEED PARTS OR KITS?
View diagram and parts list below.
Each product listed is an OEM or aftermarket equivalent part. [ Example ]
LOOKING FOR A PROP?
Try our prop finder.
COMPLETE GEARCASE?
Aftermarket gearcase may be available for less than $900 USD. 70 HP+ only. Please call.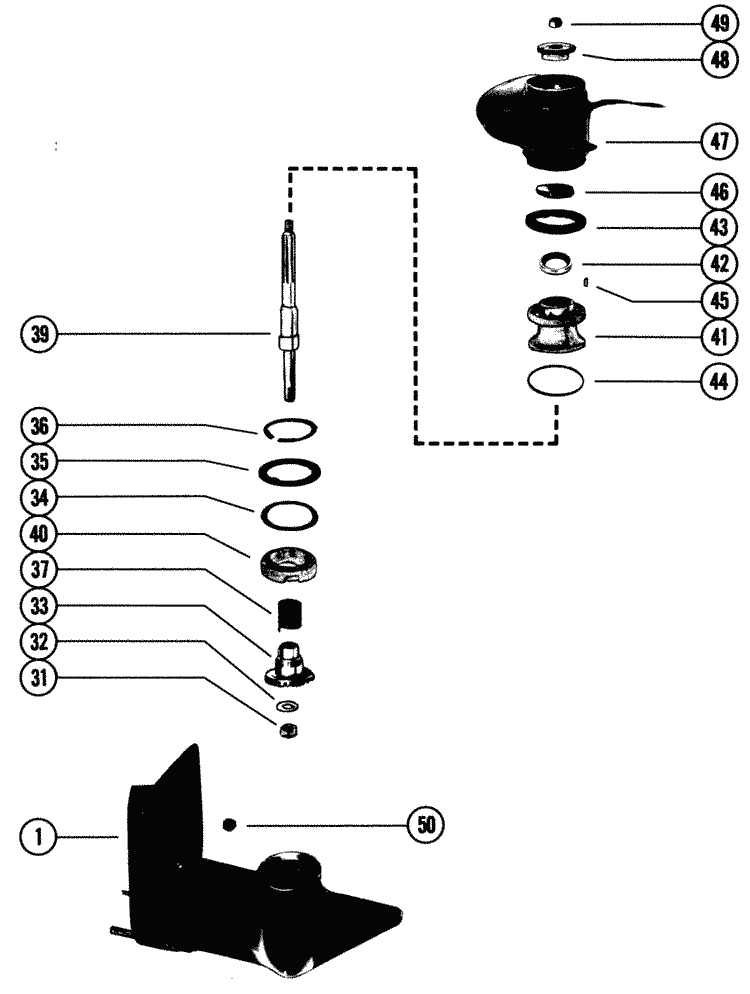 Reference numbers in this diagram can be found in a light blue row below — scroll down to order.
Each product listed is an OEM or aftermarket equivalent part. [ Example ]
Ref. No.
Part No.
Description
Manufacturer
List Price
Your Price
Order
#
1648-7726A 1
GEAR HOUSING ASSEMBLY, COMP. (SHORT SHAFT) (1 required per assembly) SEE NOTE BELOW UNITED STATES 5571989 AND BELOW
1648-7726A 1
GEAR HOUSING O - Replaced by 1648-7811A 1
(more info)
Unavailable
1648-7811A 1
GEAR HOUSING O - Replaced by 1648-7811A18
(more info)
Unavailable
1648-7811A18
GEAR HOUSING O NLA
(more info)
Unavailable
#
1648-7726A 2
GEAR HOUSING ASSEMBLY, COMP. (LONG SHAFT) (1 required per assembly) SEE NOTE BELOW UNITED STATES 5571989 AND BELOW
1648-7726A 2
GEAR HOUSING O - Replaced by 1648-7811A 2
(more info)
Unavailable
1648-7811A 2
GEAR HOUSING O - Replaced by 1648-7811A19
(more info)
Unavailable
1648-7811A19
GEAR HOUSING O NLA
(more info)
Unavailable
#
1648-7811A 1
GEAR HOUSING ASSEMBLY, COMP. (SHORT SHAFT) (1 required per assembly) SEE NOTE BELOW UNITED STATES 5571990 THRU 5802240 AUSTRALIA 8067540 THRU 8067864 BELGIUM 9252831 THRU 9293010 CANADA 7145388 THRU 7166027
#
1648-7811A 2
GEAR HOUSING ASSEMBLY, COMP. (LONG SHAFT) (1 required per assembly) SEE NOTE BELOW UNITED STATES 5571990 THRU 5802240 AUSTRALIA 8067540 THRU 8067864 BELGIUM 9252831 THRU 9293010 CANADA 7145388 THRU 7166027
#
1648-7811A18
GEAR HOUSING ASSEMBLY, COMP. (SHORT SHAFT) (1 required per assembly) SEE NOTE BELOW UNITED STATES 5802241 AND UP AUSTRALIA 8067865 AND UP BELGIUM 9293011 AND UP CANADA 7166028 AND UP
#
1648-7811A19
GEAR HOUSING ASSEMBLY, COMP. (LONG SHAFT) (1 required per assembly) SEE NOTE BELOW UNITED STATES 5802241 AND UP AUSTRALIA 8067865 AND UP BELGIUM 9293011 AND UP CANADA 7166028 AND UP
#1
1648-7726A 5
GEAR HOUSING ASSEMBLY, BASIC (1 required per assembly) UNITED STATES 5571989 AND BELOW
1648-7726A 5
GEAR HOUSING O - Replaced by 1648-7811A 9
(more info)
Unavailable
1648-7811A 9
GEAR HOUSING O NLA
(more info)
Unavailable
#1
1648-7811A 9
GEAR HOUSING ASSEMBLY, BASIC (1 required per assembly) UNITED STATES 5571990 AND UP AUSTRALIA 8067540 AND UP BELGIUM 9252831 AND UP CANADA 7145388 AND UP
#31
11-20696
NUT, PROPELLER SHAFT (1 required per assembly)
11-20696
11-20696 - Nut, NLA (more info)
$5.00
$5.00

10+ in stock.
#32
12-73672
WASHER, PROPELLER SHAFT (1 required per assembly)
12-73672
12-73672 - Washer, NLA (more info)
$3.35
$3.35

10 in stock.
#33
43-77422
DRIVE GEAR (1 required per assembly) UNITED STATES 5571989 AND BELOW
43-77422
DRIVE GEAR O - Replaced by 43-90795A 1
(more info)
Unavailable
43-90795A 1
43-90795A 1 - Gear Assembly, NLA (more info)
$320.00
$320.00

3 in stock.
#33
43-90795
DRIVE GEAR (1 required per assembly) UNITED STATES 5571990 THRU 5802240 AUSTRALIA 8067540 THRU 8067864 BELGIUM 9252831 THRU 9293010 CANADA 7145388 THRU 7166027
43-90795
43-90795 - Drive Gear (more info)
$152.75
$152.75

3 in stock.
#33
43-93398
DRIVE GEAR (1 required per assembly) UNITED STATES 5802241 AND UP AUSTRALIA 8067865 AND UP BELGIUM 9293011 AND UP CANADA 7166028 AND UP
43-93398
BEVEL GEAR O NLA
(more info)
Unavailable
#34
14-79603
WASHER, SPECIAL-PROPELLER SHAFT (1 required per assembly)
14-79603
14-79603 - Tab Washer, NLA (more info)
$2.00
$2.00

10+ in stock.
#35
15-79602A 1
SHIM ASS'Y, PROPELLER SHAFT (.002-3-5-10-20) (AR required per assembly)
15-79602A 1
SHIM SET O NLA
(more info)
Unavailable
#36
53-79601
RETAINING RING (1 required per assembly)
53-79601
53-79601 - Retaining Ring, NLA (more info)
$1.25
$1.25

10+ in stock.
#37
24-91813
SPRING, CLUTCH (1 required per assembly)
24-91813
24-91813 - Spring, NLA (more info)
$19.00
$19.00

1 in stock.
#39
44-77425
PROPELLER SHAFT (1 required per assembly) UNITED STATES 5802240 AND BELOW AUSTRALIA 8067864 AND BELOW BELGIUM 9293010 AND BELOW CANADA 7166027 AND BELOW
44-77425
44-77425 - Propeller Shaft, NLA (more info)
$100.00
$100.00

9 in stock.
#39
44-93397
PROPELLER SHAFT (1 required per assembly) UNITED STATES 5802241 AND UP AUSTRALIA 8067865 AND UP BELGIUM 9293011 AND UP CANADA 7166028 AND UP
44-93397
PROPELLER SHAFT O NLA
(more info)
Unavailable
#40
77424
SPACER, PROPELLER SHAFT (1 required per assembly)
77424
77424 - Spacer, NLA (more info)
$60.00
$60.00

10+ in stock.
#41
77431A 1
BEARING CARRIER ASSEMBLY (1 required per assembly)
77431A 1
CARRIER ASSY O - Replaced by -99210A 1
(more info)
Unavailable
99210A 1
99210A 1 - Carrier Assembly, NLA (more info)
$72.00
$72.00

10+ in stock.
#42
26-71140
OIL SEAL (1 required per assembly)
26-71140
OIL SEAL @5 O - Replaced by 26-98309
(more info)
Unavailable
26-98309
26-98309 - Seal (more info)
$40.00
$40.00

10+ in stock.
#43
75812
COVER, GEAR HOUSING (1 required per assembly)
75812
75812 - Cover, NLA (more info)
$26.00
$26.00

10+ in stock.
#44
25-68935
"O" RING, BEARING CARRIER (1 required per assembly)
25-68935
25-68935 - O-Ring - Priced Individually (more info)
$4.70
$4.70

10+ in stock.
#45
28-32003
KEY, BEARING CARRIER (1 required per assembly)
28-32003
28-32003 - Key, NLA (more info)
$9.00
$9.00

10+ in stock.
#46
70588
THRUST HUB, FORWARD (1 required per assembly)
70588
70588 - Thrust Washer, NLA (more info)
—
$23.26

4 in stock.
#47
48-86903A 1
PROPELLER ASSEMBLY (1 required per assembly) UNITED STATES 5802240 AND BELOW AUSTRALIA 8067864 AND BELOW BELGIUM 9293010 AND BELOW CANADA 7166027 AND BELOW
48-86903A 1
PLAS 7.90X6.30 O NLA
(more info)
Unavailable
#48
70589
THRUST HUB, AFT (1 required per assembly) UNITED STATES 5802240 AND BELOW AUSTRALIA 8067864 AND BELOW BELGIUM 9293010 AND BELOW CANADA 7166027 AND BELOW
70589
70589 - Thrust Hub, NLA (more info)
$12.50
$12.50

10 in stock.
#47
48-93357A 1
PROPELLER ASSEMBLY (1 required per assembly) UNITED STATES 5802241 AND UP AUSTRALIA 8067865 AND UP BELGIUM 9293011 AND UP CANADA 7166028 AND UP
48-93357A 1
PROPELLER O - Replaced by 48-93357A 2
(more info)
Unavailable
48-93357A 2
PROPELLER O - Replaced by 48-93357A10
(more info)
Unavailable
48-93357A10
BLMX7 7/8R6 1/3PL O NLA
(more info)
Unavailable
#48
93356
THRUST HUB, AFT (1 required per assembly) UNITED STATES 5802241 AND UP AUSTRALIA 8067865 AND UP BELGIUM 9293011 AND UP CANADA 7166028 AND UP
93356
93356 - Thrust Hub, NLA (more info)
$10.00
$10.00

10+ in stock.
#49
11-35814
NUT, PROPELLER (1 required per assembly)
11-35814
NUT @5 O - Replaced by 11-826709 11
(more info)
Unavailable
11-826709 11
11-826709 11 - Nut - Priced Individually (more info)
$3.60
$3.60

Available to order:
Usually ships
within 8 days
#-
27-88139A79
GASKET SET ( required per assembly)
27-88139A79
GASKET SET O - Replaced by 27-98540A83
(more info)
Unavailable
27-98540A83
GASKET SET O NLA
(more info)
Unavailable