Parts for Mercury Marine 3.5 (4-Stroke) Carburetor Gear Housing Assembly, Propeller Shaft
NEED PARTS OR KITS?
View diagram and parts list below.
Each product listed is an OEM or aftermarket equivalent part. [ Example ]
LOOKING FOR A PROP?
Try our prop finder.
COMPLETE GEARCASE?
Aftermarket gearcase may be available for less than $900 USD. 70 HP+ only. Please call.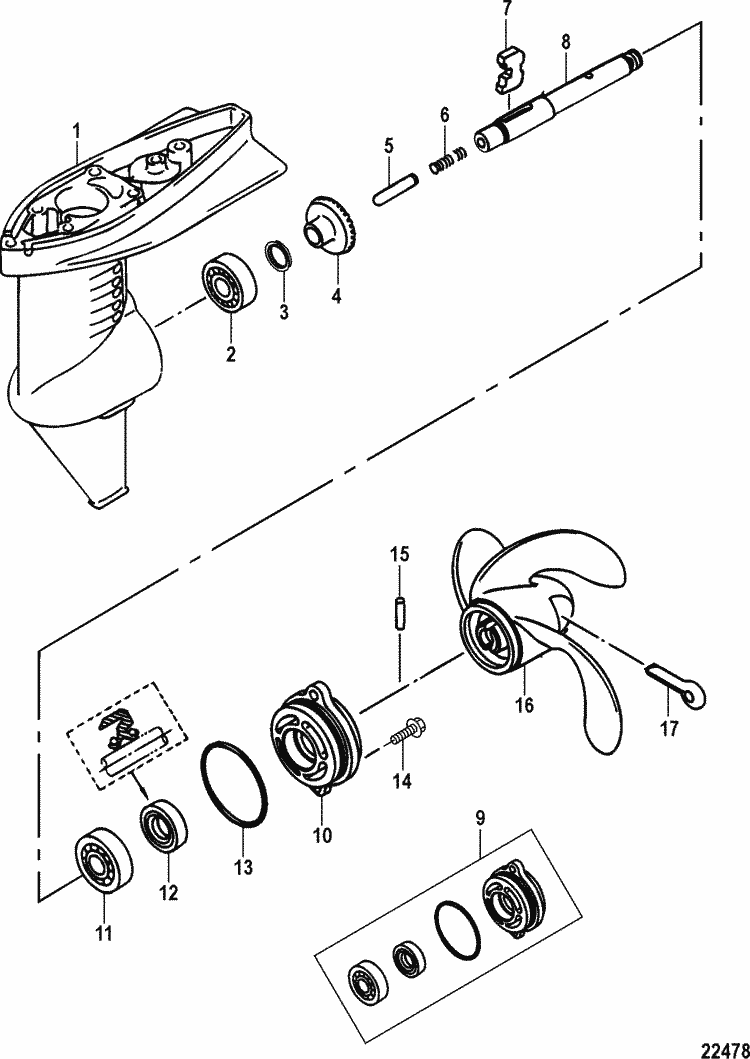 Reference numbers in this diagram can be found in a light blue row below — scroll down to order.
Each product listed is an OEM or aftermarket equivalent part. [ Example ]
Ref. No.
Part No.
Description
Manufacturer
List Price
Your Price
Order
#-
1668-898103T73
GEAR HOUSING ASSEMBLY, Complete - Short (1 required per assembly)
1668-898103T73
1668-898103T73 - Gearcase 2-3.5 4S Sh (more info)
$375.00
$375.00

Available to order:
Usually ships
within 8 days
#-
1668-898103T74
GEAR HOUSING ASSEMBLY, Complete - Long (1 required per assembly)
1668-898103T74
1668-898103T74 - Gear Housing Complete Lg (more info)
$375.00
$375.00

Available to order:
Usually ships
within 8 days
#1
1668-898103T64
GEAR HOUSING ASSEMBLY, Basic (1 required per assembly)
1668-898103T64
1668-898103T64 - Gear Housing Basi (more info)
$160.00
$160.00

Available to order:
Usually ships
within 8 days
#2
30-16128
BEARING, Ball (1 required per assembly)
30-16128
30-16128 - Ball Bearing (more info)
$21.00
$21.00

Available to order:
Usually ships
within 8 days
#3
15-16141
SHIM, (0.1) (AR required per assembly)
15-16141
15-16141 - Shim (more info)
$4.50
$4.50

1 in stock.
#3
15-813277
SHIM, (0.15) (AR required per assembly)
15-813277
15-813277 - Shim (more info)
$6.70
$6.70

Available to order:
Usually ships
within 8 days
#4
43-812944
GEAR (1 required per assembly)
43-812944
43-812944 - Gear (more info)
$83.25
$83.25

Available to order:
Usually ships
within 8 days
#5
823050
PUSH ROD (1 required per assembly)
823050
823050 - Push Rod (more info)
$12.20
$12.20

Available to order:
Usually ships
within 8 days
#6
24-17667 1
SPRING (1 required per assembly)
24-17667 1
24-17667 1 - Spring (more info)
$3.90
$3.90

Available to order:
Usually ships
within 8 days
#7
52-823049
CLUTCH (1 required per assembly)
52-823049
52-823049 - Clutch (more info)
$60.17
$60.17

Available to order:
Usually ships
within 8 days
#8
44-95291 1
PROPELLER SHAFT (1 required per assembly)
44-95291 1
44-95291 1 - Propeller Shaft (more info)
$149.25
$149.25

Available to order:
Usually ships
within 8 days
#9
898103T81
CARRIER ASSEMBLY, Bearing (1 required per assembly)
898103T81
898103T81 - Bearing Carrier (more info)
$64.67
$64.67

Available to order:
Usually ships
within 8 days
#10
825116
HOUSING (1 required per assembly)
825116
825116 - Housing - Black (more info)
$43.08
$43.08

Available to order:
Usually ships
within 8 days
#11
30-95344
BEARING, Ball (1 required per assembly)
30-95344
30-95344 - Ball Bearing (more info)
$18.67
$18.67

Available to order:
Usually ships
within 8 days
#12
26-95348
SEAL, Oil (1 required per assembly)
26-95348
26-95348 - Oil Seal (more info)
$11.20
$11.20

Available to order:
Usually ships
within 8 days
#13
25-16131
O-RING (1 required per assembly)
25-16131
25-16131 - O-Ring (more info)
$6.90
$6.90

Available to order:
Usually ships
within 8 days
#14
10-16705 1
BOLT, (M6 x 20) (2 required per assembly)
10-16705 1
10-16705 1 - Bolt (more info)
$4.30
$4.30

Available to order:
Usually ships
within 8 days
#15
17-815111
SHEAR PIN, Stainless Steel (1 required per assembly)
17-815111
SHEAR PIN @5 O - Replaced by 17-815111002
(more info)
Unavailable
17-815111002
SHEAR PIN @5 O - Replaced by 17-815111Q02
(more info)
Unavailable
17-815111Q02
17-815111Q02 - Shear Pin Kit - Priced Individually (more info)
$8.74
$8.74

2 in stock.
#15
17-815111002
SHEAR PIN (1 required per assembly) Saltwater Application
#16
48-815083 1
PROPELLER, Plastic (3 x 7.4 x 7) (1 required per assembly)
48-815083 1
BLMX 7 3/8R7PL O - Replaced by 48-815083A02
(more info)
Unavailable
48-815083A02
48-815083A02 - Black Max Prop 7 3/8 X 7 (more info)
$52.28
$52.28

Available to order:
Usually ships
within 8 days
#16
48-815084 1
PROPELLER, Aluminum (3 x 7.4 x 7) (1 required per assembly)
48-815084 1
BLMX 7 3/8R7RBHB O - Replaced by 48-815084A02
(more info)
Unavailable
48-815084A02
48-815084A02 - Black Max Prop 7 3/8 X 7 (more info)
$74.94
$74.94

Available to order:
Usually ships
within 8 days
#16
48-815083
PROPELLER, (3 x 7.4 x 5.7)(Plastic) (1 required per assembly)
48-815083
BLMX 7 3/8R6PL O - Replaced by 48-815083A01
(more info)
Unavailable
48-815083A01
48-815083A01 - Black Max Prop 7 3/8 X 6 (more info)
$52.28
$52.28

Available to order:
Usually ships
within 8 days
#17
18-95295
COTTER PIN (1 required per assembly)
18-95295
18-95295 - Cotter Pin - Priced Individually (more info)
$5.24
$5.24

10+ in stock.
18-95295Q
18-95295Q - Pin -cott (3) - Priced Individually (more info)
$5.24
$5.24

Available to order:
Usually ships
within 8 days
#-
27-95220A 4
GASKET SET, Lower Unit (1 required per assembly)
27-95220A 4
GASKET SET-L/U O - Replaced by 27-8M0082881
(more info)
Unavailable
278M0082881
278M0082881 - Gasket Set (more info)
$30.58
$30.58

Available to order:
Usually ships
within 8 days