Parts for Mercury Marine 18 HP Gear Housing (Drive Shaft) (Screw Inserted From Bottom)
NEED PARTS OR KITS?
View diagram and parts list below.
Each product listed is an OEM or aftermarket equivalent part. [ Example ]
LOOKING FOR A PROP?
Try our prop finder.
COMPLETE GEARCASE?
Aftermarket gearcase may be available for less than $900 USD. 70 HP+ only. Please call.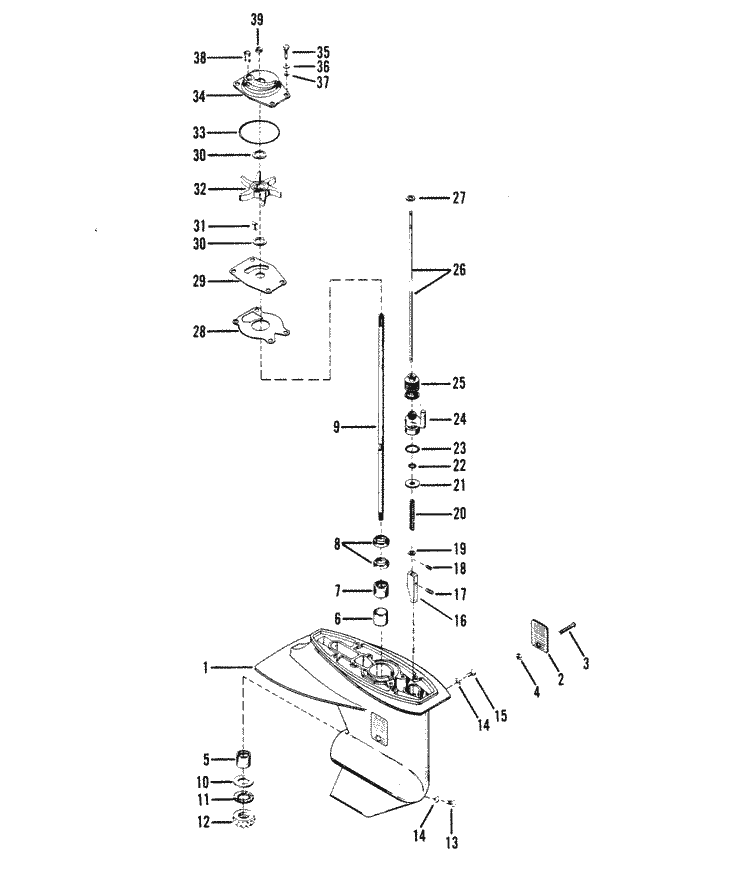 Reference numbers in this diagram can be found in a light blue row below — scroll down to order.
Each product listed is an OEM or aftermarket equivalent part. [ Example ]
Ref. No.
Part No.
Description
Manufacturer
List Price
Your Price
Order
#-
1653-8157A 7
GEAR HOUSING ASSEMBLY, COMPLETE - SHORT SHAFT (1 required per assembly)
1653-8157A 7
GEAR HOUSING O - Replaced by 1665-8669A 3
(more info)
Unavailable
1665-8669A 3
GEAR HOUSING O - Replaced by 1665-8669A11
(more info)
Unavailable
1665-8669A11
GEAR HOUSING O - Replaced by 1665-8669A13
(more info)
Unavailable
1665-8669A13
GEAR HSG. SH-BLK O - Replaced by 1665-8669T13
(more info)
Unavailable
1665-8669T13
GEAR HSG. SH-BLK O NLA
(more info)
Unavailable
#-
1653-8157A 8
GEAR HOUSING ASSEMBLY, COMPLETE - LONG SHAFT (1 required per assembly)
1653-8157A 8
GEAR HOUSING O - Replaced by 1665-8669A 4
(more info)
Unavailable
1665-8669A 4
GEAR HOUSING O - Replaced by 1665-8669A12
(more info)
Unavailable
1665-8669A12
GEAR HOUSING O - Replaced by 1665-8669A14
(more info)
Unavailable
1665-8669A14
GEAR HSG ASY COMP O - Replaced by 1665-8669T14
(more info)
Unavailable
1665-8669T14
GC 20/25 2S LG O NLA
(more info)
Unavailable
#1
1653-8157A 6
GEAR HOUSING ASSEMBLY (1 required per assembly)
1653-8157A 6
REF OB PB 94-08 O NLA
(more info)
Unavailable
#2
35-98488
SCREEN, WATER INLET - STARBOARD (1 required per assembly)
35-98488
SCREEN O NLA
(more info)
Unavailable
#2
35-98487
SCREEN, WATER INLET - PORT (1 required per assembly)
35-98487
SCREEN O NLA
(more info)
Unavailable
#3
40031112
SCREW, SCREEN TO GEAR HOUSING (40MM) (1 required per assembly)
10-40031112
10-40031112 - Screw - Priced Individually (more info)
$2.10
$2.10

10+ in stock.
#4
11-40026 3
NUT, SCREEN SCREW (1 required per assembly)
11-40026 3
NUT @2 O NLA
(more info)
Unavailable
#5
31-85559
ROLLER BEARING, LOWER (1 required per assembly) ?96524! THRUST WASHER (.234 THICK) IS SUPERSEDED BY ?98861A1! BUSHING KIT. ?31-85559! ROLLER BEARING AND ?31-85560! THRUST BEARING ARE NOT USED WITH THE BUSHING KIT.
31-85559
BEARING O NLA
(more info)
Unavailable
#6
23-85092
SLEEVE, UPPER ROLLER BEARING (1 required per assembly)
23-85092
23-85092 - Sleeve (more info)
$22.00
$22.00

8 in stock.
#7
31-85558
ROLLER BEARING, UPPER (1 required per assembly)
31-85558
BEARING O NLA
(more info)
Unavailable
#8
26-33467
SEAL, GEAR HOUSING (2 required per assembly)
26-33467
26-33467 - Seal, NLA (more info)
$12.50
$12.50

10+ in stock.
26-897154
26-897154 - Oil Seal - Priced Individually (more info)
$12.20
$12.20

3 in stock.
18-2006
18-2006 - Seal 26-33467 (more info)

$13.99

$10.27

1 in stock.
#9
45-98084
DRIVE SHAFT - SHORT SHAFT (1 required per assembly)
45-98084
DRIVE SHAFT O NLA
(more info)
Unavailable
#9
45-98085
DRIVE SHAFT - LONG SHAFT (1 required per assembly)
45-98085
DRIVE SHAFT O NLA
(more info)
Unavailable
#10
12-94056
WASHER, THRUST - DRIVE SHAFT (.080 THICK) (AR required per assembly)
12-94056
12-94056 - Washer, NLA (more info)
$6.00
$6.00

10+ in stock.
#10
96524
WASHER, THRUST - DRIVE SHAFT (.234 THICK) (AR required per assembly) ?96524! THRUST WASHER (.234 THICK) IS SUPERSEDED BY ?98861A1! BUSHING KIT. ?31-85559! ROLLER BEARING AND ?31-85560! THRUST BEARING ARE NOT USED WITH THE BUSHING KIT
96524
THRUST WASHER O - Replaced by -98861A 1
(more info)
Unavailable
98861A 1
98861A 1 - Bushing Kit, NLA (more info)
$37.50
$37.50

10+ in stock.
#11
31-85560
THRUST BEARING, DRIVE SHAFT (1 required per assembly) ?96524! THRUST WASHER (.234 THICK) IS SUPERSEDED BY ?98861A1! BUSHING KIT. ?31-85559! ROLLER BEARING AND ?31-85560! THRUST BEARING ARE NOT USED WITH THE BUSHING KIT
31-85560
31-85560 - Bearing (more info)
$22.58
$22.58

Available to order:
Usually ships
within 8 days
#12
43-85132
PINION GEAR (1 required per assembly)
43-85132
43-85132 - Pinion Gear (more info)
$94.00
$94.00

10+ in stock.
#13
22-67892
SCREW, DRAIN - MAGNETIC (1 required per assembly)
22-67892
PLUG @5 O - Replaced by 22-67892A 1
(more info)
Unavailable
22-67892A 1
PLUG KIT-DRAIN O - Replaced by 22-67892A05
(more info)
Unavailable
22-67892A05
PLUG KIT-DRAIN O - Replaced by 22-67892A06
(more info)
Unavailable
22-67892A06
PLUG KIT-DRAIN O - Replaced by 22-8M0058389
(more info)
Unavailable
22-8M0058389
22-8M0058389 - Screw Kit - Priced Individually (more info)
$6.16
$6.16

2 in stock.
18-23751-9
18-23751-9 - Drain Screw , Package of 50 - Special Order - No Returns (more info)
Unavailable
18-2375
18-2375 - Plug, 22-67892A1 (more info)

$6.99

$4.59

10+ in stock.
#14
12-20260
WASHER, DRAIN AND FILLER SCREW (2 required per assembly)
12-20260
WASHER @15 O - Replaced by 12-19183
(more info)
Unavailable
12-19183
12-19183 - Washer-BLK - Priced Individually (more info)
$0.80
$0.80

10+ in stock.
12-19183 2
WASHER-ORAN @15 O - Replaced by 12-19183 3
(more info)
Unavailable
12-19183 3
12-19183 3 - Seal -Blue - Priced Individually (more info)
$1.00
$1.00

10+ in stock.
18-2945-9
18-2945-9 - Gasket 12-19183 2-Pack (more info)
Replaces OEM #0307552

$2.78

$1.52

10+ in stock.
12-19183Q02
12-19183Q02 - Seals, Pack of 4 (more info)
$5.00
$5.00

Available to order:
Usually ships
within 8 days
12-19183K02
12-19183K02 - Seal, Pack of 4 (more info)
$5.00
$5.00

Available to order:
Usually ships
within 8 days
#15
10-79953
SCREW, GREASE FILLER (1 required per assembly)
10-79953
SCREW @5 O - Replaced by 10-79953A 2
(more info)
Unavailable
10-79953A 2
SCREW KIT-DRAIN O - Replaced by 10-79953Q 2
(more info)
Unavailable
10-79953Q 2
SCREW KIT @2 O - Replaced by 10-79953Q04
(more info)
Unavailable
10-79953Q04
10-79953Q04 - Screw Kit - Priced Individually (more info)
$5.70
$5.70

10+ in stock.
18-2244
18-2244 - Plug Kit, 10-79953A2 (more info)

$2.99

$2.07

10+ in stock.
10-79953K04
10-79953K04 - Drain Screw - Priced Individually (more info)
$5.70
$5.70

1 in stock.
#16
85562A 1
CAM ASSEMBLY, SHIFT (1 required per assembly)
85562A 1
CAM O NLA
(more info)
Unavailable
#17
17-85096
DRIVE PIN, SHIFT CAM (1 required per assembly)
17-85096
17-85096 - Pin - Drive (more info)
$3.60
$3.60

Available to order:
Usually ships
within 8 days
#18
17-85593
ROLL PIN, SHIFT SHAFT (1 required per assembly)
17-85593
17-85593 - PIN (.078 x .437) (more info)
$2.90
$2.90

Available to order:
Usually ships
within 8 days
#19
12-29245
WASHER, SHIFT SHAFT (1 required per assembly)
12-29245
12-29245 - Washer (more info)
$0.86
$0.86

Available to order:
Usually ships
within 8 days
18-4275
18-4275 - SS Washer (more info)

$1.99

$1.46

Available to order:
Usually ships
within 8 days
#20
24-93007
SPRING, SHIFT SHAFT (1 required per assembly)
24-93007
24-93007 - Spring (more info)
$3.30
$3.30

Available to order:
Usually ships
within 8 days
#21
12-85091
WASHER, SHIFT SHAFT (1 required per assembly)
12-85091
12-85091 - Washer - Priced Individually (more info)
$2.50
$2.50

Available to order:
Usually ships
within 8 days
#22
25-85594
"O" RING, SHIFT SHAFT (1 required per assembly)
25-85594
25-85594 - O-Ring - Priced Individually (more info)
$1.30
$1.30

4 in stock.
18-7100-9
18-7100-9 - O-Ring (PK5) 301877 (more info)
Replaces OEM #0301877

$9.95

$7.10

9 in stock.
#23
25-20365
"O" RING, SHIFT SHAFT RETAINER (1 required per assembly)
25-20365
25-20365 - O-Ring (more info)
$0.55
$0.55

10+ in stock.
25-35276
25-35276 - O-Ring (more info)
$1.60
$1.60

Available to order:
Usually ships
within 8 days
18-7135
18-7135 - O-Ring 25-35276 (more info)
Replaces OEM #0310584

$2.49

$1.41

1 in stock.
#24
93878
RETAINER, SHIFT SHAFT (1 required per assembly)
93878
93878 - Retainer (more info)
$9.30
$9.30

2 in stock.
#25
85552
BOOT, SHIFT SHAFT (1 required per assembly)
85552
BOOT O - Replaced by -85552001
(more info)
Unavailable
85552001
85552001 - Boot (more info)
$3.50
$3.50

Available to order:
Usually ships
within 8 days
18-2742
18-2742 - Boot (more info)

$3.94

$2.93

Available to order:
Usually ships
within 8 days
#26
85126
SHIFT SHAFT - SHORT SHAFT (1 required per assembly)
85126
85126 - Shift Shaft, NLA (more info)
$60.00
$60.00

10+ in stock.
#26
86293
SHIFT SHAFT - LONG SHAFT (1 required per assembly)
86293
86293 - Shift Shaft - Long, NLA (more info)
$60.00
$60.00

10+ in stock.
#28
27-85087
GASKET, WATER PUMP (1 required per assembly)
27-85087
27-85087 - Gasket - Priced Individually (more info)
$1.60
$1.60

10+ in stock.
18-2561-9
18-2561-9 - Gasket 27-85087 2-Pack (more info)

$3.98

$3.92

Available to order:
Usually ships
within 8 days
#29
85083
FACE PLATE (1 required per assembly)
85083
85083 - Face Plate (more info)
$10.10
$10.10

Available to order:
Usually ships
within 8 days
#30
12-86645
WASHER, IMPELLER (2 required per assembly)
12-86645
WASHER @5 O - Replaced by 12-8M0027721
(more info)
Unavailable
12-8M0027721
12-8M0027721 - Washer (more info)
$1.00
$1.00

10+ in stock.
18-2560-9
18-2560-9 - Gasket 12-866451 2-Pack (more info)

$8.98

$5.17

Available to order:
Usually ships
within 8 days
#31
28-85119
KEY, IMPELLER DRIVE (1 required per assembly)
28-85119
28-85119 - Key - Priced Individually (more info)
$1.50
$1.50

10 in stock.
28-8M0032838
28-8M0032838 - Key - Priced Individually (more info)
$2.50
$2.50

4 in stock.
#32
47-85089
IMPELLER (1 required per assembly)
47-85089
47-85089 - IMPELLER (more info)
$12.65
$12.65

1 in stock.
47-85089 1
IMPELLER O - Replaced by 47-8M0027792
(more info)
Unavailable
47-8M0027792
IMPELLER O - Replaced by 47-85089 3
(more info)
Unavailable
47-85089 3
IMPELLER-W/P O - Replaced by 47-85089 10
(more info)
Unavailable
47-85089 10
47-85089 10 - Impeller (more info)
$21.83
$21.83

8 in stock.
18-3057
18-3057 - Impeller 47-85089-3 (more info)

$19.99

$13.58

10+ in stock.
#33
25-69202
"O" RING (1 required per assembly)
25-69202
25-69202 - O-Ring - Priced Individually (more info)
$2.80
$2.80

Available to order:
Usually ships
within 8 days
18-7419-9
18-7419-9 - O-Ring (PK5) 25-69202 (more info)

$14.93

$11.03

1 in stock.
#34
46-99157A 1
WATER PUMP (1 required per assembly)
46-99157A 1
HOUSING ASSY-W/P O - Replaced by 46-99157A02
(more info)
Unavailable
46-99157A02
46-99157A02 - Water Pump Housing (more info)

$57.40

$49.16

Available to order:
Usually ships
within 8 days
#35
10-40003 5
SCREW, WATER PUMP (4 required per assembly)
10-40003 5
10-40003 5 - Screw, NLA (more info)
$1.35
$1.35

10+ in stock.
#36
12-89302
WASHER, WATER PUMP SCREW (4 required per assembly)
12-89302
12-89302 - Washer - Priced Individually (more info)
$1.40
$1.40

7 in stock.
#37
23-85095
BUSHING, WATER PUMP SCREW (4 required per assembly)
23-85095
23-85095 - Bushing - Priced Individually (more info)
$1.90
$1.90

10+ in stock.
#38
26-85090
SEAL, WATER TUBE (1 required per assembly)
26-85090
SEAL @5 O - Replaced by 26-85090001
(more info)
Unavailable
26-85090001
26-85090001 - Seal - Priced Individually (more info)
$4.60
$4.60

5 in stock.
#39
25-86203
RING, DRIVE SHAFT - RUBBER (1 required per assembly)
25-86203
25-86203 - O-Ring - Priced Individually (more info)
$1.10
$1.10

6 in stock.
#--
46-99157A2
WATER PUMP REPAIR KIT (-- required per assembly)
46-99157A 2
PUMP KIT-WATER O - Replaced by 46-99157T 2
(more info)
Unavailable
46-99157T 2
46-99157T 2 - Water Pump Kit (more info)
$82.41
$82.41

1 in stock.
#--
26-85090A1
SEAL REPAIR KIT (-- required per assembly)
26-85090A 1
SEAL KIT O NLA
(more info)
Unavailable
18-2629
18-2629 - Seal Kit, 26-85090A1 (more info)

$98.99

$78.36

1 in stock.
#--
27-41499A84
GASKET SET (-- required per assembly)
27-41499A84
GASKET SET O - Replaced by 27-41499A87
(more info)
Unavailable
27-41499A87
GASKET SET O - Replaced by 27-41499A88
(more info)
Unavailable
27-41499A88
27-41499A88 - Gasket Set (more info)

$118.70

$101.64

Available to order:
Usually ships
within 8 days
18-4334
18-4334 - Powerhead Gasket Set (more info)

$109.49

$88.58

Available to order:
Usually ships
within 8 days