Parts for Mariner V-175 HP (Mag / EFI) Gear Housing (Propeller Shaft) (2.0:1)
NEED PARTS OR KITS?
View diagram and parts list below.
Each product listed is an OEM or aftermarket equivalent part. [ Example ]
LOOKING FOR A PROP?
Try our prop finder.
COMPLETE GEARCASE?
Aftermarket gearcase may be available for less than $900 USD. 70 HP+ only. Please call.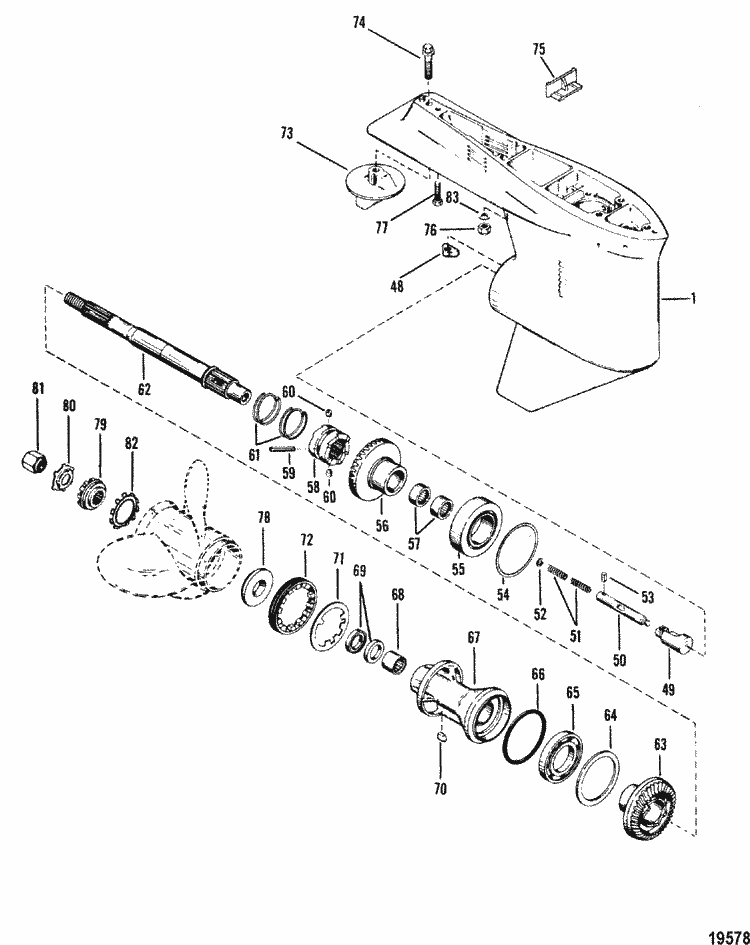 Reference numbers in this diagram can be found in a light blue row below — scroll down to order.
Each product listed is an OEM or aftermarket equivalent part. [ Example ]
Ref. No.
Part No.
Description
Manufacturer
List Price
Your Price
Order
#-
1647-9148A20
GEAR HOUSING, STANDARD ROTATION 2:1 GEAR RATIO (Complete) (1 required per assembly)
1647-9148A20
V6 GEAR HOUSING O - Replaced by 1647-9148A66
(more info)
Unavailable
1647-9148A66
GEAR HOUSING-L-GR O - Replaced by 1647-9148A87
(more info)
Unavailable
1647-9148A87
GEAR HSG.-GR-L O - Replaced by 1647-9148T87
(more info)
Unavailable
1647-9148T87
ORD 1647-9148T81 O NLA
(more info)
Unavailable
#1
1647-9148A12
GEAR HOUSING ASSEMBLY (Basic) (1 required per assembly)
1647-9148A12
GEAR HOUSING V6 O - Replaced by 1647-9148A48
(more info)
Unavailable
1647-9148A48
GEAR HSG-BASIC-GR O - Replaced by 1647-9148T48
(more info)
Unavailable
1647-9148T48
GEAR HSG-BASIC-GR O - Replaced by 1647-9148T47
(more info)
Unavailable
1647-9148T47
1647-9148T47 - Gear Housing - Basic, Black (more info)
$1,182.86
$1,182.86

Available to order:
Usually ships
within 8 days
1647-9148T49
1647-9148T49 - Gear Housing - Basic, NLA (more info)
$600.00
$600.00

1 in stock.
#48
78956
SHIFT CAM (1 required per assembly)
78956
78956 - Shift Cam (more info)
$3.70
$3.70

10+ in stock.
78956 2
78956 2 - Shift Cam (more info)
$8.10
$8.10

5 in stock.
#49
89594A 1
FOLLOWER, CAM (1 required per assembly)
89594A 1
89594A 1 - Cam/Follower Kit (more info)
$160.58
$160.58

2 in stock.
#50
816520
ROD, CLUTCH ACTUATOR (1 required per assembly)
816520
ROD O - Replaced by -816520 1
(more info)
Unavailable
816520 1
ROD CLUTCH ACTUAT O - Replaced by -79911A 1
(more info)
Unavailable
79911A 1
79911A 1 - Clutch Rod Kit (more info)
$131.92
$131.92

Available to order:
Usually ships
within 8 days
#51
24-79910
SPRING, COMPRESSION (2 required per assembly)
24-79910
24-79910 - Spring (more info)
$5.90
$5.90

10+ in stock.
#52
12-78910
WASHER, COMPRESSION SPRING (AR required per assembly)
12-78910
12-78910 - Washer (more info)
$1.50
$1.50

10+ in stock.
#53
17-78906
PIN, SPRING LOCATOR (1 required per assembly)
17-78906
PIN-LOCATOR O - Replaced by 17-8M0084245
(more info)
Unavailable
178M0084245
178M0084245 - Locator Pin (more info)
$2.00
$2.00

Available to order:
Usually ships
within 8 days
#54
15-47397A 1
SHIM SET, BEARING OUTER RACE (.002-3-5-10) (AR required per assembly)
15-47397A 1
15-47397A 1 - Shim Set (more info)

$12.60

$8.50

10+ in stock.
18-2285
18-2285 - Shim 15-47397A1 (more info)

$18.12

$12.54

Available to order:
Usually ships
within 8 days
#55
31-78172A 1
BEARING ASSEMBLY, Tapered Roller (1 required per assembly)
31-78172A 1
31-78172A 1 - Bearing Assembly (more info)
$69.50
$69.50

2 in stock.
18-1166
18-1166 - Bearing 31-78172A1 (more info)

$82.05

$66.00

2 in stock.
#56
43-44102A 2
FORWARD GEAR ASSEMBLY (1 required per assembly)
43-44102A 2
43-44102A 2 - Gear Set (more info)
$730.21
$730.21

Available to order:
Usually ships
within 8 days
#57
31-73363
BEARING, Roller (5/8") (2 required per assembly)
31-73363
BEARING O - Replaced by 31-73363T
(more info)
Unavailable
31-73363T
31-73363T - Bearing (more info)
$15.80
$15.80

1 in stock.
18-1122
18-1122 - Bearing 31-73363 (more info)
$17.16
$17.16

1 in stock.
#57
31-54928 1
BEARING, Roller (1") (1 required per assembly)
#58
52-78959
RATCHET, SLIDING CLUTCH (1 required per assembly)
52-78959
CLUTCH O - Replaced by 52-823174
(more info)
Unavailable
52-823174
CLUTCH O - Replaced by 52-823174T
(more info)
Unavailable
52-823174T
52-823174T - Clutch (more info)
$198.75
$198.75

Available to order:
Usually ships
within 8 days
#59
17-78905
PIN, Cross, RATCHET TO PROPELLER SHAFT (1 required per assembly)
17-78905
17-78905 - Pin -cross (more info)
$3.00
$3.00

10+ in stock.
178M0084243
178M0084243 - Pin - CROSS (more info)
$4.00
$4.00

Available to order:
Usually ships
within 8 days
#60
17-78909
PIN, Detent, RATCHET (2 required per assembly)
17-78909
17-78909 - Pin -Detent (more info)
$16.00
$16.00

1 in stock.
#61
24-78962
SPRING, RETAINING-CROSS PIN (2 required per assembly)
24-78962
24-78962 - Spring (more info)
$7.70
$7.70

8 in stock.
#62
44-94148
PROPELLER SHAFT (1 required per assembly)
44-94148
44-94148 - Prop Shaft (more info)
$524.17
$524.17

2 in stock.
18-2239
18-2239 - Propeller Shaft, 44-94148 (more info)

$541.84

$465.59

1 in stock.
#63
N.S.S.
Not Sold Seperate, Reverse Gear (PART OF 43-44102A2) (1 required per assembly)
#64
68100 1
RING, THRUST - BEARING CARRIER (1 required per assembly)
#65
30-88957A 1
BEARING, Ball, BALL - REVERSE GEAR (1 required per assembly)
30-88957A 1
30-88957A 1 - Ball Bearing (more info)
$28.00
$28.00

4 in stock.
30-88957
BEARING-BALL O - Replaced by 30-88957T
(more info)
Unavailable
30-88957T
30-88957T - Ball Bearing (more info)
$53.10
$53.10

2 in stock.
18-1155
18-1155 - Bearing 30-88957T (more info)

$48.99

$38.75

Available to order:
Usually ships
within 8 days
#66
25-31534
O-RING, BEARING CARRIER (1 required per assembly)
25-31534
25-31534 - O-Ring Note: - Priced Individually (more info)
$4.30
$4.30

Available to order:
Usually ships
within 8 days
18-7159-9
18-7159-9 - (PK5) O-Ring 25-31534 (more info)

$19.95

$13.63

1 in stock.
#67
43567A 1
CARRIER ASSEMBLY, Bearing (1 required per assembly)
43567A 1
CARRIER ASSY O - Replaced by -43567T 1
(more info)
Unavailable
43567T 1
43567T 1 - Carrier Assembly (more info)
$205.75
$205.75

Available to order:
Usually ships
within 8 days
18-1567
18-1567 - Carrier, 43567T1 (more info)

$214.96

$194.44

1 in stock.
#68
31-30956
BEARING, Needle, BEARING CARRIER (1 required per assembly)
31-30956
BEARING O - Replaced by 31-30956T
(more info)
Unavailable
31-30956T
31-30956T - Bearing (more info)

$16.90

$14.47

1 in stock.
18-1158
18-1158 - Bearing 31-30956, 387247 (more info)
Replaces OEM #0387247

$13.74

$10.44

1 in stock.
#69
26-76868
SEAL, BEARING CARRIER (2 required per assembly)
26-76868
26-76868 - Seal - Priced Individually (more info)
$13.60
$13.60

10+ in stock.
18-2002
18-2002 - Seal 26-76868, 320862 (more info)
Replaces OEM #0320862

$10.49

$7.91

10+ in stock.
#70
28-30281
KEY, LOCATING - BEARING CARRIER (1 required per assembly)
28-30281
28-30281 - Key - Priced Individually (more info)
$0.90
$0.90

9 in stock.
#71
14-79447
TAB WASHER, GEAR HOUSING COVER (1 required per assembly)
14-79447
14-79447 - Tab Washer - Priced Individually (more info)

$9.30

$6.28

10+ in stock.
18-2299
18-2299 - Shim 14-79447 (more info)

$9.80

$7.20

Available to order:
Usually ships
within 8 days
#72
79448
RETAINER, GEAR HOUSING (1 required per assembly)
79448
79448 - Retainer (more info)
$18.00
$18.00

1 in stock.
8M2011027
8M2011027 - Bearing Car Retaining Nut (more info)
$26.92
$26.92

Available to order:
Usually ships
within 8 days
18-3751
18-3751 - Nut, 79448 (more info)

$23.99

$18.73

-1 in stock.
#73
31640Q 4
TRIM TAB, GEAR HOUSING (1 required per assembly)
97-31640Q4
97-31640Q4 - Anode/Trim Tab (more info)
$14.16
$14.16

Available to order:
Usually ships
within 8 days
18-6241
18-6241 - Trim Tab Anode, Magnesium 31640 (more info)

$13.49

$11.03

10+ in stock.
18-6011A
18-6011A - Trim Tab Anode, Aluminum (more info)

$12.99

$10.49

2 in stock.
18-6011
18-6011 - Trim Tab, Zinc, 31640A1 (more info)

$13.49

$10.15

10+ in stock.
97-8M0059338
97-8M0059338 - Anode BULK-25 PC 31640Q 4 QS (more info)
$266.58
$266.58

Available to order:
Usually ships
within 8 days
97-31640T 4
97-31640T 4 - Trim Tab Anode (more info)
$14.16
$14.16

Available to order:
Usually ships
within 8 days
#74
10-66024
SCREW, (.437-14 x 1.75), TRIM TAB TO GEAR HOUSING (1 required per assembly)
10-66024
10-66024 - Screw - Priced Individually (more info)
$6.60
$6.60

7 in stock.
#75
67891
FILLER BLOCK (1 required per assembly)
67891
FILLER BLOCK O - Replaced by -8M0039169
(more info)
Unavailable
8M0039169
8M0039169 - Filler Block (more info)
$20.50
$20.50

Available to order:
Usually ships
within 8 days
#76
11-34933
NUT, (.437-20) (2 required per assembly)
11-34933
11-34933 - Nut - Priced Individually (more info)
$3.80
$3.80

10+ in stock.
18-3721-9
18-3721-9 - Lock Nut, 11-34933, 5PK (more info)

$14.95

$10.17

5 in stock.
#77
10-65210
SCREW, (.375-16 x 1.00) (1 required per assembly)
10-65210
10-65210 - Screw - Priced Individually (more info)
$1.90
$1.90

Available to order:
Usually ships
within 8 days
#77
10-74727
SCREW, (.375-16 x 6.00) (1 required per assembly)
10-74727
10-74727 - Screw (more info)
$9.20
$9.20

2 in stock.
#78
13171
THRUST HUB (1 required per assembly)
13171
13171 - Thrust Hub (more info)
$8.00
$8.00

10+ in stock.
12-835467
12-835467 - Thrust Washer (more info)
$15.00
$15.00

10+ in stock.
12-835467 1
12-835467 1 - Thrust Washer (more info)
$15.00
$15.00

9 in stock.
12-835467Q01
12-835467Q01 - Thrust Washer - Priced Individually (more info)

$28.84

$23.36

10+ in stock.
18-4220
18-4220 - Washer, 12-835467 1 (more info)

$28.28

$22.96

9 in stock.
12-835467K01
12-835467K01 - Thrust Washer - Priced Individually (more info)
$28.84
$28.84

Available to order:
Usually ships
within 8 days
#79
12-31211A 2
WASHER, Splined (1 required per assembly)
12-31211A 2
THRUST WASHER KIT O - Replaced by 12-31211A 3
(more info)
Unavailable
12-31211A 3
WASHER O - Replaced by 12-31211Q03
(more info)
Unavailable
12-31211Q03
12-31211Q03 - Washer - Priced Individually (more info)
$10.29
$10.29

Available to order:
Usually ships
within 8 days
18-3714
18-3714 - Washer, 12-31211A2 (more info)

$8.23

$6.70

10+ in stock.
12-31211K03
12-31211K03 - Washer - Priced Individually (more info)
$10.29
$10.29

Available to order:
Usually ships
within 8 days
#80
14-816629
TAB WASHER (1 required per assembly)
14-816629
TAB WASHER O - Replaced by 14-816629Q
(more info)
Unavailable
14-816629Q
14-816629Q - Tab Washer - Priced Individually (more info)
$4.11
$4.11

1 in stock.
18-3200-9
18-3200-9 - Washer, 14-816629, 10PK (more info)

$14.90

$12.10

4 in stock.
14-816629K
14-816629K - Tab Washer - Priced Individually (more info)
$4.11
$4.11

Available to order:
Usually ships
within 8 days
#81
11-52707A 1
NUT KIT, Propeller (1 required per assembly)
11-52707A 1
NUT KIT-PROP O - Replaced by 11-52707Q 1
(more info)
Unavailable
11-52707Q 1
11-52707Q 1 - Prop Nut Kit - Priced Individually (more info)
$11.37
$11.37

1 in stock.
18-3701
18-3701 - Nut Kit, 11-52707A1 (more info)

$12.49

$9.27

10+ in stock.
18-3700
18-3700 - Nut 11-52707 (more info)

$12.49

$9.80

Available to order:
Usually ships
within 8 days
11-52707T 1
11-52707T 1 - Prop Nut Kit - Priced Individually (more info)
$11.37
$11.37

1 in stock.
#82
13-42351 1
LOCKWASHER (1 required per assembly)
#83
12-45176
WASHER, (.453 x .812 x .105) (2 required per assembly)
12-45176
12-45176 - Washer - Priced Individually (more info)
$1.10
$1.10

10+ in stock.
18-4858-9
18-4858-9 - Washer, 12-45176, 10PK (more info)

$27.22

$17.96

2 in stock.
#-
26-89238A 2
SEAL KIT (1 required per assembly)
26-89238A 2
26-89238A 2 - Seal Kit (more info)

$79.90

$68.42

Available to order:
Usually ships
within 8 days
18-2655
18-2655 - Seal Kit, 26-89238A2 (more info)

$61.49

$44.52

5 in stock.
#-
27-815810A90
GASKET SET (1 required per assembly) (200)
27-815810A90
GASKET SET O - Replaced by 27-815791A92
(more info)
Unavailable
27-815791A92
27-815791A92 - Gasket Set (more info)
$145.25
$145.25

2 in stock.
18-4359
18-4359 - Gasket Set, 27-815791A92 (more info)

$171.99

$132.78

Available to order:
Usually ships
within 8 days
#-
27-815809A90
GASKET SET (1 required per assembly) (175)
27-815809A90
GASKET SET O - Replaced by 27-815791A92
(more info)
Unavailable