Parts for Mariner 75 HP EFI (4-Stroke) Gear Housing, Propeller Shaft
NEED PARTS OR KITS?
View diagram and parts list below.
Each product listed is an OEM or aftermarket equivalent part. [ Example ]
LOOKING FOR A PROP?
Try our prop finder.
COMPLETE GEARCASE?
Aftermarket gearcase may be available for less than $900 USD. 70 HP+ only. Please call.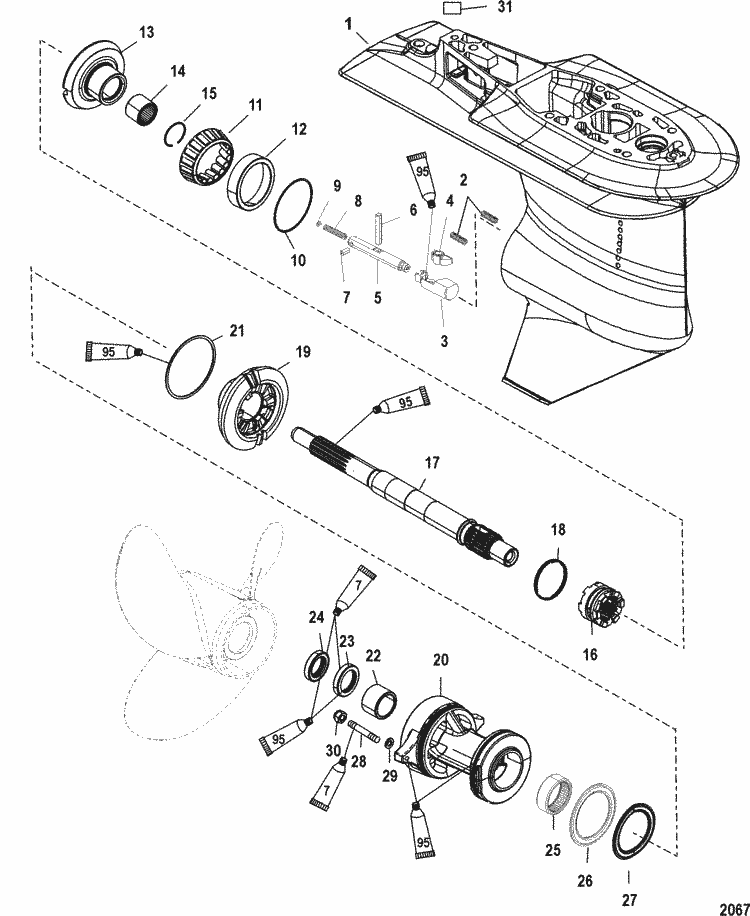 Reference numbers in this diagram can be found in a light blue row below — scroll down to order.
Each product listed is an OEM or aftermarket equivalent part. [ Example ]
Ref. No.
Part No.
Description
Manufacturer
List Price
Your Price
Order
#-
1600-888845T06
GEAR HOUSING ASSEMBLY, Complete - Long - 2.07:1 (1 required per assembly)
1600-888845T06
1600-888845T06 - Gearcase 75-115 4S Lg (more info)
$1,762.50
$1,762.50

Available to order:
Usually ships
within 8 days
#-
1600-888845T07
GEAR HOUSING ASSEMBLY, Complete - X-Long - 2.07:1 (1 required per assembly)
1600-888845T07
1600-888845T07 - Gearcase 75-115 4S Xl (more info)
$1,762.50
$1,762.50

Available to order:
Usually ships
within 8 days
#-
1600-888845T08
GEAR HOUSING ASSEMBLY, Complete - Long - 2.33:1 (1 required per assembly)
1600-888845T08
1600-888845T08 - Gearcase 75-115- 4S Lg (more info)
$1,762.50
$1,762.50

Available to order:
Usually ships
within 8 days
#-
1600-888845T09
GEAR HOUSING ASSEMBLY, Complete - X-Long - 2.33:1 (1 required per assembly)
1600-888845T09
1600-888845T09 - Gearcase 75-115 4S Xl (more info)
$1,762.50
$1,762.50

Available to order:
Usually ships
within 8 days
#1
1600-888845T
GEAR HOUSING ASSEMBLY, Basic (1 required per assembly)
1600-888845T
1600-888845T - Gear Housing Basic (more info)
$1,278.57
$1,278.57

Available to order:
Usually ships
within 8 days
#2
822773 1
INSERT, Threaded (2 required per assembly)
822773 1
822773 1 - Insert (more info)
$3.10
$3.10

Available to order:
Usually ships
within 8 days
#3
888807
FOLLOWER ASSEMBLY, Cam (1 required per assembly)
888807
888807 - Cam Follower (more info)
$35.75
$35.75

1 in stock.
#4
19917
CAM, Shift (1 required per assembly)
19917
19917 - Shift Cam (more info)
$18.75
$18.75

1 in stock.
#5
888806
ROD, Clutch Actuator (1 required per assembly)
888806
888806 - Rod (more info)
$31.83
$31.83

Available to order:
Usually ships
within 8 days
#6
17-78905
PIN, Cross (1 required per assembly)
17-78905
17-78905 - Pin -cross (more info)
$3.00
$3.00

10+ in stock.
178M0084243
178M0084243 - Pin - CROSS (more info)
$4.00
$4.00

Available to order:
Usually ships
within 8 days
#7
17-78906
PIN, Spring Locator (1 required per assembly)
17-78906
PIN-LOCATOR O - Replaced by 17-8M0084245
(more info)
Unavailable
178M0084245
178M0084245 - Locator Pin (more info)
$2.00
$2.00

Available to order:
Usually ships
within 8 days
#8
24-79910
SPRING (1 required per assembly)
24-79910
24-79910 - Spring (more info)
$5.90
$5.90

10+ in stock.
#9
12-78910
WASHER (1 required per assembly)
12-78910
12-78910 - Washer (more info)
$1.50
$1.50

10+ in stock.
#10
15-44491A 1
SHIM SET (1 required per assembly)
15-44491A 1
15-44491A 1 - Shim Set (more info)
$10.00
$10.00

2 in stock.
#11
31-30894A 1
BEARING SET, Cup And Cone (1 required per assembly)
31-30894A 1
31-30894A 1 - Bearing Set (more info)

$47.90

$41.02

Available to order:
Usually ships
within 8 days
18-1156
18-1156 - Bearing 31-30894A1 (more info)

$45.97

$36.55

Available to order:
Usually ships
within 8 days
#12
NSS
NOT SOLD SEPARATE, Cup (1 required per assembly)
#13
43-881260A 3
GEAR, Forward - 29 Teeth (1 required per assembly) 2.07:1
43-881260A 3
43-881260A 3 - Forward Gear Kit (more info)
$407.21
$407.21

1 in stock.
18-1550
18-1550 - Complete Gear Set -4 Cyl (more info)

$799.99

$626.21

1 in stock.
#13
43-882813A 3
GEAR KIT, Forward And Pinion 28 Teeth (1 required per assembly) 2.33:1
43-882813A 3
43-882813A 3 - Forward Gear Kit (more info)
$570.83
$570.83

Available to order:
Usually ships
within 8 days
#14
31-30895T
BEARING, Needle (1 required per assembly)
31-30895T
31-30895T - Bearing (more info)

$16.70

$14.30

2 in stock.
18-1157
18-1157 - Bearing 31-30895 (more info)

$19.45

$15.07

8 in stock.
#15
53-856823
RING, Retaining (1 required per assembly)
53-856823
53-856823 - Ring - Retaining (more info)
$7.60
$7.60

Available to order:
Usually ships
within 8 days
#16
52-888805T
CLUTCH (1 required per assembly)
52-888805T
52-888805T - Clutch (more info)
$241.83
$241.83

Available to order:
Usually ships
within 8 days
#17
44-888804
PROPELLER SHAFT (1 required per assembly)
44-888804
44-888804 - Shaft - Prop (more info)
$563.75
$563.75

Available to order:
Usually ships
within 8 days
#18
24-30893
SPRING (1 required per assembly)
24-30893
24-30893 - Spring - Priced Individually (more info)

$1.90

$1.14

5 in stock.
18-2348-9
18-2348-9 - Spring, 24-30893, 2PK (more info)

$5.45

$3.90

Available to order:
Usually ships
within 8 days
#19
43-889991T
GEAR, Reverse (29 Teeth) (1 required per assembly) 2.07:1
43-889991T
43-889991T - Reverse Gear (more info)
$261.92
$261.92

Available to order:
Usually ships
within 8 days
#19
43-889990T
GEAR, Reverse (1 required per assembly) 2.33:1
43-889990T
43-889990T - Reverse Gear (more info)
$279.33
$279.33

Available to order:
Usually ships
within 8 days
#20
12596T 2
CARRIER ASSEMBLY, Bearing (1 required per assembly)
12596T 2
12596T 2 - Bearing Carrier Assembly (more info)
$191.08
$191.08

1 in stock.
#21
25-97386
O-RING, (3.609 x .139) (1 required per assembly)
785-97386
O RING O - Replaced by 25-861844
(more info)
Unavailable
25-861844
25-861844 - O-Ring (more info)
$5.50
$5.50

10 in stock.
18-7961
18-7961 - O-Ring 25-97386 (more info)

$4.99

$3.62

3 in stock.
18-7167-9
18-7167-9 - O-Ring (PK5) 25-47254, 310414 (more info)
Replaces OEM #0310414

$22.45

$14.02

Available to order:
Usually ships
within 8 days
#22
31-30956T
BEARING, Needle (1 required per assembly)
31-30956T
31-30956T - Bearing (more info)

$16.90

$14.47

1 in stock.
18-1158
18-1158 - Bearing 31-30956, 387247 (more info)
Replaces OEM #0387247

$13.74

$10.44

1 in stock.
#23
26-70080
SEAL, Oil, Inner (1 required per assembly)
26-70080
26-70080 - Seal (more info)

$17.30

$14.81

3 in stock.
#24
26-70081
SEAL, Oil, Outer (1 required per assembly)
26-70081
26-70081 - Seal (more info)

$18.40

$15.76

5 in stock.
18-2053
18-2053 - Seal 26-70081 (more info)

$16.49

$11.72

8 in stock.
#25
31-12578T
BEARING, Roller (1 required per assembly)
31-12578T
31-12578T - Bearing (more info)
$23.83
$23.83

Available to order:
Usually ships
within 8 days
18-1113
18-1113 - Bearing 31-12578 (more info)
$24.92
$24.92

Available to order:
Usually ships
within 8 days
#26
12-12577
THRUST WASHER (1 required per assembly)
12-12577
12-12577 - Washer (more info)
$9.40
$9.40

1 in stock.
18-1191
18-1191 - Thrust Washer, 12-12577 (more info)
$8.86
$8.86

3 in stock.
#27
31-12576
BEARING, Thrust (1 required per assembly)
31-12576
31-12576 - Bearing (more info)

$22.80

$19.52

1 in stock.
18-1112
18-1112 - Bearing 31-12576 (more info)

$20.48

$18.53

Available to order:
Usually ships
within 8 days
#28
16-42917 2
STUD, (M8 x 48) (2 required per assembly)
16-42917 2
STUD O - Replaced by 16-8M0034456
(more info)
Unavailable
16-8M0034456
16-8M0034456 - Stud (more info)
$4.40
$4.40

Available to order:
Usually ships
within 8 days
#29
12-855941
WASHER, (.323 x .590 x .112) Stainless Steel (2 required per assembly)
12-855941
12-855941 - Washer (more info)
$1.00
$1.00

Available to order:
Usually ships
within 8 days
#30
11-40137 8
NUT, (M8) (2 required per assembly)
11-40137 8
11-40137 8 - Nut (more info)
$7.30
$7.30

Available to order:
Usually ships
within 8 days
#-
26-43035A 4
SEAL KIT, Gear Housing (1 required per assembly)
26-43035A 4
26-43035A 4 - Seal Kit (more info)

$78.20

$66.97

1 in stock.
18-2626
18-2626 - Seal Kit, 26-43035A4 (more info)

$65.99

$49.73

1 in stock.
#-
31-803496T 2
BEARING/SEAL KIT (1 required per assembly)
31-803496T 2
31-803496T 2 - Repair Kit (more info)
$163.42
$163.42

Available to order:
Usually ships
within 8 days
#-
52-888805A00
REPAIR KIT, Clutch And Cam Follower (1 required per assembly)
52-888805A00
52-888805A00 - Clutch/Camfollow (more info)
$189.33
$189.33

Available to order:
Usually ships
within 8 days