Parts for Mariner 250 HP Verado (4-Stroke) (6 Cylinder) Gear Housing, Propeller Shaft - Standard Rotation
NEED PARTS OR KITS?
View diagram and parts list below.
Each product listed is an OEM or aftermarket equivalent part. [ Example ]
LOOKING FOR A PROP?
Try our prop finder.
COMPLETE GEARCASE?
Aftermarket gearcase may be available for less than $900 USD. 70 HP+ only. Please call.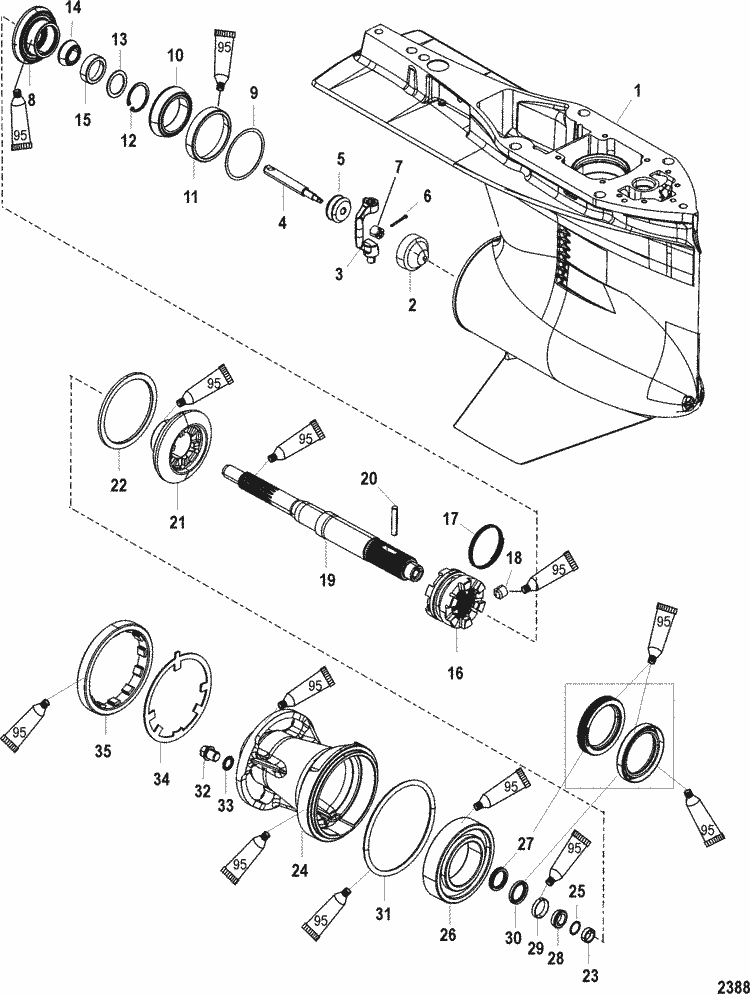 Reference numbers in this diagram can be found in a light blue row below — scroll down to order.
Each product listed is an OEM or aftermarket equivalent part. [ Example ]
Ref. No.
Part No.
Description
Manufacturer
List Price
Your Price
Order
#0
1600-880686T13
GEAR HOUSING ASSEMBLY, Complete (1 required per assembly) (Standard-Long)
1600-880686T13
1600-880686T13 - Gearcase I6 4S Lg (more info)
$4,757.14
$4,757.14

Available to order:
Usually ships
within 8 days
#0
1600-880686T14
GEAR HOUSING ASSEMBLY, Complete (1 required per assembly) (Standard-X-Long)
1600-880686T14
1600-880686T14 - Gearcase I6 4S Xl (more info)
$5,185.71
$5,185.71

Available to order:
Usually ships
within 8 days
#0
1600-880686T16
GEAR HOUSING ASSEMBLY, Complete (1 required per assembly) (Standard-XX-Long)
1600-880686T16
1600-880686T16 - Gearcase I6 4S Xxl (more info)
$5,185.71
$5,185.71

Available to order:
Usually ships
within 8 days
#1
1600-880687T01
GEAR HOUSING ASSEMBLY, Basic (1 required per assembly)
1600-880687T01
ORD1600-8M0056631 O NLA
(more info)
Unavailable
#2
NSS
NOT SOLD SEPARATE, Plug (1 required per assembly)
#3
892075
CRANK, Shifter (1 required per assembly)
892075
CRANK-SHIFTER O - Replaced by -896847A01
(more info)
Unavailable
896847A01
896847A01 - Shifter Crank (more info)
$44.92
$44.92

Available to order:
Usually ships
within 8 days
#4
19755T 7
SPOOL ASSEMBLY (1 required per assembly)
19755T 7
19755T 7 - Spool Assembly (more info)
$33.33
$33.33

Available to order:
Usually ships
within 8 days
#6
18-46950 1
COTTER PIN (1 required per assembly)
18-46950 1
18-46950 1 - Cotter Pin (more info)
$3.00
$3.00

2 in stock.
#8
43-892595A02
GEAR SET, Forward And Pinion (1 required per assembly)
43-892595A02
GEAR SET O - Replaced by 43-892595A05
(more info)
Unavailable
43-892595A05
43-892595A05 - Gear Set (more info)
$620.67
$620.67

Available to order:
Usually ships
within 8 days
#9
15-884328A01
SHIM SET (AR required per assembly)
15-884328A01
15-884328A01 - Shim Set (more info)
$13.30
$13.30

1 in stock.
#10
31-884323T01
BEARING ASSEMBLY, Roller (1 required per assembly)
31-884323T01
31-884323T01 - Bearing Assembly (more info)

$97.00

$83.06

Available to order:
Usually ships
within 8 days
#12
53-23721
RING, Retaining (1 required per assembly)
53-23721
53-23721 - Ring - Retaining - Priced Individually (more info)
$2.50
$2.50

10+ in stock.
53-8M0051043
53-8M0051043 - Retainer Ring (more info)
$1.60
$1.60

Available to order:
Usually ships
within 8 days
#13
12-892805
THRUST WASHER (1 required per assembly)
12-892805
WASHER-THRUST O - Replaced by 12-8M0053823
(more info)
Unavailable
128M0053823
128M0053823 - Washer (more info)
$10.50
$10.50

Available to order:
Usually ships
within 8 days
#14
31-884325T01
BEARING ASSEMBLY, Roller-Tappered (1 required per assembly)
31-884325T01
31-884325T01 - Bearing Assembly (more info)

$61.70

$52.83

Available to order:
Usually ships
within 8 days
#16
52-880714T
CLUTCH (1 required per assembly)
52-880714T
52-880714T - Clutch (more info)
$225.83
$225.83

Available to order:
Usually ships
within 8 days
#17
24-30893
SPRING (1 required per assembly)
24-30893
24-30893 - Spring - Priced Individually (more info)

$1.90

$1.14

5 in stock.
18-2348-9
18-2348-9 - Spring, 24-30893, 2PK (more info)

$5.45

$3.90

Available to order:
Usually ships
within 8 days
#18
17-828356
PIN, Detent (1 required per assembly)
17-828356
17-828356 - Pin -Detent (more info)
$6.90
$6.90

Available to order:
Usually ships
within 8 days
#19
44-888530
PROPELLER SHAFT (1 required per assembly)
44-888530
REF 0B SB 2013-14 O NLA
(more info)
Unavailable
#20
17-30632
PIN, Cross (1 required per assembly)
17-30632
17-30632 - Pin - Cross - Priced Individually (more info)
$1.50
$1.50

10+ in stock.
17-8M0020941
PIN @3 O - Replaced by 17-8M0084681
(more info)
Unavailable
17-8M0084681
17-8M0084681 - Pin - Priced Individually (more info)
$3.00
$3.00

1 in stock.
18-2357
18-2357 - Pin, 17-30632 (more info)

$3.49

$2.02

1 in stock.
#21
43-880695A01
GEAR ASSEMBLY, Reverse (1 required per assembly)
43-880695A01
43-880695A01 - Reverse Gear (more info)
$454.75
$454.75

Available to order:
Usually ships
within 8 days
#22
880699
THRUST RING (1 required per assembly)
880699
880699 - Ring - Thrust (more info)
$7.50
$7.50

Available to order:
Usually ships
within 8 days
#23
23-891919001
SPACER, Thrust (1 required per assembly)
23-891919001
23-891919001 - Spacer - Thrust (more info)
$11.60
$11.60

Available to order:
Usually ships
within 8 days
#24
880696A08
CARRIER ASSEMBLY, Bearing (1 required per assembly)
880696A08
880696A08 - Bearing Carrier (more info)
$248.25
$248.25

Available to order:
Usually ships
within 8 days
#25
15-891936A01
SHIM SET (AR required per assembly)
15-891936A01
15-891936A01 - Shim Set (more info)

$21.50

$18.41

Available to order:
Usually ships
within 8 days
#26
30-884329T
BEARING, Ball (1 required per assembly)
30-884329T
30-884329T - Ball Bearing (more info)

$55.90

$47.87

Available to order:
Usually ships
within 8 days
#27
26-888483
SEAL, Oil (1 required per assembly)
26-888483
26-888483 - Oil Seal (more info)
$14.70
$14.70

Available to order:
Usually ships
within 8 days
18-0564
18-0564 - Seal, 26-888483 - Special Order - No Returns (more info)
Special Order Please Call
18-0560
18-0560 - Seal, 26-896600 (more info)

$17.99

$16.20

1 in stock.
#28
31-884330T01
BEARING ASSEMBLY, Tappered (1 required per assembly)
31-884330T01
31-884330T01 - Bearing Assembly (more info)

$79.90

$68.42

Available to order:
Usually ships
within 8 days
#30
26-888906
SEAL, Oil (1 required per assembly)
26-888906
SEAL-OIL O - Replaced by 26-896600
(more info)
Unavailable
26-896600
SEAL-OIL O - Replaced by 26-888483
(more info)
Unavailable
#31
25-896524
O-RING, (3.850 x .210) (1 required per assembly)
25-896524
25-896524 - O-Ring (more info)
$4.50
$4.50

Available to order:
Usually ships
within 8 days
#32
10-880717A01
SCREW/SEAL KIT (1 required per assembly)
10-880717A01
10-880717A01 - Screw/Seal Kit (more info)

$21.70

$18.58

Available to order:
Usually ships
within 8 days
#33
26-830749
SEAL (1 required per assembly)
26-830749
26-830749 - Seal - Priced Individually (more info)
$3.80
$3.80

10+ in stock.
18-24301-9
18-24301-9 - Gasket 26-830749 (more info)

$207.82

$127.44

2 in stock.
18-2430-9
18-2430-9 - Drain Screw Gasket (PK5) (more info)

$17.45

$12.00

10 in stock.
#34
14-880697
KEYED WASHER (1 required per assembly)
14-880697
14-880697 - Washer -keyed (more info)
$4.70
$4.70

Available to order:
Usually ships
within 8 days
#35
79448
RETAINER (1 required per assembly)
79448
79448 - Retainer (more info)
$18.00
$18.00

1 in stock.
8M2011027
8M2011027 - Bearing Car Retaining Nut (more info)
$26.92
$26.92

Available to order:
Usually ships
within 8 days
18-3751
18-3751 - Nut, 79448 (more info)

$23.99

$18.73

-1 in stock.
#-
26-830749A01
SEAL KIT, Gear Housing (1 required per assembly)
26-830749A01
26-830749A01 - Gear Housing Seal Kit (more info)

$60.90

$52.14

1 in stock.
18-2725
18-2725 - Seal Kit, 26-830749A01 (more info)
$52.99
$52.99

Available to order:
Usually ships
within 8 days