Parts for Mariner 10 HP Marathon Gear Housing (Propeller Shaft) Design II
NEED PARTS OR KITS?
View diagram and parts list below.
Each product listed is an OEM or aftermarket equivalent part. [ Example ]
LOOKING FOR A PROP?
Try our prop finder.
COMPLETE GEARCASE?
Aftermarket gearcase may be available for less than $900 USD. 70 HP+ only. Please call.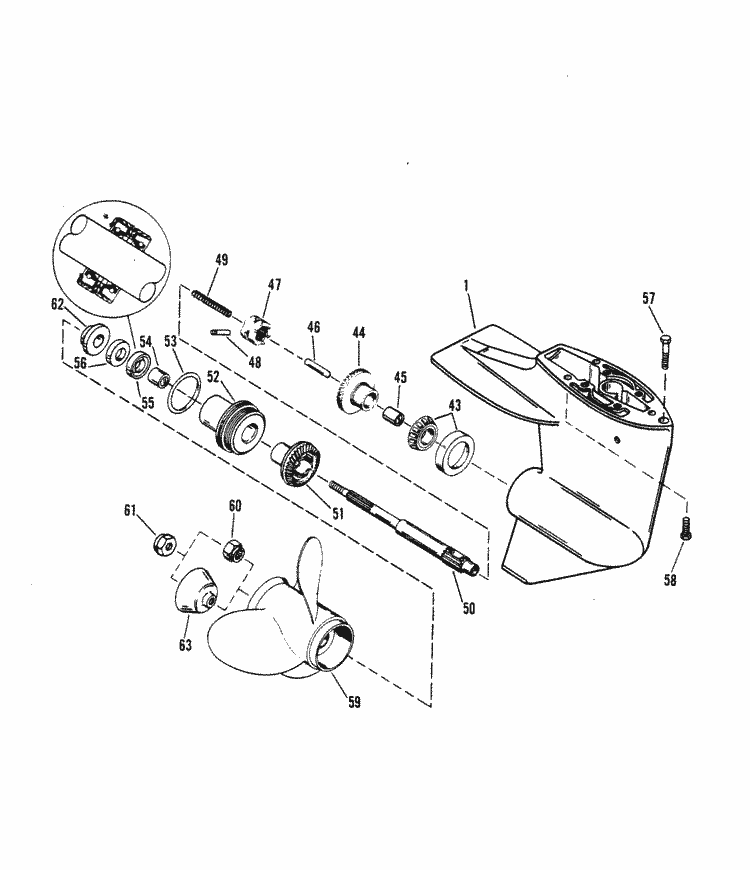 Reference numbers in this diagram can be found in a light blue row below — scroll down to order.
Each product listed is an OEM or aftermarket equivalent part. [ Example ]
Ref. No.
Part No.
Description
Manufacturer
List Price
Your Price
Order
#-
1666-8833A13
GEAR HOUSING, COMPLETE (SHORT) BLACK (1 required per assembly)
1666-8833A13
GEAR HSG-SHORT-BK O - Replaced by 1666-8833T13
(more info)
Unavailable
1666-8833T13
1666-8833T13 - Gear Housing - Short-bk (more info)
$875.00
$875.00

Available to order:
Usually ships
within 8 days
#-
1666-8833A15
GEAR HOUSING, COMPLETE (LONG) BLACK (1 required per assembly)
1666-8833A15
GEAR HSG-LONG-BLK O - Replaced by 1666-8833T15
(more info)
Unavailable
1666-8833T15
1666-8833T15 - Gear Housing - Long- Black (more info)
$875.00
$875.00

Available to order:
Usually ships
within 8 days
#-
1666-8833A14
GEAR HOUSING, COMPLETE (SHORT) GRAY (1 required per assembly)
1666-8833A14
GEAR HSG-SHORT-GR O - Replaced by 1666-8833T14
(more info)
Unavailable
1666-8833T14
GEAR HSG-SHORT-GR O NLA
(more info)
Unavailable
#-
1666-8833A16
GEAR HOUSING, COMPLETE (LONG) GRAY (1 required per assembly)
1666-8833A16
GEAR HSG-LONG-GRA O - Replaced by 1666-8833T16
(more info)
Unavailable
1666-8833T16
ORD 1666-8833T15 O NLA
(more info)
Unavailable
#1
1666-8833A17
GEAR HOUSING BLACK (1 required per assembly)
1666-8833A17
1666-8833A17 - Gear Housing -Basic-bk (more info)
$403.84
$403.84

1 in stock.
16008M0083312
16008M0083312 - Gear Housing Basic 9.9 15 4S (more info)
$437.25
$437.25

Available to order:
Usually ships
within 8 days
#1
1666-8833A18
GEAR HOUSING GRAY (1 required per assembly)
1666-8833A18
ORD 1666-8833A17 O NLA
(more info)
Unavailable
#43
31-41347A 1
ROLLER BEARING (1 required per assembly)
31-41347A 1
BEARING KIT O - Replaced by 31-821321A 1
(more info)
Unavailable
31-821321A 1
31-821321A 1 - Bearing Kit (more info)
$25.83
$25.83

Available to order:
Usually ships
within 8 days
#44
43-821924A 1
FORWARD GEAR (1 required per assembly)
43-821924A 1
43-821924A 1 - Forward Gear Kit (more info)
$187.50
$187.50

Available to order:
Usually ships
within 8 days
#45
23-41367
BUSHING (1 required per assembly)
23-41367
23-41367 - Bushing (more info)
$4.10
$4.10

Available to order:
Usually ships
within 8 days
#46
813139
CAM FOLLOWER (1 required per assembly)
813139
813139 - Cam Follower (more info)
$8.00
$8.00

2 in stock.
#47
52-821930
CLUTCH (1 required per assembly)
52-821930
CLUTCH O - Replaced by 52-821930A 1
(more info)
Unavailable
52-821930A 1
52-821930A 1 - Clutch Kit (more info)
$52.58
$52.58

Available to order:
Usually ships
within 8 days
#48
17-823951
CROSS PIN (1 required per assembly)
17-823951
17-823951 - Pin -grooved (more info)
$3.60
$3.60

Available to order:
Usually ships
within 8 days
#49
24-42204
SPRING (1 required per assembly)
24-42204
24-42204 - Spring (more info)
$0.70
$0.70

Available to order:
Usually ships
within 8 days
#50
44-821929
PROPELLER SHAFT (1 required per assembly)
44-821929
44-821929 - Prop Shaft (more info)
$281.58
$281.58

Available to order:
Usually ships
within 8 days
#51
43-821926 1
REVERSE GEAR (1 required per assembly)
43-821926 1
GEAR-REVERSE O - Replaced by 43-821926T 1
(more info)
Unavailable
43-821926T 1
43-821926T 1 - Reverse Gear (more info)
$180.83
$180.83

Available to order:
Usually ships
within 8 days
#52
42144A 3
BEARING CARRIER (1 required per assembly)
42144A 3
CARRIER ASSY-BRG O - Replaced by -42144T 3
(more info)
Unavailable
42144T 3
42144T 3 - Bearing Carrier Assembly (more info)
$101.42
$101.42

1 in stock.
#53
25-33145
O-RING (1 required per assembly)
25-33145
25-33145 - O-Ring - Priced Individually (more info)
$2.60
$2.60

10+ in stock.
18-7162-9
18-7162-9 - (PK5) O-Ring 25-33145 (more info)
Replaces OEM #0302337

$14.95

$8.07

2 in stock.
#54
23-821927
BUSHING (1 required per assembly)
23-821927
23-821927 - Bushing (more info)
$6.60
$6.60

Available to order:
Usually ships
within 8 days
#55
26-99325
OIL SEAL (1 required per assembly)
26-99325
26-99325 - Seal (more info)
$13.40
$13.40

Available to order:
Usually ships
within 8 days
18-0586
18-0586 - Seal, 26-99325 (more info)

$12.49

$9.73

Available to order:
Usually ships
within 8 days
#56
26-821928
OIL SEAL (1 required per assembly)
26-821928
26-821928 - Seal (more info)
$15.00
$15.00

1 in stock.
18-0585
18-0585 - Seal, 26-821928 (more info)

$12.99

$9.84

1 in stock.
#57
10-13403
SCREW (1 required per assembly)
10-13403
SCREW O - Replaced by 10-824071 10
(more info)
Unavailable
10-824071 10
10-824071 10 - Screw W/Washer (more info)

$4.70

$3.18

10+ in stock.
#58
10-13402
SCREW (2 required per assembly)
10-13402
10-13402 - Screw (more info)
$1.25
$1.25

2 in stock.
10-824071 7
10-824071 7 - Screw w/ Washer (more info)
$3.50
$3.50

Available to order:
Usually ships
within 8 days
#59
48-42522A12
PROPELLER (9"X9") (1 required per assembly)
48-42522A12
ALUM 9.00X9.00 O - Replaced by 48-828156A12
(more info)
Unavailable
48-828156A12
48-828156A12 - Propeller, Black Max 9R9 (more info)
$103.36
$103.36

3 in stock.
1111-093-09
Solas Amita 3 Blade Aluminum 9P Mercury 1111-093-09 (more info)

$79.50

$64.07

10+ in stock.
#59
48-42524A12
PROPELLER (SAILPOWER/SAILMATE) (1 required per assembly)
48-42524A12
48-42524A12 - Prop, Aluminum 9.75 X 6.50 (more info)
$80.00
$80.00

1 in stock.
48-828150A12
48-828150A12 - Propeller, Black Max 9 3/4 R 6 1/2 (more info)
$103.36
$103.36

Available to order:
Usually ships
within 8 days
#60
23-42091 1
SPACER (1 required per assembly)
23-42091 1
23-42091 1 - Spacer (more info)
$5.24
$5.24

Available to order:
Usually ships
within 8 days
#61
11-13914
PROPELLER NUT (1 required per assembly)
11-13914
11-13914 - Nut - Priced Individually (more info)
$1.00
$1.00

2 in stock.
11-40140
11-40140 - Nut - Priced Individually (more info)
$2.40
$2.40

10+ in stock.
#62
821932
THRUST HUB (1 required per assembly)
821932
821932 - Thrust Washer (more info)
$13.65
$13.65

4 in stock.
#63
822559
HI-REVERSE THRUST CUP (1 required per assembly)
822559
CUP-EXHAUST BLOCK O - Replaced by -822559A 1
(more info)
Unavailable
822559A 1
PROP REVERSE KIT O - Replaced by -822559Q01
(more info)
Unavailable
822559Q01
822559Q01 - Blocker Assembly - Priced Individually (more info)
$21.00
$21.00

Available to order:
Usually ships
within 8 days