Wiring Harnesses (Cont. – p. 73)
Wiring Harnesses (Cont. – p. 73)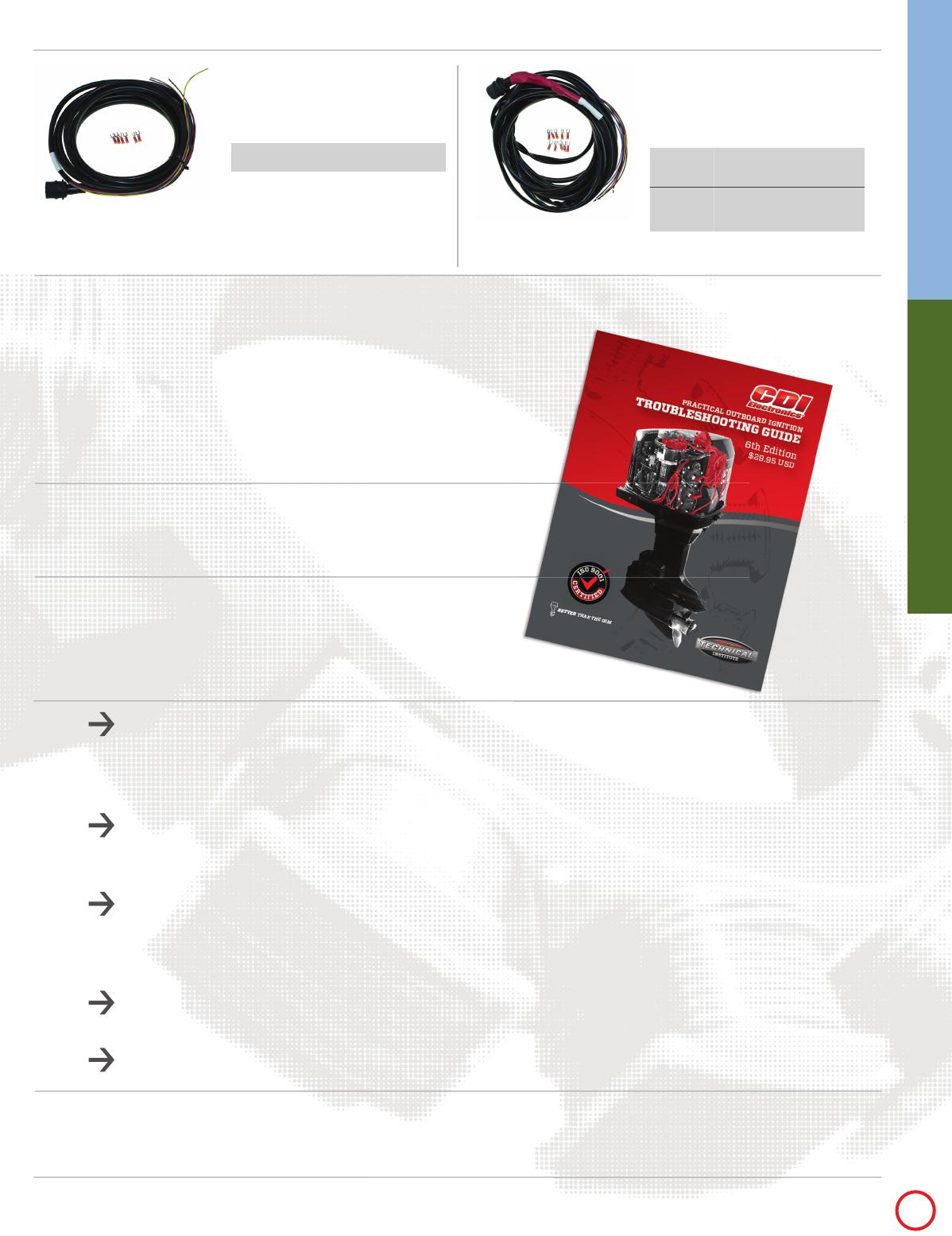 Johnson Evinrude
Replaces:
Boatside Wiring Harness
Wiring Harness
Harnesses
Wiring Harness
Fits Most:
1977-1995
(Engines 35' Ft.
Length)
Replaces:
392284, Red Plug Boatside
Harness
PACKED WITH KEY
TROUBLESHOOTING DATA:
PRACTICAL
OUTBOARD IGNITION
TROUBLESHOOTING
GUIDE
TERMED "THE MECHANIC'S BIBLE",
THIS IS THE ONE BOOK YOU MUST HAVE IN
YOUR SERVICE SHOP AT ALL TIMES.
To view this valuable guide now or to order a hard copy,
please visit cdielectronics.com.
COMPREHENSIVE TROUBLESHOOTING ON ALL ENGINES
DETAILED TROUBLESHOOTING INSTRUCTIONS FOR CHRYSLER, FORCE, JOHNSON EVINRUDE,
MERCURY, TOHATSU/NISSAN & YAMAHA ENGINES.
DVA CHARTS FOR ALL MAJOR ENGINES
MERCURY, YAMAHA, JOHNSON EVINRUDE, CHRYSLER, FORCE, AND SEA DRIVE.
BATTERY 101
LEARN ALL YOU NEED TO KNOW ABOUT BATTERIES INCLUDING TYPES, KEY TERMS, SUGGESTED
USE, UNREGULATED BATTERIES, AND MORE.
ENGINE WIRING DIAGRAMS & CROSS REFERENCE CHART
TROUBLESHOOTING TIPS, TRICKS & MORE
TECH SUPPORT:
1.866.423.4832

CALL TO ORDER:

1.800.209.9624
73
Johnson Evinrude