M.E.D.S. Check Report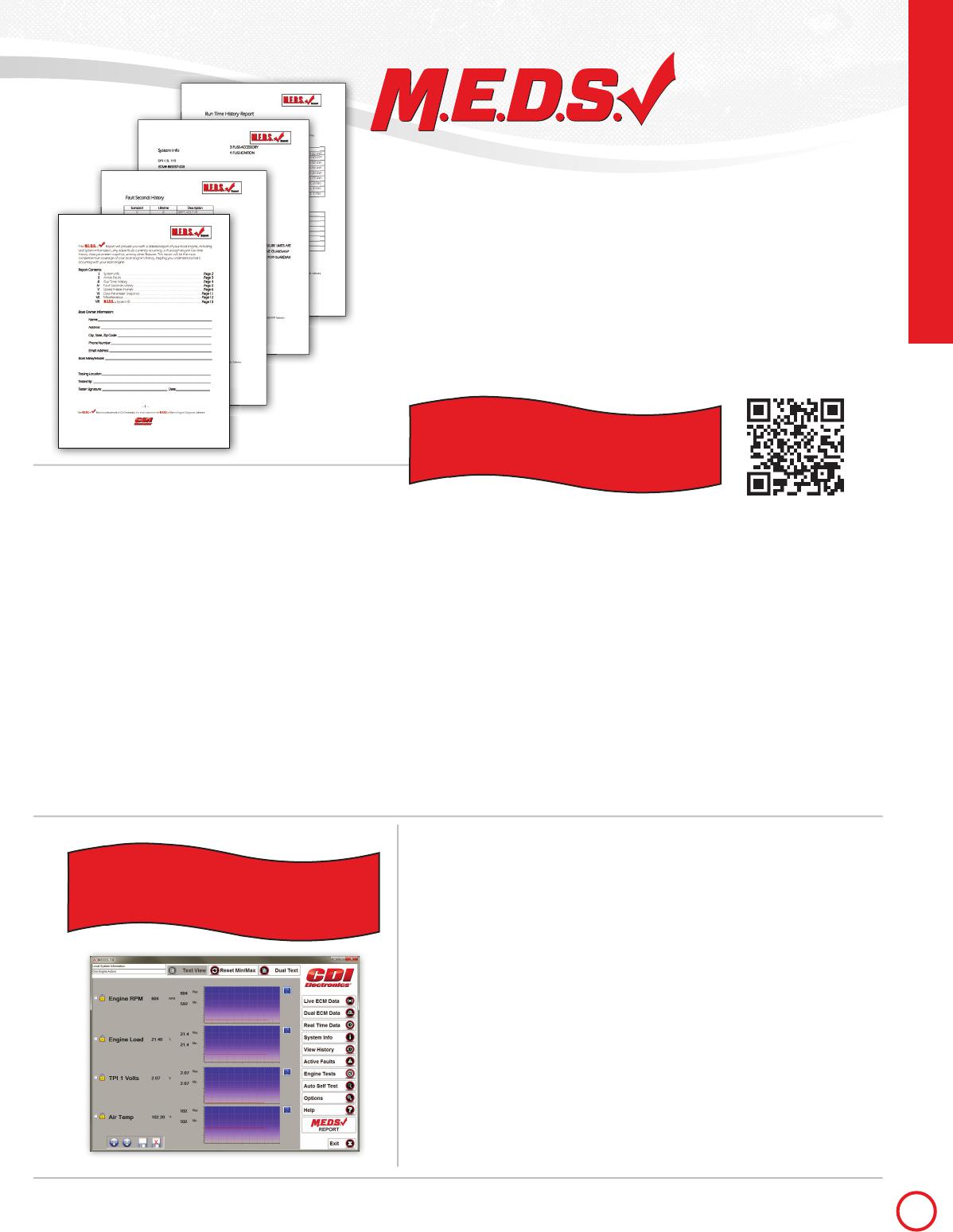 Tools & Test Equipment
Software Capabilities:
▪

Live 3D Digital Dashboard
▪

Freeze Frames - Engine Faults,
Tachometer, and Output Load Tests
▪

M.E.D.S. Check Report - Customized for
▪

French & Spanish Versions Available
Features:
▪

Engine Configuration Data
▪

Displays Active & Inactive Faults
▪

Displays Run History by RPM Range &
▪

Can Set/Monitor Break In Period
▪

Display Engine Functions during a Fault
▪

Drill Down to the Engine Failure (I.E.
Injector)
▪

Individually Test Components (I.E. One Injector
at a Time)
M.E.D.S. Check Report makes you
money. Customizable & comprehen-
sive engine history report.
The M.E.D.S. Check Report allows you to run a full diagnostic
test on your customer's engine and present them with a
comprehensive report detailing everything from the number of
hours on their engine to the last time they did an oil change. You
can upload your company logo to M.E.D.S. and have it appear in
the upper left hand corner of your M.E.D.S. Check Report.
* Please note, available tests & capabilities depend upon the engine type.
Schedule a
Live Online Demo

of
the M.E.D.S. software by visiting
www.cdielectronics.com/medsdemo
Call 1.800.467.3371 or visit
www.cdielectronics.com/medsddemo
to schedule an online demo of our M.E.D.S.
software. You will be connected to a M.E.D.S. sales and
support specialist, who will set up a demonstration of
M.E.D.S. on your personal computer.
Text View allows users to view
parameters in numerical form
and shows real-time graphs.
Scan the QR Code
for ideas on how you can use your
M.E.D.S. Check Report to make money!
TECH SUPPORT:
1.866.423.4832

CALL TO ORDER:

1.800.209.9624
5