Outboard Engine Spark Plug Wires
Outboard Engine Spark Plug Wires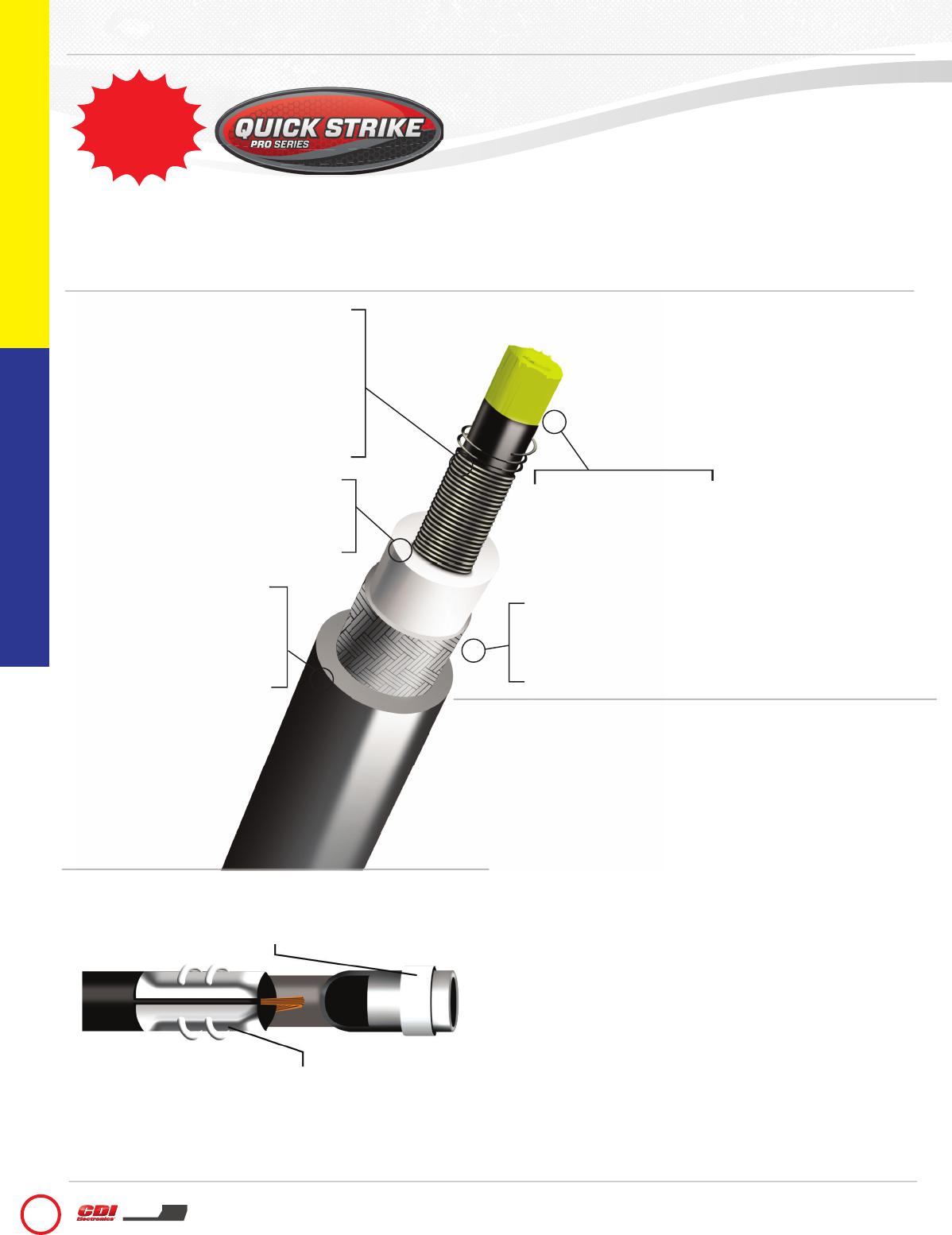 Electrical Supplies
Wound Conductor of
Magnetic Suppression
Delivers maximum voltage without
radio frequency interference (RFI) and
meets or exceeds Original Equipment
Specifications resistance.
EPDM Insulation Cover
High voltage dielectric material.
Silicone Cover
High temperature resistant
(up to 250°C), moisture and
chemical resistance.
Conductive
Graphite Coating
Provides suppression
abilities.
Fiberglass Mesh
More strength and
durability.
Electrical Supplies - Outboard Engine Spark Plug Wires
You asked CDI Electronics to fill a void in the market for high performance spark plug wires and we heard
you loud and clear! Our spark plug wires are made with the highest quality materials that you've come to
expect from the World's Leading Marine Ignition Specialists.
New
for
2015
Spark Plug Wires
HIGH PERFORMANCE
SPARK PLUG WIRE SETS
COMPONENTS
a) Terminals:
Made of high quality material (Stainless steel,
copper, and bronze), corrosion-resistant,
and has locks that grip firmly to the conduc-
tor, avoiding vibrations and guaranteeing the
maximum security and conduction.
b) Boots:
High voltage dielectric material, made with
Silicone. Seals perfectly with the cable, which
allows for better protection and maximum
resistance to heat, abrasion, and chemicals.
c) Wire Wound Cable:
Hybrid design that combines the best fea-
tures of the suppression and metallic con-
ductors. Provides a better performance with
maximum conductivity with a 350 Ohms per
foot resistance.
Security belt with special treatment to
keep positive contact with spark plugs.
Superior isolation. When stamping the
terminal, it resists 1.5 times the
recommended by original equipment.
34
16
CATALOG
BETTER

THAN THE OEM
Electrical Supplies