Useful Tools & Information
Useful Tools & Information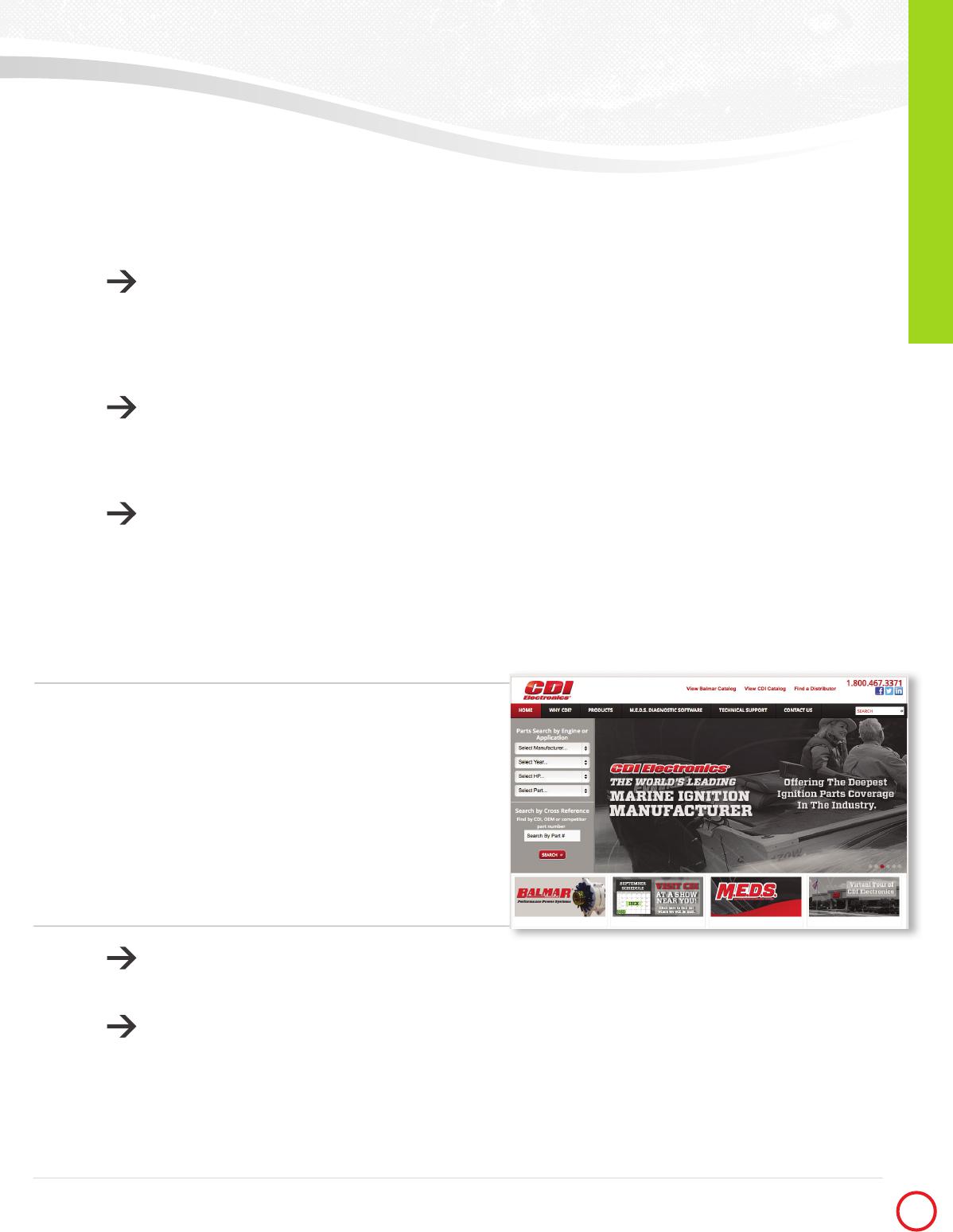 New Products
VISIT
CDIELECTRONICS.COM
FOR
USEFUL TOOLS AND INFORMATION!
FIND THE PARTS YOU NEED QUICKLY
Using the CDI Electronics parts search tool located on the home page of
cdielectronics.com, parts can be searched by manufacturer, year, HP and part,
making it easy to find the part you need quickly.
SEARCH BY OEM AND COMPETITOR PART NUMBER
Are you unsure of the CDI Part number you need? No problem! Using the parts search
tool, you can type in the OEM or Competitor part number to see what CDI Electronics part
to order.
QUICK ACCESS TO INSTALLATION AND
TROUBLESHOOTING INFORMATION
Are you unsure of the proper way to install a part and have lost the installation sheet that
comes with our parts? No problem! Locate the part you need using our parts search filter
and click the PDF Download button for the Installation Sheet.
WEBSITE TOOLS & TIPS
BE SURE TO CHECK OUT
CDIELECTRONICS.COM
TO SEE ALL OF OUR LATEST
PRODUCT OFFERINGS
ELECTRICAL IGNITION SERVICE SCHOOL
Stay informed about our upcoming Electrical Ignition Service School Classes!
CDI ELECTRONICS SHOW CALENDAR
Find out when CDI Electronics will be at a show near you by checking out the show calendar,
which can be accessed from the home page!
TECH SUPPORT:
1.866.423.4832

CALL TO ORDER:

1.800.209.9624
3