Multimeters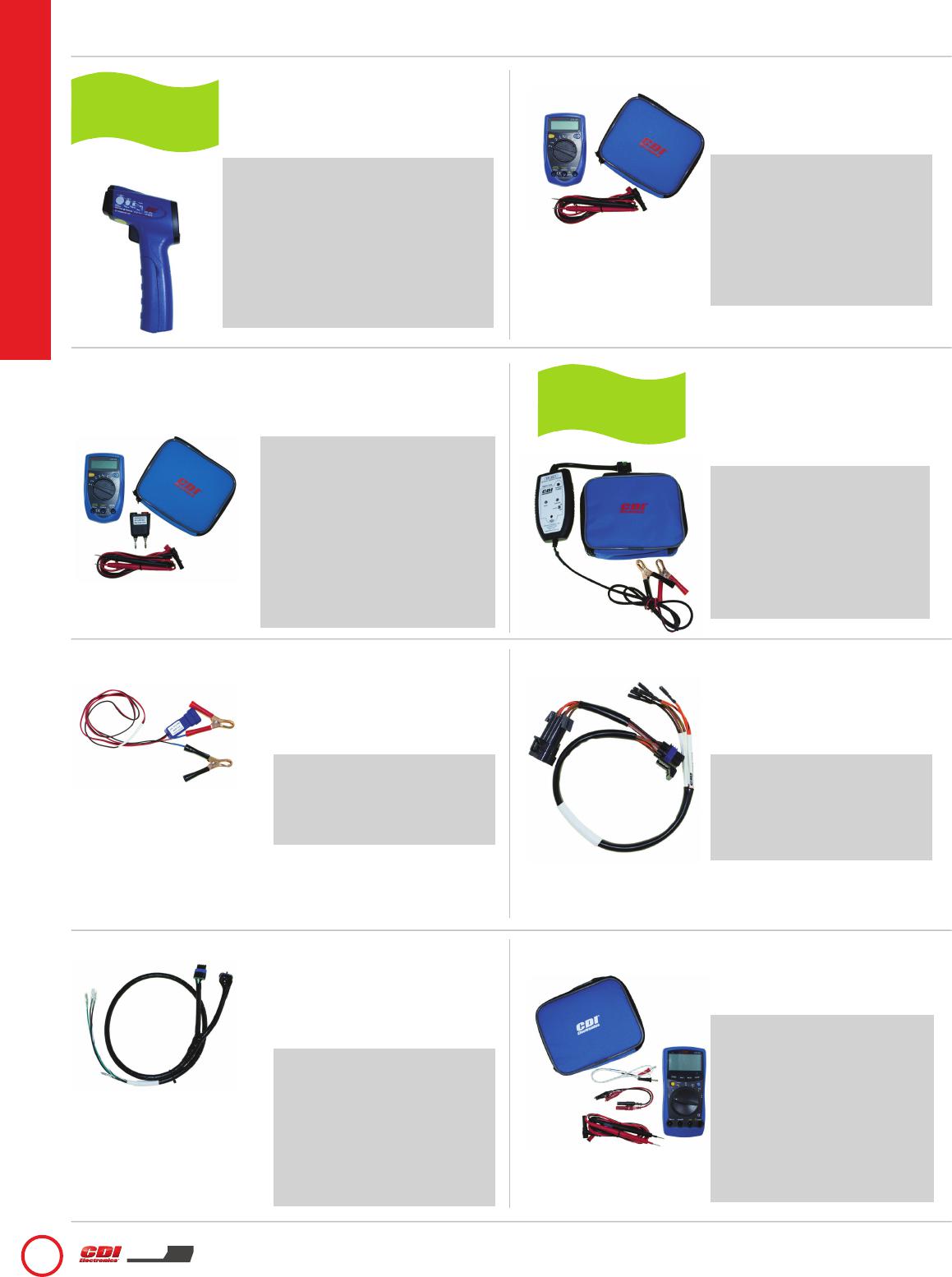 Tools & Test Equipment
▪

Bright laser beam provides easy targeting
▪

0.1° resolution up to 716°
▪

Easily switch from C to F range
▪

Min and max recording of temperature
▪

White backlight illuminates the screen in the dark
▪

Automatic sleep mode after 8 sec. extends batter
life
*Replaces 772018
Infrared Temperature
Meter
Digital Multimeter
▪

DC & AC volts range 0.0001 to 600
volts
▪

DC & AC volts range 0.0001 to 600
Test Leads & Manual
Digital Multimeter
Optical Sensor
Tester
•
Used to test V4/V6 optical
sensor on the engine or on the
bench
•
Unique design sounds an audible
alert when setting the ignition timing,
to allow an eyes free operation
Replaces: 434017 OIS 2000 Sensor Tester
Optical Sensor
Tester
▪

Unique 3 Cyl. Optical Sensor Tester
▪

Used to test 3 Cyl. Optical Sensor on
engine or bench
▪

Eliminates the guesswork involved in
testing trigger sensor
6 Cyl. Optical
Test Harness
CDM Module
Test Harness
▪

Unique design allows you to break the
kill circuit without cutting the wire
▪

Allows testing of DVA voltages from
the stator and trigger while connected
to the CDM Module
▪

Can be used to Bench Test CDM
Modules
Replaces 84-825207A1
Digital Multimeter
• Auto-ranging
•
DC & AC volts range 0.0001 to
1000 volts
• Diode
• Ohms
• Temperature
Test Harness allows you to check the DVA
voltages of the stator while
connected to the power pack.
Used on 1991-2006 (150-175 HP,
Carbureted Johnson Evinrude Engines)
BEST SELLER
BEST SELLER
12
16
CATALOG
BETTER

THAN THE OEM
Tools & Test Equipment