18-4830 - Gear Housing Assembly
Manufacturer
Sierra Marine
18-4830 GEAR HOUSING ASSEMBLY
Replaces: Mercury 1667-9011G59
Fits: 100 4cyl (1988-99), 115 4cyl (1989 & Up), 115 3cyl DFI (2004 & Up), 115 EFI 4-Stroke(2001 & Up), 125 4cyl (1994 & Up), 30 4-Stroke (1999-01), 30 Carb 3cyl 4-Stroke (2002 & Up), 40 4-Stroke (1998-01), 40 4-Stroke 4cyl (2001-02), 40 Carb 3cyl 4-Stroke (2002 & Up), 40 EFI 4cyl 4-Stroke (2002 & Up), 40 Jet (2001 & Up), 45 Jet (1994-98), 50 4-Stroke (1995-00), 50 4cyl 4-Stroke (2001-02), 50 Bigfoot 4-Stroke(1995-00), 50 EFI 4cyl 4-Stroke (2002 & Up), 55 3cyl (1996 & Up), 60 3cyl (1984 & Up), 60 3cyl Bigfoot (1998), 60 4cyl 4-Stroke (2001-02), 60 EFI 4cyl 4-Stroke (2002 & Up), 65 Jet (1994 & Up), 75 3cyl (1987 & Up), 75 4-Stroke (2000 & Up), 75 3cyl 1.5L DFI (1995 & Up), 80 Jet (1994 &Up), 90 3cyl (1987 & Up), 90 4-Stroke (2000 & Up), 90 3cyl 1.5L DFI (2004 & Up) with 6 Jaw Clutch (Design II)
Sierra Marine Gear Housing Assy is equivalent to parts:
1667 9011G59 Mercury Marine
Additional information about this part can be found on page(s) 379 of the Sierra Marine catalog.

Sierra Marine is the market leader for aftermarket marine engine parts. Sierra products cover every major engine brand. Sierra offers a comprehensive product line and an unsurpassed customer satisfaction warranty covering parts and labor.
18-4830 - Gear Housing Assembly
Sierra Marine
18-4830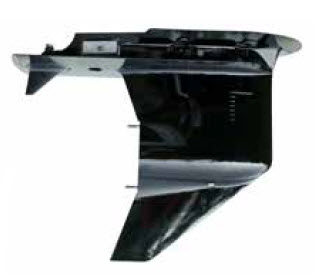 18-4830 GEAR HOUSING ASSEMBLY Replaces: Mercury 1667-9011G59 Fits: 100 4cyl (1988-99), 115 4cyl (1989 and Up), 115 3cyl DFI (2004 and Up), 115 EFI 4-Stroke(2001 and Up), 125 4cyl (1994 and Up), 30 4-Stroke (1999-01), 30 Carb 3cyl 4-Stroke (2002 and Up), 40 4-Stroke (1998-01), 40 4-Stroke 4cyl (2001-02), 40 Carb 3cyl 4-Stroke (2002 and Up), 40 EFI 4cyl 4-Stroke (2002 and Up), 40 Jet (2001 and Up), 45 Jet (1994-98), 50 4-Stroke (1995-00), 50 4cyl 4-Stroke (2001-02), 50 Bigfoot 4-Stroke(1995-00), 50 EFI 4cyl 4-Stroke (2002 and Up), 55 3cyl (1996 and Up), 60 3cyl (1984 and Up), 60 3cyl Bigfoot (1998), 60 4cyl 4-Stroke (2001-02), 60 EFI 4cyl 4-Stroke (2002 and Up), 65 Jet (1994 and Up), 75 3cyl (1987 and Up), 75 4-Stroke (2000 and Up), 75 3cyl 1.5L DFI (1995 and Up), 80 Jet (1994 and Up), 90 3cyl (1987 and Up), 90 4-Stroke (2000 and Up), 90 3cyl 1.5L DFI (2004 and Up) with 6 Jaw Clutch (Design II)
$1299.10