0176342 - Instrument Wiring Cable Harness 28FT
Part Number
0176342 Johnson
0176342 Evinrude
176342 Johnson
176342 Evinrude

Manufacturer
Evinrude Johnson OMC
CURRENT
The instrument cable in this kit is compatible with the 1996 and newer Modular Wiring Systems. The instrument cable can also be installed on certain 1991 through 1995 outboards using a cable adapter which is sold separately.
Description
Wiring Harness MWS 28' for 1996 & newer models, SystemCheck
-Conventional Tach Leads - when the System Check engine monitor tach is not used
-Trim gauge Leads
-Ignition - connect to a pre-wired control or Key Switch kit
-Trim Switch Connection - connect to Trim Switch in control handle or dash mounted Trim Switch
-System Check Connection - Connect to a 2" gauge, tach with lights or horn driver module
-Horn Connection - horn is supplied with pre-wired controls and Key Switch kits

Original Evinrude Outboard, Johnson Outboard, OMC Inboard, OMC Stern Drive, OMC Sail Drive and OMC Sea Drive parts.
0176342 - Instrument Wiring Cable Harness 28FT
Evinrude Johnson OMC
0176342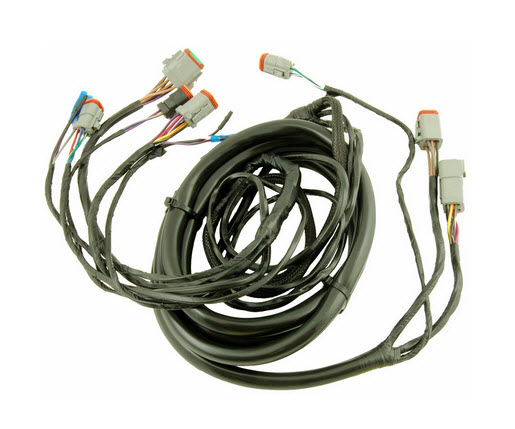 The instrument cable in this kit is compatible with the 1996 and newer Modular Wiring Systems. The instrument cable can also be installed on certain 1991 through 1995 outboards using a cable adapter which is sold separately. Description Wiring Harness MWS 28' for 1996 and newer models, SystemCheck-Conventional Tach Leads - when the System Check engine monitor tach is not used-Trim gauge Leads-Ignition - connect to a pre-wired control or Key Switch kit-Trim Switch Connection - connect to Trim Switch in control handle or dash mounted Trim Switch-System Check Connection - Connect to a 2" gauge, tach with lights or horn driver module-Horn Connection - horn is supplied with pre-wired controls and Key Switch kits
$160.99