551-33-1 - CDI Gearcase Filler
551-33-1 Gearcase Filler
▪ 3 Gallon, translucent plastic container
▪ Sturdy, tear-drop design with drip tray
▪ Check valve venting system allows adapter removal minimal loss of lubricant
Replaces: 551-33GF, S33 Gearcase Fillers
This unit comes with a threaded filler nozzle which is fits most Chrysler, Evinrude, Force, Johnson, Mariner and Mercury outboards. The adapters for Suzuki, Tohatsu, Volvo and Yamaha lower units are included. If an adapter for a Mercruiser outdrive is needed, please order P/N: 551-334B.
*Includes: 551-33CV E-Z Fill and 551-334K Adaptor kit

CDI Electronics produces state of the art Quick Strike Ignitions and components that have become the industry standard for quality electronic ignition systems. CDI also makes a line of electronics testing equipment for marine engine applications.
551-33-1 - CDI Gearcase Filler
CDI Electronics
551-33-1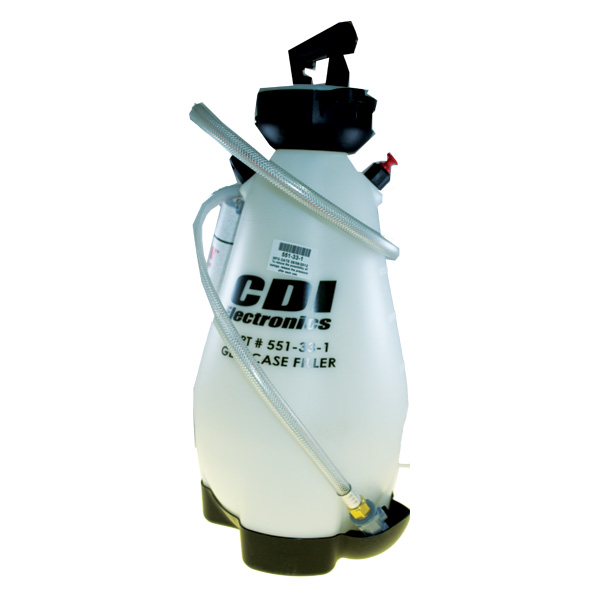 551-33-1 Gearcase Filler ▪ 3 Gallon, translucent plastic container▪ Sturdy, tear-drop design with drip tray▪ Check valve venting system allows adapter removal minimal loss of lubricant Replaces: 551-33GF, S33 Gearcase Fillers This unit comes with a threaded filler nozzle which is fits most Chrysler, Evinrude, Force, Johnson, Mariner and Mercury outboards. The adapters for Suzuki, Tohatsu, Volvo and Yamaha lower units are included. If an adapter for a Mercruiser outdrive is needed, please order P/N: 551-334B. *Includes: 551-33CV E-Z Fill and 551-334K Adaptor kit
193.14