113-8362 - Pulse Pack, 398362
Replaces OEM 0381884.
113-8362 Battery Power Pack
Fits: 1968-1972 (100 -125 HP without Points)
Replaces: 381884, 382478, 384522, 385034, 385036, 383298, 385038, 398362, 398363, 765992, 765987, IDD3001, IDD3070, IDD3077,
IDG3001A, IDG3001B, IDG3001C
*Requires Phase II or silver Rotor
(a) Prestolite Phase I 5 Triple Stacked Phase II IDD3001 Spade Terminal Replacement382478
(b) Prestolite Phase I 5 Single SpadeIDD3070 Terminal18-5748
(c) Prestolite Phase I 5 T-Shaped Spade383298 IDD3077 Round Plug
CDI Electronics Omc (prestolite) Pulse Pack is equivalent to parts:
765992 Evinrude Johnson OMC BRP
765987 Evinrude Johnson OMC BRP
385034 Evinrude Johnson OMC BRP
381884 Evinrude Johnson OMC BRP
9-25015 Mallory Marine

CDI Electronics produces state of the art Quick Strike Ignitions and components that have become the industry standard for quality electronic ignition systems. CDI also makes a line of electronics testing equipment for marine engine applications.
113-8362 - Pulse Pack, 398362
CDI Electronics
113-8362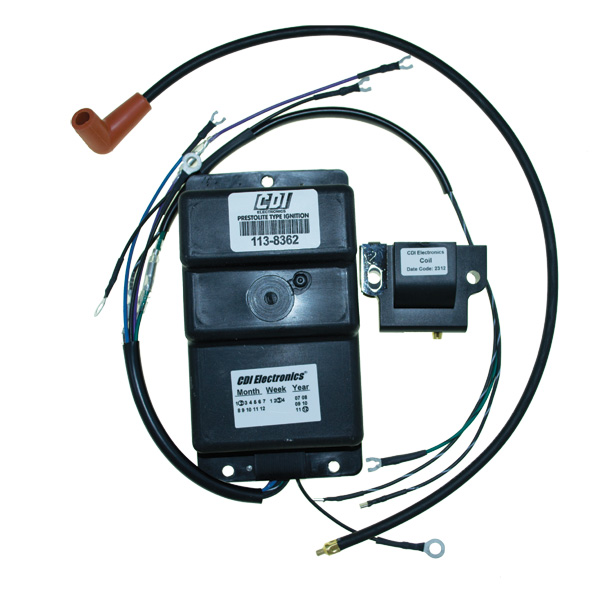 Replaces OEM 0381884.113-8362 Battery Power Pack Fits: 1968-1972 (100 -125 HP without Points) Replaces: 381884, 382478, 384522, 385034, 385036, 383298, 385038, 398362, 398363, 765992, 765987, IDD3001, IDD3070, IDD3077,IDG3001A, IDG3001B, IDG3001C *Requires Phase II or silver Rotor (a) Prestolite Phase I 5 Triple Stacked Phase II IDD3001 Spade Terminal Replacement382478 (b) Prestolite Phase I 5 Single SpadeIDD3070 Terminal18-5748 (c) Prestolite Phase I 5 T-Shaped Spade383298 IDD3077 Round Plug
385.50