BARMC-20-61851A3 - Riser Kit 3 in. (1 Block)

Barr Marine Barmc-20-61851a3 - Riser Kit 3 In. (1 Block) is equivalent to parts:
61851A3 Mercury Marine
61851A 3 Mercury Marine

Barr Marine by EDM is the last and only U.S. manufacturer of inboard parts, and produces a large selection of manifolds and inboard parts.
BARMC-20-61851A3 - Riser Kit 3 in. (1 Block)
Barr Marine
MC-20-61851A3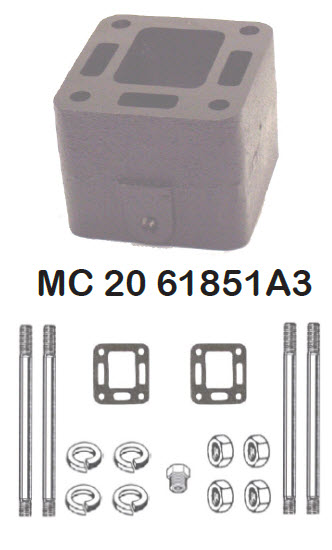 MC-20-61851A3 - Single Block 3" Inch Spacer Manifold to riser 3" inch spacer single block. Includes all mounting hardware, gaskets and drain plug. For additional details see: Mercruiser 4-Cylinder 181 C.I.D. 140 H.P. (Model 140 engine log style direct replacement) Mercruiser 4-Cylinder 153 and 181 C.I.D. 120 H.P. (2.5L), 140 H.P. (3.0L) (Models 120R and 140R-MR / Alpha 1 engine log style direct replacement) Mercruiser Straight 6-Cylinder Model 165 (Log style direct replacement) Mercruiser 3" and 6" Riser Kits (Direct replacement)