CM-20-6672 - 20 Degree Chrysler Exhaust Elbow

6 in stock.
Manufacturer
Barr Marine
AFTERMARKET
20 degree exhaust elbow connector, fully jacketed. Accepts 3"" i.d. exhaust hose. Direct replacement for Chrysler part # 3527794. Requires (1) gasket per connector. Will mount directly onto manifold, or can be used with riser # CM-20-6674. May require mounting kit. (Order (1) of the appropriate exhaust risers or connectors according to your requirements.)
Barr Marine Elbow,20 Degree,(14#) Cm-20-6672 is equivalent to parts:

Barr Marine by EDM is the last and only U.S. manufacturer of inboard parts, and produces a large selection of manifolds and inboard parts.
CM-20-6672 - 20 Degree Chrysler Exhaust Elbow
Barr Marine
CM-20-6672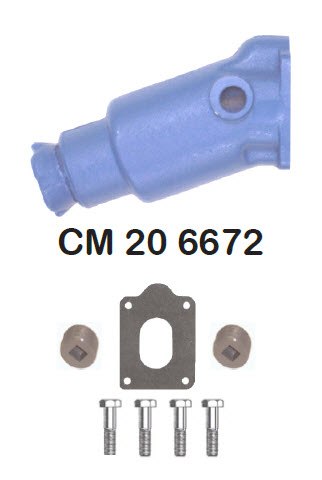 20 degree exhaust elbow connector, fully jacketed. Accepts 3"" i.d. exhaust hose. Direct replacement for Chrysler part # 3527794. Requires (1) gasket per connector. Will mount directly onto manifold, or can be used with riser # CM-20-6674. May require mounting kit. (Order (1) of the appropriate exhaust risers or connectors according to your requirements.)
133.42