5374X - Starter, 50-30842 & 32411
Manufacturer
Arco Marine
AFTERMARKET
ARCO NEW Original Equipment Quality Replacement Outboard Starter - 5374X

ARCO Part #5374X
ARCO NEW Original Equipment Quality Replacement Outboard Starter
Fits: Mercury 1956-1957, 25-30 HP, 1957 55 HP, 1958 30-55 HP, 1959 35 & 55 HP, Large 10-tooth drive gear.
Replaces Part Numbers:
Mercury 50-29105
Mercury 50-30842
Mercury 50-32403
Mercury 50-32411
QUALITY ASSURANCE
• Epoxy Powder coated for maximum corrosion protection
• Motor shafts induction case hardened at bearing surfaces for superior wear resistance

PRECISION TESTING
• All armatures tested to withstand 50 times operation voltage (12V)
• All motors performance tested at 5 different load levels
• All motors must meet or exceed OEM performance before being boxed
ARCO Marine is a USA based manufacturer
Arco Marine Starter,50-30842&32411 5374x is equivalent to parts:
32411 Mercury Marine
30842 Mercury Marine
50 32411 Mercury Marine
50 30842 Mercury Marine

ARCO is a leading supplier of electrical products for marine engines including inboard/outboard starters, trim/tilt motors, alternators, solenoids, rectifiers and more. All of ARCO's parts are built to meet or exceed OEM qualifications.
5374X - Starter, 50-30842 & 32411
Arco Marine
5374X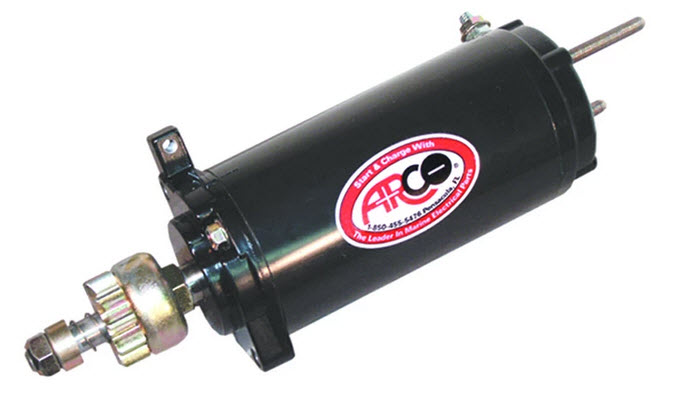 ARCO NEW Original Equipment Quality Replacement Outboard Starter - 5374X ARCO Part #5374X ARCO NEW Original Equipment Quality Replacement Outboard Starter Fits: Mercury 1956-1957, 25-30 HP, 1957 55 HP, 1958 30-55 HP, 1959 35 and 55 HP, Large 10-tooth drive gear. Replaces Part Numbers:Mercury 50-29105Mercury 50-30842Mercury 50-32403Mercury 50-32411 QUALITY ASSURANCE• Epoxy Powder coated for maximum corrosion protection• Motor shafts induction case hardened at bearing surfaces for superior wear resistance PRECISION TESTING• All armatures tested to withstand 50 times operation voltage (12V)• All motors performance tested at 5 different load levels• All motors must meet or exceed OEM performance before being boxed ARCO Marine is a USA based manufacturer
180.70