10113 - Starter, Volvo

1 in stock.
Manufacturer
Arco Marine
AFTERMARKET
ARCO NEW Premium Replacement Inboard Starter - 10113
Gear-reduction starter FITS: VOLVO PENTA 4 cyl 6 cyl gas Aluminum pinion housing w/ 2 threaded mounting holes Permanent magnet 12 volt CW rotation
ARCO Part 10113
ARCO NEW Premium Replacement Inboard Starter. New Permanent Magnet Gear Reduction Marine Starter. 4 cylinder and 6 cylinder gas engines. Aluminum pinion housing with 2 threaded mounting holes. 12 volt, clockwise rotation.
Replaces Part Numbers:
Volvo Penta 872241-5
Volvo Penta 873549-0
PRECISION TESTING
• All armatures tested to withstand 50 times operation voltage (12V)
• All motors performance tested at 5 different load levels
• All motors must meet or exceed OEM performance before being boxed
Arco Marine Starter,volvo 10113 is equivalent to parts:
873549 Volvo Penta
872888 Volvo Penta
872241 Volvo Penta

ARCO is a leading supplier of electrical products for marine engines including inboard/outboard starters, trim/tilt motors, alternators, solenoids, rectifiers and more. All of ARCO's parts are built to meet or exceed OEM qualifications.
10113 - Starter, Volvo
Arco Marine
10113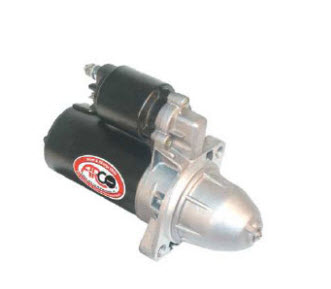 ARCO NEW Premium Replacement Inboard Starter - 10113 Gear-reduction starter FITS: VOLVO PENTA 4 cyl 6 cyl gas Aluminum pinion housing w/ 2 threaded mounting holes Permanent magnet 12 volt CW rotation ARCO Part 10113 ARCO NEW Premium Replacement Inboard Starter. New Permanent Magnet Gear Reduction Marine Starter. 4 cylinder and 6 cylinder gas engines. Aluminum pinion housing with 2 threaded mounting holes. 12 volt, clockwise rotation. Replaces Part Numbers: Volvo Penta 872241-5Volvo Penta 873549-0 PRECISION TESTING• All armatures tested to withstand 50 times operation voltage (12V)• All motors performance tested at 5 different load levels• All motors must meet or exceed OEM performance before being boxed
334.48